U.S. Economy
Young People Don't Share the Fed's Irrational Exuberance
That's a problem if older policy makers forge ahead as though the economy were improving.
by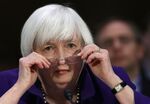 The Federal Reserve surprised markets last week when multiple speakers, concluding with Chair Janet Yellen on Friday, talked up the odds of a rate hike at the upcoming March meeting of the Federal Open Market Committee. The surge in economic confidence that has occurred since the presidential election in November has found its way to members of the Federal Reserve.
But the rising confidence should give us pause. There's a confidence gap between the people making investment and policy decisions and the people driving the economy. If policy makers turn out to be overconfident, they may tighten monetary policy too quickly, perhaps risking an early recession.
Odds for a March rate hike surged from around 40 percent to around 90 percent in a week, driven primarily by speeches from three voting members of the Federal Open Market Committee -- New York Fed President William Dudley, Governor Lael Brainard and Chair Yellen. The speeches surprised markets because the change in tone among the policy makers was not because of changes in any "hard economic data" over the past few weeks. The GDP "nowcast" from the Atlanta Fed currently estimates that GDP growth in the first quarter of 2017 will be 1.8 percent, a lower forecast than a few weeks ago.
What has made a March hike more compelling over the past few weeks is the "soft data" like measures of confidence and financial conditions. As my Bloomberg colleague Tim Duy noted, Dudley made explicit reference to this in his speech arguing for a March rate hike. He noted the increase in household and business confidence since the election, a surge in financial markets, a loosening of financial conditions and expectations for stimulative fiscal policy from the new administration.
The composition of who's experienced a surge in confidence is what's noteworthy. The Conference Board measure of consumer confidence for Americans over 54 has surged since October, to 110 from 84.6, and is now around a 15-year high. Yet for those under 35, confidence has fallen since October, to 116.3 from 124.1. Gallup last month noted that since the election, unsurprisingly, satisfaction with the direction of the U.S. has surged for Republicans, who in our current partisan alignment tend to be older, and fallen for Democrats, who tend to be younger.
Someone optimistic about how confidence will affect the economy would point out that older Americans are the ones with more money. And that's undoubtedly true. An immediate surge in confidence among older corporate executives and investors would show up both in business confidence surveys, where they're over-represented, and in financial markets, as older Americans are making decisions about asset allocation. We see that this has happened. Theory would suggest that hiring and economic activity, which have a lag relative to financial markets and measures of confidence, would follow later.
But for the most part, older people aren't the ones getting married, having kids and buying houses -- some of the main drivers of consumption and hence economic growth. And if young people's confidence levels are flatlining or falling, that poses a risk as older decision-makers project their confidence onto financial markets and policy.
The Fed, like most policy-making organizations, comprises mostly of older people. The older members are the ones who gave confident speeches last week that drove the odds of a March hike higher. Notably, the youngest voting member of the Federal Open Market Committee, Minneapolis Fed President Neel Kashkari, 43, is its most dovish. On Feb. 21, he said that he still thinks there's some slack left in the labor market, and he hasn't adjusted his economic forecast for any possible fiscal stimulus.
This sets up an ideological clash between older decision-makers who have been buying stocks, expecting fiscal stimulus, and seeking to tighten monetary policy, and younger consumers and potential home-buyers who feel like things since the election haven't changed much or are maybe a little worse. If one group behaves as though the outlook is improving, and the other group behaves as though it is not, the economy is headed for disaster.
This column does not necessarily reflect the opinion of the editorial board or Bloomberg LP and its owners.
To contact the author of this story:
Conor Sen at csen9@bloomberg.net
To contact the editor responsible for this story:
Philip Gray at philipgray@bloomberg.net
Before it's here, it's on the Bloomberg Terminal.
LEARN MORE