Prophets
The ECB's 'High-Class Problem'
ECB President Mario Draghi may have to act on rates sooner than he wants.
by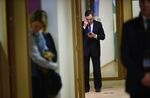 The European Central Bank has been in a difficult position when it comes to addressing inflation with conventional policy. The main reason is that, during the debt crisis, the bank faced a trade-off between stabilizing European sovereign bonds, consumer inflation and lending.
Financial stress from sovereign bonds spilled over into the real economy and left the ECB with residual deflation, high unemployment and a rising tide of populism. Now euro-zone inflation that has risen to 2 percent, increasing populism and an improving economy may lead to a potential rate hike sooner than the bank wants.
A disconnect between political and market risks is one of the underlying catalysts for a hike. Historically, political uncertainty and market volatility were closely related until Brexit. There has been a disconnect (see fig. 1) caused by narratives fueling populism, as markets were anchored by ECB policy. This schism may be changing because political risks are seeping into European sovereign bonds even as rising inflation may bolster the case for tapering the QE program. The ECB could face a trade-off between fighting inflation and stabilizing sovereign bonds. In 2011, this proved an ill-timed strategy as the ECB "mistakenly" tightened too soon amid an intensifying sovereign debt crisis.  

Most sensitive to a combination of political and market risk is the front end of European sovereign yield curves. In a higher-inflation environment, markets can pressure the ECB to choose between forward guidance and tapering quantitative easing. As this choice gets complicated by dynamics of rising inflation and political risks, market risk will likely increase, as can be seen from the recent rise in short-term French, Italian and German forward interest rates (fig. 2).  

Markets are also changing their mind about the probability of a rate hike by the ECB (fig. 3). Without signals of any imminent policy change from the ECB, the markets determined the possibility of a hike is about 30 percent higher than at the last bank's meeting. Interest rate expectations have been emboldened by a similar shift regarding the future of U.S. rates after Fed officials confirmed that a rate hike in March is almost a certainty. Because of correlation between European and U.S. short-term interest rate expectations, and because those projections in turn correlate with the short end of the European sovereign yield curves, the ECB is already confronted with a rate hike in "stealth form."    

Resorting to a rate hike is what ECB President Mario Draghi called a "high-class problem." If the euro-zone economy improves with inflation near or above the target, the ECB would have to tighten measures. If, in that case, ECB does not do enough QE, financial conditions may tighten too quickly. If the ECB does too much QE and inflation overshoots, markets won't see rising inflation as transitory and may price more future rate hikes. Historically, the ECB dealt with higher inflation by adjusting the "corridor system," in which the deposit rate acts as a floor and the lending rate as a ceiling on interest rates (fig. 4).  
The history in fig. 4 suggests that for every 0.1 to 0.2 percent inflation that is above the target, two sequential rate hikes followed. Because of the debt crisis and today's ongoing political uncertainty, the ECB cannot just change interest rates. Rather, the market seems to do the work for the ECB as shown in fig. 2 and 3.
Markets believe the ECB may no longer have a high-class problem of doing not enough QE but rather doing too much. If the ECB were to strictly adhere to its mandate of inflation at or below 2 percent, a tightening stance could risk a repeat of the 2011 situation when political risk and market risk both rose sharply. The ECB is at a tangent and options are limited. Economists expect the ECB to stay on hold for the next few months. But whatever policy choice the ECB eventually makes, a negative outcome for European sovereign bonds and global markets may be all but certain.  

This column does not necessarily reflect the opinion of the editorial board or Bloomberg LP and its owners.
To contact the author of this story:
Ben Emons at bemons8@bloomberg.net
To contact the editor responsible for this story:
Max Berley at mberley@bloomberg.net
Before it's here, it's on the Bloomberg Terminal.
LEARN MORE