Brexit
Specter of No Brexit Deal Haunts U.K. Automakers
Any trade deal looks better than no deal for Britain's car industry.
by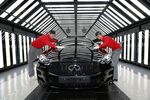 When U.K. Brexit Secretary David Davis told his cabinet colleagues last week that they should brace for "the unlikely scenario in which no mutually satisfactory agreement" is reached on Brexit, it set off alarm bells in one industry in particular -- and it's not the finance industry.
Britain's automotive industry employs 169,000 workers directly in manufacturing and a total of more than 800,000 workers across the sector, according to the Society of Motor Manufacturers and Traders (SMMT), an industry lobbying group. The prospect of tariffs both on the 1.3 million cars the U.K. exports each year and on the parts that cross back and forth between the U.K. and the EU is putting those jobs at risk.
QuickTake How Post-Brexit Trade Might Work
Nissan Motor Co. estimates it could lose as much as 600 million pounds ($738 million) in profit on the 320,000 Qashqai SUVs it makes annually in Sunderland, Senior Vice President Colin Lawther told lawmakers on Wednesday. That's based on an estimated 10 percent tariff on exports to the EU, plus duties of as much as 4.5 percent on imported parts.
Swati Dhingra, an economics lecturer at the London School of Economics, estimated in a study prior to last year's referendum that Brexit could reduce total U.K. car production by as much as 12 percent.
Exports from the U.K. auto industry are worth more than 34 billion pounds, accounting for 12 percent of the country's total exports of goods based on the most recent figures for 2015, according to the SMMT. While those goods are sold to more than 100 countries, the EU is by far the most important market, with a share of 57.5 percent dwarfing about 11 percent to the U.S. and 7 percent to China: 
Carmakers are trying to insulate themselves from the effects of leaving the EU. McLaren Automotive Ltd., for example, is building a Sheffield factory to move chassis production out of Austria. The move, already planned prior to the June referendum, reduces the risk that the maker of models including the $1.4 million P1 supercar will face tariffs on parts imported from Europe, which currently comprise about half of the cost of a car. Jaguar Land Rover, part of India's Tata Motors Ltd., is also sourcing more parts from the U.K.
Nissan, which employs more than 7,000 workers directly at its Sunderland factory with a further 28,000 jobs at suppliers dependent on the Japanese company, is so far the only automaker to have secured a post-Brexit commitment from the government. The support came in the form of a secret October letter from Secretary of State for Business Greg Clark, who later revealed that he'd made four key pledges, including seeking to maintain tariff-free access to the EU for the car industry. No wonder Nissan has reserved the right to revisit its investment decisions once the U.K. concludes its exit negotiations.
Avoiding tariffs seems incompatible with the government's willingness to abandon the EU's customs union. Confederation of British Industry president Paul Drechslerwill warned in a speech on Thursday that leaving the EU without a trade deal would inflict World Trade Organization tariffs on 90 percent of the goods British companies export, opening a "Pandora's Box of economic consequences."
In response to Nissan's comments last week, Prime Minister Theresa May's spokesman Greg Swift said the government will seek "a deal that allows there to be an environment for Nissan and other companies in the automotive sector to flourish." May is on the record as saying that "no deal for Britain is better than a bad deal." The auto industry suggests any deal that minimizes the future cost of doing business with the EU is better than no deal at all.
This column does not necessarily reflect the opinion of the editorial board or Bloomberg LP and its owners.