Food
France's Farmers Are More Productive Than You Might Think
All that wine and decadent cheese is driven by the industry's dedication to variety.
by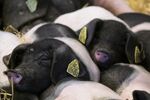 The annual Salon International de l'Agriculture in Paris, which closes its doors today after a nine-day run, can be compared to a fair in a very productive agricultural county in the U.S. You just have to multiply the size by about 100, upgrade the food quality substantially, add copious amounts of wine, trade the stage performances by more or less washed-up pop groups for roving brass bands, add a hall full of vendors trying to sell things to farmers (software, drainage systems, robots, loans, notary services), and subtract the rides. Got it?
I decided to go Thursday because I had seen a photo of French presidential candidate Emmanuel Macron in the newspaper that morning, gesticulating before a bored-looking cow. He and rival Francois Fillon both attended the Salon de l'Agriculture on Wednesday. Marine Le Pen was there the day before. "Hard left" candidate Jean-Luc Melenchon declined to attend, saying that he "disapproves of the model of industrialized agriculture," but Socialist Benoit Hamon showed up the same day I did. I didn't see him, though.
I did see a lot of cows, of many different breeds. The multiplicity of breeds was so striking, in fact, that I began to write the names down. Here's what I saw, in the order I saw them: Rouge de Pres, Limousin, Blonde d'Aquitaine, Bazadaise, Charolais, Montbeliarde, Prim'Holstein, Jersiaise, Normande, Simmental, Rouge Flamande, Brune, Gasconne, Mirandaise, Armoricaine, Parthenaise, Salers, Ferrandaise, Aubrac, Pie Rouge, Bleue du Nord, Blanc-Bleu, Villard de Lans, Abondance, Tarentaise, Herens and Vosgienne.
It went similarly with the sheep, rabbits and pigs. I didn't visit the horse or dog pavilions, but I assume there were many, many kinds of those, too. With dogs, that's normal all over. With livestock, the French seem to be uniquely invested in variety.
They're invested in variety of terrain, too, of course: In the pavilion of "the 13 regions of France and their products," farmers offered seemingly endless different iterations of cheese, meat, wine and other good things, all with specialized regional branding. I stopped at an oyster stand in the Brittany section, and while I consumed my nine excellent oysters and a glass of Muscadet for 13.50 euros ($14.26), I perused a place-mat map that detailed the "12 grands crus" of Breton oysters. The oyster farmer offered to give me the place mat, but I just asked him to point out on the map where his farm is -- near Kerpenhir Point on the Gulf of Morbihan.
French agriculture may be industrialized ("productivist" is the literal translation of what Melenchon said), but it's industrialized in a different way than that of the U.S. There has long been a focus here on creating differentiated products -- and in many cases maintaining that differentiation through regulation. Sometimes this relative inflexibility, like so much French economic inflexibility, probably stands in the way of innovation and growth. But when it comes to farming, there are clearly rewards.

Here, for example, is agriculture's share of employment in France and several other big, affluent economies:
This is interesting: The three countries with the highest share of agricultural employment are also the three with the greatest culinary traditions.  Maybe a less efficient, more artisanal approach to farming and better-quality food go hand in hand. Then again, in "productivist" France, farming is actually not inefficient at all:
By this measure, France's farmers are just about the most productive in the world. Only Slovenia and Singapore -- not exactly major agricultural powers -- have a higher value-added per worker. All that product differentiation, then, seems to be succeeding in driving up the value of French agricultural products.
This hasn't been enough to keep French farmers (like farmers in lots of other places, including the U.S.) from having a really tough time lately. A global bumper crop of wheat and the European Union's dismantling of quotas and price supports for milk and other products have driven prices down and agricultural bankruptcies up. Still, the French approach to agriculture seems like it has a lot going for it.
This column does not necessarily reflect the opinion of the editorial board or Bloomberg LP and its owners.