Russia
There's No Separating Wealth and Power in Russia
Crusading investigator Alexei Navalny explains why.
by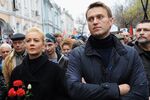 There's nothing sensational about high-level corruption in Russia these days, and it's unlikely that Alexei Navalny's investigation into the luxurious lifestyle of Prime Minister Dmitri Medvedev will improve the anti-corruption activist's chances of being elected Russian president in 2018. The exceptional piece of journalistic work, however, does make an important contribution to our understanding of how graft works at the pinnacle of the Russian state hierarchy -- and what these arrangements say about the Putin team's long-term plans and geopolitical outlook.
The investigation, performed by Navalny's group, the Anti-Corruption Foundation, builds on previous work by Russian investigative journalists, who had already revealed a network of non-profit organizations administered by the prime minister's law school classmates, in part to Medvedev's benefit.
Navalny and his team painstakingly collected documentary evidence of luxurious residences Medevedev regularly uses in Central Russia and near Sochi on the Black Sea. These residences are run by what are, on paper, charity organizations that do not have end beneficiaries. The organizations, however, received contributions from some of Russia's wealthiest people, including the founders of the Novatek natural gas company and Alisher Usmanov, whose assets range from early Facebook investor DST (which later became Mail.ru Group) to Russian cellular operator Megafon. The latter, Navalny shows, donated an expensive building that later became a Medvedev residence, to one of the funds. Navalny notes that the non-profits don't appear to do much in terms of good works, and they don't file reports of their activities to the Justice Ministry.
The non-profits have also borrowed large amounts of money from state-owned or well-connected banks. Navalny estimates the total loans and oligarch contributions to the funds run by Medvedev's classmates at 70 billion rubles ($1.2 billion).
What the investigation fails to do conclusively is to trace the beneficial ownership of assets -- land, buildings, yachts, an Italian vineyard with a 30-room villa -- to Medvedev. Medvedev's press secretary, Natalya Timakova, dismissed  Navalny's work as electioneering: Navalny is the only person so far to have declared his candidacy in the 2018 presidential election. "It is pointless to comment on the propaganda attacks of a convicted opposition character, who has already announced that he's conducting some kind of a political campaign and fighting the government," she said. (The conviction she referred to is from a recent retrial on trumped-up charges previously overturned by the Russian Supreme Court and the European Court of Human Rights).
Medvedev, who served as president between 2008 and 2012 when Vladimir Putin needed to take a constitution-dictated break, was well-liked by the more moderate Russian liberals. The St. Petersburg lawyer appeared softer and milder than Putin. To some Russians, he represented a path toward a more modern, more Westernized country, and Putin's decision to grab back the reins in 2012 dashed those people's hopes. If elections were real in Russia, these moderates would be Navalny's target audience; his anti-corruption drive and investigations would discredit a whole class of elites in Russia.
Russia, however, is not a functioning democracy. Navalny may not even get to run: He needs his conviction overturned again to do it, and there are lots of other ways to remove him from competition. Even if he is allowed to run, he will have no access to TV, which is all state-owned, and his campaign will be undermined in every possible way. The anti-corruption crusader's decent performance in the 2013 Moscow mayoral race -- 27 percent -- can hardly be predictive of his results in the Russian hinterland, which is far more conservative and unimpressed with tales of high-level corruption: Russia has always lived with it, after all.
Investigations are powerful self-promotion tools for Navalny. A 2015 movie he made about Prosecutor General Yuri Chaika and his sons has been viewed more than 5.3 million times on YouTube. The freshly released movie explaining the Medvedev investigation had crossed the 2.2 million mark at the time of this writing. It will probably beat the Chaika one eventually. But these numbers are comparable with the audience of one pro-Putin talk show on national television. So, as much as Navalny would like the investigations to have a political effect, his reach is too limited under current circumstances. 
But the missing link in the Medvedev investigation -- the lack of a direct connection between the prime minister and the assets he has benefitted from and which are controlled by those close to him -- says much about the enormous stake that Putin and his closest allies have in staying in power.
Investigative journalists who studied the Panama Papers also uncovered suspicious activity by people close to Putin -- but failed to find the final link to the Russian leader himself. It's likely there's no such link. As a former intelligence operative, Putin assumes that Western spy services are on the lookout for any damaging information about him and for ways to squeeze him financially. So the best solution available to him is to own nothing and depend on schemes involving old, trusted friends.
The ownership of the assets used by Medvedev isn't simply untraceable -- it is deliberately nonexistent, set up for any paper trail to lead to a charity foundation that isn't supposed to make money or pay dividends. If Medvedev is indeed the beneficiary of these primarily domestic arrangements, he would stand to lose all of it if Putin were ousted. All it takes is for the charity funds to change management, which their oligarch founders can easily arrange, and for the banks to pull the rug.
While Russian officials ranking immediately below Medvedev make full use of offshore companies (something Putin has frowned at, for state security reasons), and their palaces in Spain or Switzerland are often registered to these shells, Putin and Medvedev have stayed away from such devices, though their closest friends and associates have grown enormously wealthy.
It's a strong reason to stay in power as long as they can. Though Russians appear accepting of high levels of corruption, or at least resigned to it, they are probably not yet ready for the direct ownership of huge country estates and yachts by the president and his men. Indirect arrangements, however, fit the Soviet tradition of letting leaders live the good life while they run the country.
As for Navalny, each of his investigations confirms his status as the country's pre-eminent journalist and anti-corruption activist. The professional press hasn't been able to match his work or, for the most part, even to report on it in enough detail, since it fears retribution. Against a lone warrior, even one as tenacious as Navalny, Russia's leaders most likely feel they have little to fear.
To contact the author of this story:
Leonid Bershidsky at lbershidsky@bloomberg.net
To contact the editor responsible for this story:
Therese Raphael at traphael4@bloomberg.net
Before it's here, it's on the Bloomberg Terminal.
LEARN MORE