White House
President Trump Is Asking to Be Ignored
His latest whopper is another step on the road to an incredibly weak administration.
by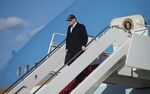 The President of the United States, utterly ignoring reality:
The truth? After Rick Perry and Ben Carson were confirmed by the Senate on Thursday, only two major cabinet officials remain unconfirmed. And it's difficult to blame Senate Democrats for stalling Agriculture nominee Sonny Perdue or Labor nominee Alexander Acosta, since the White House has still not formally submitted their nominations to the Senate. 
Two other positions appear to have cabinet status and have nominees who have not been confirmed. 1 Dan Coats, the nominee for Director of National Intelligence, just had his hearing on Thursday, while U.S. trade representative nominee Robert E. Lighthizer hasn't had his hearing yet. Can't blame either of those on the Democrats since the majority controls the schedule for hearings. The main delay in most cases has been slow paperwork from the White House, a result of Trump's announce first, vet later procedure.
It is true there was a fair amount of Democratic foot-dragging over the last month. On the other hand, they targeted controversial nominees. Now, granted, it's difficult to objectively say whether the president is responsible for choosing controversial people, or the out-party is responsible for stirring up or inventing controversy. But even if we give all the blame to the Democrats, the end result was pushing back a few nominees by a few weeks. 2 And whatever was the case over the last month, the remaining nominees are entirely the administration's fault.
It's worth noting, too, that Democratic opposition was not across-the-board. They didn't stall Defense Secretary James Mattis, Homeland Security Secretary John Kelly, United Nations Ambassador Nikki Haley, Transportation Secretary Elaine Chao, or Veterans Secretary David Shulkin. 3  
All politicians spin. But Trump's utter disregard for the truth should still shock. Whatever happened with nominations such as Perry and Carson, there's just no case at all to be made that the remaining cabinet posts are being delayed by Democrats. 
Meanwhile, Trump hasn't submitted any new executive branch nominations since Feb. 8, and only one since Feb. 1. 4  During that stretch, the original Labor nominee and nominees for secretaries of the Army and Navy have withdrawn. It appears the nominee for deputy secretary of Commerce is likely on his way out as well. If so, that will leave only Homeland Security and Justice with deputy nominees, apparently in large part because of factionalism within the administration, but perhaps also because Trump and his senior White House staff don't really understand how the government works. 
Indeed, Trump has hinted, and others have speculated, that he might not want to fill many positions at all because he doesn't want the executive branch to do their jobs. As David Lewis explains in an excellent piece at the Monkey Cage, he would be foolish indeed to do so. Without political appointees, the various departments and agencies won't shut down; they'll just do what the permanent bureaucracy wants to do, regardless of presidential intentions. 
So what are we to make of Trump's complaint? All presidents spin, but Trump's willingness to make points entirely separate from reality, even with little or nothing at stake, is highly unusual. Perhaps Trump doesn't even realize what's going on in this own administration. Perhaps he just saw a stray (false) comment on whatever cable news network show he tuned in to. Perhaps it really is an attempt to distract people from the damaging Russia stories reported this week. 
Whatever the thinking (if any), it's really poor strategy. It's one thing to exaggerate, especially on the campaign trail. But presidents should care about their professional reputations, including whether the people who work with them -- members of congress, people in the executive branch, the media, party leaders, and more -- take what they say seriously. Every time they tell a whopper, that makes anything they say in the future that much less trustworthy and that much more likely to be ignored. And that's another step on the road to an incredibly weak presidency. 
To contact the author of this story:
Jonathan Bernstein at jbernstein62@bloomberg.net
To contact the editor responsible for this story:
Mike Nizza at mnizza3@bloomberg.net
Before it's here, it's on the Bloomberg Terminal.
LEARN MORE