view
Trump-Russia Needs the Scrutiny of a Special Prosecutor
It's also time for a Senate Select Committee with a sufficient budget and independent-minded Republicans.
by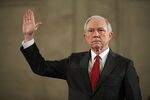 With two more revelations -- that Attorney General Jeff Sessions, contrary to his testimony to the Senate Judiciary Committee, met with Russian Ambassador Sergey Kislyak twice during the campaign, and that U.S. allies were aware of meetings between Russians and Donald Trump associates in Europe -- the continuing Russia-Trump scandal has outgrown the current investigations. 
It's time for more. Here's what I think should happen -- and how to get there despite unified Republican control.
I agree with Lawfare's Susan Hennessey and Benjamin Wittes that the current investigations by the House and Senate Intelligence Committees, while welcome, are simply beyond the capacities of those bodies. And I agree the correct forum for a public investigation is a congressional committee -- in my view, a Senate Select Committee. It should be small, like the seven-member Watergate Senate Select Committee, and given sufficient budget, staff, and scope to fully explore both the general topic of Russian interference in the 2016 election and the actions of the Trump campaign and associates of Trump. A 4-3 split would be acceptable, as long as the Republicans have a reputation for independence; an example might be Ben Sasse of Nebraska as Chair, with Tennessee's Lamar Alexander, Maine's Susan Collins, and South Carolina's Lindsey Graham as members.
(Why not a 4-4 split? Like it or not, Republicans ultimately have a Senate majority, and they would at the end of the day be just as much in a de facto majority of a 4-4 committee as they would a a 4-3 committee. Even if 4-4 would be ideal, the important thing is to place independent Republicans who will take the job seriously on the panel.)
The Watergate committee was formed in February 1973, and held its first hearings in May. But it did not act alone. The Senate demanded, and the embattled president approved, a special prosecutor independent of the Justice Department. Archibald Cox was recruited in May 1973.
This scandal differs from Watergate in one important way: That one began with a criminal case, and so prosecutions and the need for independence from the executive branch were clearly needed. As of what we know now, that's not the case with Russian interference and ties to Trump. However, given the ongoing investigations within the Justice Department and Sessions' role in the Trump campaign, and his own now-revealed contacts with Russia and further investigations of perhaps other contacts, it's pretty clear he is far too conflicted to be involved, even if House Democratic demands that he resign may be premature. 1 It's time for an independent counsel.
Of course it's easy to sit on the sidelines and say what "should" happen. The question is whether it can happen.
If three or more Republicans want a full investigation and are willing to fight for it, then it's fairly easy. Assuming all 48 Democrats go along, they can threaten Senate Majority Leader Mitch McConnell with bringing the Senate to a standstill until a Select Committee is appointed -- and threaten the White House that future executive branch nominees will be on hold until an independent counsel is selected.
Without three Republicans, it gets a lot harder. But Democrats do have some options. They're already slow-walking most of Trump's cabinet. They could threaten to continue foot-dragging on sub-cabinet and (once they are selected) judicial picks. For example, the administration sent up two career foreign services officers this week to be ambassadors to Senegal and to the Republic of the Congo. Normally such picks would be approved by voice vote with little or no debate, but Democrats could threaten to chew up a week of Senate floor time on them. 2 They can also threaten to block a final vote on the Supreme Court nominee and on any legislation that reaches the Senate floor. Granted, that would also imply they would back off on those stalling tactics if they get their way. But Democrats, too, should be willing to give something up (that is, using stalling tactics for other purposes) in order to assure a serious investigation. 
I should be clear: Yes, I'm using Watergate analogies, but that doesn't mean this story is similar to Watergate. So far, at least for the Trump side of it, we have a lot of suspicious-looking evidence and a whole lot of legitimate questions, but it's still absolutely possible that the president and his associates are innocent of any wrongdoing. At the same time, the Russian aspect of the story needs a full investigation no matter what. 
The best thing, of course, would be that Republican Senate leaders decide to get out in front of the story and take action themselves. But if not, it's time for senators who take their responsibilities seriously to apply some pressure.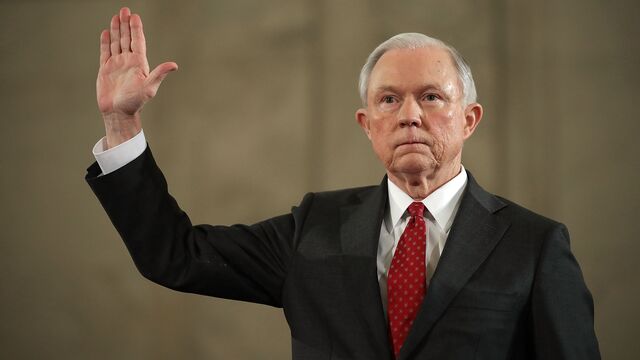 It certainly appears he gave false testimony under oath to Congress. Whether that was a significant lie, however, is yet to be determined. 

The more they exploit the rules, the better the chances that the Republican majority will simply impose new rules. So there are limits to what Democrats can do, regardless of the loopholes one might find in the official Senate rules. But it's not clear 50 Republicans (plus the vice-president) would be willing to impose new rules, squashing the rights of individual senators, just to protect a president they owe little to from a serious inquiry. 
To contact the author of this story:
Jonathan Bernstein at jbernstein62@bloomberg.net
To contact the editor responsible for this story:
Mike Nizza at mnizza3@bloomberg.net
Before it's here, it's on the Bloomberg Terminal.
LEARN MORE