Latin America
A Battle Plan for Mexico's U.S. Trade War
How to hit President Donald Trump where it hurts.
by and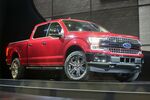 Disputes between Mexico and the United States over the North American Free Trade Agreement are not new. In March 2009, after years of litigation, the U.S. government abruptly suspended a pilot program that allowed Mexican truck drivers to deliver goods across the border. Mexico retaliated, imposing tariffs as high as 45 percent on $2.4 billion worth of U.S goods (89 products in total). The punitive impact of such tariffs on U.S. business convinced Washington to re-think its position, paving the way for a resolution to the dispute.
Two lessons loom large from this experience: First, the feud benefited no one, hurting businesses and jobs on both sides of the border; second, its resolution required both parties to be on relatively equal footing in the negotiation. Now, as another potentially more damaging tit-for-tat tariff war looms, that argues for a robust Mexican response to President Donald Trump's aggressive negotiating posture. Our solution: Mexico should target products coming from states that were critical to Trump's victory in the Electoral College.
An optimal negotiation is one in which both parties extract as much value for their own interest as possible without fundamentally damaging the other party's position. While Mexico's interests remain aligned with a continuation of trade with the U.S., Trump's unconstructive rhetoric has made it harder to create any kind of win-win framework. Not only did Trump campaign on the idea that trade with Mexico has hurt U.S. manufacturing jobs, he has refused to deal seriously with complex topics such as the nature of globalization, the pace of technological advances and the impact on production costs from unionized labor. This approach helped to build political capital among his more populist base, but it ignored the challenges involved in detangling the decades-long trade ties and cast a pall over any future negotiations. 
More broadly, Trump's continuous attacks on NAFTA, his statements that the U.S. has the upper hand in dealing with Mexico and his simultaneous executive orders on immigration have been more suited to playground bullying than to diplomatic bargaining with many constituents involved. To counter such posturing and level the negotiating playing field, Mexican officials should prepare a list of retaliatory tariffs targeting states that Trump closely associates with his election win. (Of those states on the chart below, he won all but Illinois.) Mexico is ranked as either the first or second export destination for all of them.

Trump has claimed credit for jawboning companies such as Ford Motor Co., General Motors Co. and Carrier Corp. to keep a few thousand jobs in the U.S. But the jobs associated with Mexican exports from these key Trump states number almost 1.8 million. And many are the manufacturing jobs that Trump is so intent on creating. That could add up to powerful leverage.
A trade war between the U.S. and Mexico would be in neither side's interest. But in order to have an effective negotiation, both parties must feel like they are equals in working out the new terms. Drawing up this list of tariffs should send a clear signal to the Trump administration from Mexico that a zero-sum approach to this game is risky, and that a botched renegotiation can be very costly for U.S. interests.
This column does not necessarily reflect the opinion of the editorial board or Bloomberg LP and its owners.
To contact the authors of this story:
Alejandro Silva at asilva@silvacapitalmgmt.com
Alejandro Urbina at aurbina7@bloomberg.net
To contact the editor responsible for this story:
James Gibney at jgibney5@bloomberg.net
Before it's here, it's on the Bloomberg Terminal.
LEARN MORE