Prophets
What Happened to Trump's 15% Corporate Tax Rate?
The president's speech omitted the magic number markets had been waiting for.
by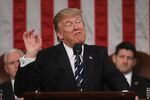 President Donald Trump presented his tax plan to Congress, but there was one notable omission: 15 percent. That's the corporate rate that investors have started pricing into equity markets, and it's the number that Trump has repeatedly stated as his goal. But with almost $20 trillion in U.S. national debt, and $200 trillion in unfunded entitlement obligations, it may too tough to cut taxes that significantly.
Equity markets have risen since the election as reduced corporate rates present fundamental upside risks to business valuations. One way to value companies is to look at the market capitalization. With public companies, you take the number of shares outstanding and multiply it by the price of those shares. There are other ways to value companies, too. The Discounted Cash Flow method, which is common for private company valuations, is directly influenced by corporate tax rates. And lower corporate tax rates would juice DCF valuations -- effectively making every U.S. company more valuable. Public companies, valued by market cap, are therefore subject to an upside valuation arbitrage if corporate tax cuts are implemented.
Yet the full value of any future tax cuts has not been fully priced in. As a result, equities could rise much higher if corporate tax rates are cut to 15 percent, as Trump has promised. If the tax cuts aren't enacted -- or if skepticism about their implementation increases -- there would be significant downside risks to equity markets. The risks of disappointment are high, and if valuation perceptions change, equities could sell off hard and fast. The technical floor to watch remains the 120-day moving average for both the Dow Jones Industrial Average and the Nasdaq.
As they look at the potential future impact of Trump's tax cuts, traders are risk-averse; they are influenced by his promises, which represent forward guidance of policy. After all, bond market traders cannot risk being caught long in a fiscally inflationary environment, just as equity traders cannot risk being caught short if corporate tax rates are cut, increasing the value of every company in the U.S.
The crowd has also joined the equity trade higher to record levels. This can be seen in the critical volume technical for the Dow known as On Balance Volume, which has risen sharply since Feb. 8 to record levels last week. This indicator shows that the crowd has piled on to the move higher to new records for the Dow. If Trump fails to get corporate tax cuts implemented, however, crowd sentiment could turn.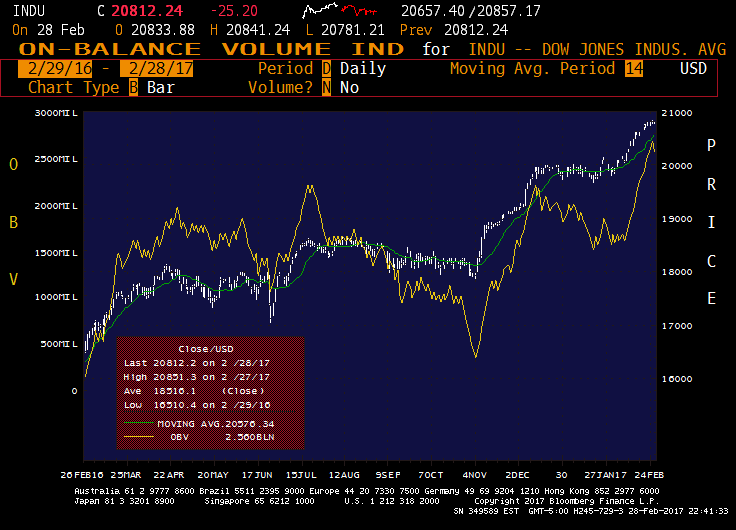 For now, Trump's forward guidance about corporate tax cuts is working. But the question stands: How long can equity markets be jawboned? And how much will it matter, if Trump disappoints?
This column does not necessarily reflect the opinion of the editorial board or Bloomberg LP and its owners.