Energy
Gazprom Needs Its European Customers More Than Ever
The state-owned giant has been flexible on pricing because it wants something in return from Europe.
by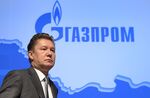 In 2016, Gazprom, the state-owned Russian natural gas producer, achieved what it calls a record share of the European Union's gas market -- 34 percent, compared with about 30 percent the year before. But wait a minute, wasn't Europe trying to reduce its Russian gas dependence?
On a political level, yes. Economically, though, the EU has pursued, and largely attained, a different goal -- to stop Gazprom from abusing its monopoly power in Eastern Europe. As soon as Gazprom mostly accepted the rules of the game, its prices became so attractive for European customers that they've seen no point in buying less Russian gas. As for Gazprom itself, increasing market share in Europe has cost it dearly, but it's taking this in stride because it's playing a complex, high-stakes political and economic game aimed at getting Europe to accept its plan for a major pipeline bypassing Ukraine.
Gazprom did more than just increase its share of a market that is slowly shrinking as Europe moves toward more renewable energy in its mix. In 2016, Gazprom supplied 179.3 billion cubic meters of natural gas to Europe, a 12.5 percent increase on 2015. The supplies increased because Europe has been doing better economically, but also because Gazprom last year significantly undercut its competition with the lowest prices in 12 years -- on average, $167 per thousand cubic meters. 
The prices were supposed to go down in accordance with Gazprom's long-term contracts, based on past oil prices. Oil was cheap in 2015, and the reduction in its price caught up with Gazprom. But the company also has been flexible in cutting prices to keep its European customers. This year, Gazprom plans to sell at last as much gas to Europe in 2016 despite expected increases in liquefied natural gas supplies from the U.S. and Australia. When there's an excess of LNG on the market, it's attractively priced -- but Gazprom also has excess production capacity at fields it developed when prices were higher, and it can stay competitive for years to come. 
The price flexibility was what the EU tried to achieve with its antitrust investigation of Gazprom, begun in 2012. Late last year the parties came close to a settlement that would prevent the maximum fine for Gazprom, amounting to 10 percent of its global sales. Gazprom's proposals, submitted in December, haven't been made public, but they likely confirm a new level of price flexibility meant to bring Gazprom's prices into line with the European spot market.
The company's chief financial officer, Andrei Kruglov, has warned that the company's earnings before interest, tax, depreciation and amortization would be down 30 percent on 2015. The company likely had negative cash flow in the second half of 2016 -- a startling development that has prompted Vladimir Milov, a former Russian deputy energy minister and a frequent critic of state energy companies' management, to write snarkily on Facebook: "They need to teach a course on how to have trillions of dollars and fritter away everything."
From a European perspective, Gazprom isn't the powerful geopolitical weapon President Vladimir Putin's Russia once wielded. The threat of supply disruption from Russia is no longer as scary as it was in 2009, when a winter "gas war" between Russia and Ukraine could have resulted in cold homes across Central Europe. The worst that can happen now is a temporary rise in prices. Gazprom needs its customers more than they need it.
That, perhaps, is why Russia is mentioned in just one sentence of the EU's 2016 State of the Energy Union report: "The Commission conducted a series of bilateral and trilateral meetings with Russia and Ukraine to ensure stable domestic supplies to Ukraine and gas transit from Russia via Ukraine to the European Union." Last October, the European Commission was happy to grant Gazprom almost full access to OPAL, a feeder pipeline that would allow it to increase supplies to Germany and the Czech Republic through the Nord Stream pipeline across the Baltic Sea. Poland has blocked this decision in the European Court of Justice, but the forces behind it -- the commission and Germany -- are likely to push it through.
Russia, however, needs more than that. The company's softly, softly tactic is designed to allow it to complete a major project -- another Baltic pipeline, Nord Stream 2, which would let it more or less completely bypass Ukraine. 
Since Russia annexed part of its territory, Ukraine has stopped buying Russian gas directly, instead acquiring it from Eastern European countries. But Gazprom's main export route to Europe still lies across it, and Ukraine earns transit fees from the pipeline traffic. The Kremlin hates this for political and supply security reasons. Ukrainian nationalists have disrupted trade with and power supply to Russian-controlled Crimea and, more recently, railroad traffic with pro-Russian separatist-held areas in the east of the country. What if someday the gas pipelines were targeted?
In making decisions on Nord Stream 2, Europe will need to weigh carefully whether it can afford to alienate not just Ukraine but potentially Poland and the Baltics, which would be bypassed by the pipeline, a potential problem for the energy markets of these traditionally anti-Russian countries. That political calculation would need to be balanced against the prospect of supply stability and cheaper energy. There are also issues with its compliance with European rules, since it's 100 percent controlled by Gazprom and EU regulations demand the "unbundling" of gas supplies from pipeline ownership and equal access for suppliers.
To help make its case, Gazprom hired former German chancellor Gerhard Schroeder as chairman of the board. "Last time I checked, Schroeder did not have a PhD in pipeline engineering," Sijbren de Jong, an energy expert at the Hague Center for Strategic Studies, quipped in a recent article.
Whatever the EU decides, however, Gazprom as a business has a murky future. It has little potential to raise prices or increase supplies to its main export market. Prospects in Asia, where the company is likely to start shipping gas in 2019 or 2020, are unclear since China too has alternatives to Russian supplies.
At $54 billion, Gazprom's market cap is lower than the valuation of Uber, and the company is quickly increasing its debt burden as it turns from Russia's crown jewel into a potential problem. Gazprom Chief Executive Officer Alexei Miller's infamous boast in 2008 that Gazprom was on its way toward a trillion-dollar market capitalization and the number one spot among global public companies is looking more ridiculous every year. No wonder the company has become more customer-friendly.
To contact the author of this story:
Leonid Bershidsky at lbershidsky@bloomberg.net
To contact the editor responsible for this story:
Therese Raphael at traphael4@bloomberg.net
Before it's here, it's on the Bloomberg Terminal.
LEARN MORE