Investing
For Better and Worse, Ackman's Still Betting Against Herbalife
Even after the FTC let the company live, the hedge fund activist still bets it will die.
by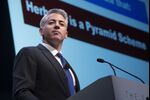 Last summer, shortly after Herbalife agreed to settle allegations of deceptive practices by paying $200 million and agreeing to overhaul its business model, Bill Ackman sent me a link to the settlement with a short note. "Please give this a read," he wrote.
For better or worse, Ackman is the most swashbuckling hedge fund manager of our age. Back in 2012, he placed an audacious billion-dollar bet against Herbalife, loudly proclaiming it to be an illegal pyramid scheme rather than a legal "multilevel marketing" company. 1 I thought then, and think now, that his argument was sound. But I doubted that he would win because his endgame required the U.S. Federal Trade Commission to put Herbalife out of business. And the FTC hadn't even investigated -- much less put the screws to -- a major multilevel marketing company in over 35 years.
Since then, Ackman's Pershing Square Capital Management has suffered hundreds of millions of dollars of losses in Herbalife, part of the reason (along with Ackman's catastrophic Valeant's holdings) that it has posted double-digit losses the last two years. But Ackman's relentless drum-beating did eventually cause the FTC to open an investigation into Herbalife. Which led to the settlement last summer. Which I read at Ackman's suggestion. And which I found to be amazing.
In its complaint, the FTC described Herbalife as a company that dangled promises of easy wealth that were essentially fiction. It made most of its money by forcing its "developers" (now called "members") to buy a certain amount of its products each month. Its compensation system was geared not toward retail sales but "the recruiting of additional participants who will fuel the enterprise by making wholesale purchases of product" -- and who were then supposed to recruit their own network, ad infinitum. Also, the FTC said, "the overwhelming majority" of Herbalife distributors made little or no money. Many of them, in fact, lost money.
To my mind, that sure sounded like a pyramid scheme. "Most of us were amazed at the strength and wording of the settlement," said Robert Fitzpatrick, the president of Pyramid Scheme Alert. "It was absolutely describing a pyramid scheme."
Except that, as Sheelah Kolhatkar points out in her lengthy recounting of the Ackman-Herbalife battle in the current issue of The New Yorker, the FTC never actually used the words "pyramid scheme." Nor did it put Herbalife out of business. Instead, along with the $200 million payment, it forced the company to agree to stop what it called its false and misleading claims. Perhaps more importantly, it demanded that the company reconfigure its business practices so that compensation rewarded selling its protein shakes and nutritional drinks to non-distributor customers rather than recruiting new members. Herbalife was given until May, 2017 to make most of the changes.
Much to Ackman's amazement -- wasn't the federal government agreeing with him? -- most of the business media characterized the outcome as a victory for Herbalife (and also for Carl Icahn, who holds more than 20 percent of the stock and has, more than once, mocked Ackman's stance). And though Kolhatkar 2 portrays Ackman in saint-like terms -- she actually quotes the hedge fund billionaire saying, "We try to do things that are good for America" -- she arrives at the same place.  
I've always felt conflicted about Ackman's Herbalife battle. The way Kolhatkar describes it, he's not so much a hedge fund manager shorting a stock as he is a crusader trying to achieve justice for the downtrodden. But should hedge fund managers really be crusaders? 
Kolhatkar has an interesting scene that takes place in 2014 when Ackman is meeting with his firm's advisory board, at a time when the Herbalife losses have risen to $700 million and he's trying to decide whether to throw in the towel. Ackman doesn't want to sell, even though, as board member Martin Peretz acknowledges, "other managers would have long ago dropped Herbalife."
Peretz adds, "He has a great sense of fairness, and that operated in his thesis, and it operates in his investing." Yet fund managers who aren't willing to let go of losing positions are fund managers who cost investors money. (See, also: Valeant.) And the role of a hedge fund manager is to generate returns for investors, not to buy or sell stocks based on a sense of "fairness." Besides, a stock bet that can't be won without the intervention of the federal government seems more than a little foolhardy. 
On the other hand, pyramid schemes truly are a scourge on people who can ill-afford to lose their money. And the multilevel marketing industry is enormous, with powerful allies. Until Ackman came along, there hadn't been anybody with the money or the clout to go toe-to-toe with it. And while most of the coverage focused on the irresistible battle between the two fiery combatants (three if you include Icahn), it did also serve to illuminate the exploitive nature of pyramid schemes. Ackman's crusade may not have been great for his investors, but it's probably been good for the country.
Somewhat to my surprise, it also turns out that the battle is not over. Herbalife, whose stock has been down in the last two weeks, is racing to overhaul its business in time to meet the May 2017 deadline. The company's defenders will tell you that the changes will only serve to prove that it was never a pyramid scheme and that it will easily adjust. There are plenty of people, they say, who want to buy its products without becoming distributors; its earnings will do just fine. And Ackman will go down in flames. (It doesn't hurt Herbalife's prospects that several members of the Trump administration have ties to the multilevel-marketing industry, including the president himself.)
Ackman, meanwhile, still has a huge short position in Herbalife; It comprises between seven and nine percent of his portfolio. He thinks that once May arrives, and the company has to try to adapt to the changes imposed by the government, it won't be able to do so. In particular, the requirement that most of the company's products be sold to customers rather than other distributors will be crushing to Herbalife, he believes.
Last summer, after I read the Herbalife settlement, I had a short exchange with Ackman that ended with him telling me that the company was still ultimately going to go out of business. 
When I spoke to him the other day, I asked again. Did he still believe that Herbalife's days were numbered?
Ackman didn't hesitate. "Absolutely," he said.
This column does not necessarily reflect the opinion of the editorial board or Bloomberg LP and its owners.
The essential difference between a pyramid scheme and a multilevel marketing company is that with the former, the primary goal of each member is to recruit new members, while the primary goal of the latter is to sell actual products. However, all the big MLM companies rely on a system of recruiting new members, who then recruit new members, and so on. And pyramid schemes invariably sell products like nutritional supplements and weight loss drinks. So the line between a legal MLM and an illegal pyramid scheme is pretty thin. Also, no matter what the form of the enterprise, the vast majority of members lose money.

Yes, she's the same writer whose book, "Black Edge," I reviewed last week. Though I'm not in the habit of writing about any one author's work on consecutive weeks, I've long wanted to weigh in on the Herbalife settlement, something I couldn't do when it took place because I was writing sports columns for the New York Times. When I saw her story in The New Yorker, I couldn't resist.
To contact the author of this story:
Joe Nocera at jnocera3@bloomberg.net
To contact the editor responsible for this story:
Jonathan Landman at jlandman4@bloomberg.net
Before it's here, it's on the Bloomberg Terminal.
LEARN MORE