Law
What Press Freedom Means When You Can Just Press 'Tweet'
Social media will increasingly challenge First Amendment law.
by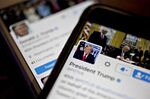 Monday's U.S. Supreme Court argument about whether sex offenders can be barred from social media had the justices observing that even the president uses Twitter. But the ubiquity of social media in politics is only the most superficial aspect of how new forms of publishing are challenging the First Amendment. In areas such as campaign finance and libel law, it's a different legal ballgame than it was just a few years ago -- and the changes can be expected to multiply with time.
If you think about it, no other fundamental constitutional right is defined by the technology of a medium. The First Amendment protects freedom "of the press" -- a term that has at least two meanings. It refers literally to the physical product of the printing press -- written words as opposed to freedom of speech. And it refers to the ecosystem of newspapers and pamphlets that by the end of the 18th century was commonly referred to as "the press."
Consequently, First Amendment law comes under great pressure to evolve when new media technologies change the way public conversation is conducted.
The case before the justices, Packingham v. North Carolina, is certainly an example of this. The state law makes it a crime for registered sex offenders to access any "commercial social networking site" that allows minors to become members. The statutory definition is so broad that it arguably includes websites of newspapers that allow comment exchanges between readers.
The justices focused in the oral argument on how central social media has become to ordinary political speech. Justice Elena Kagan quickly set the tone by commenting that "the president now uses Twitter," as do all 50 governors and 100 senators and every member of the House of Representatives. (She tactfully neglected to mention the justices of the Supreme Court, who don't.)
Kagan's point was that social media "has become a crucially important … channel of political communication." That, she strongly implied, raised the constitutional importance of protecting access -- even when there might be corresponding risks to children exposed to sex offenders.
Justice Anthony Kennedy analogized social media to the public square, asking whether it would've been permissible in the past to prohibit a registered sex offender from entering such a community gathering place.
These comments acknowledged the need for First Amendment doctrine to evolve in the light of social media, and in broader areas.
One striking example is in campaign-finance regulation. The large body of case law attempting to balance free-speech concerns against the idea that money spent on politics is a form of speech pretty much depends on a media-buy model of political campaigns: Spending money to buy ads is a form of highly protected political speech.
Thus, if I am speaking on my own, not in formal coordination with a campaign, my rights are essentially unlimited, according to the notorious Citizens United v. FEC case. If I'm making a contribution directly to a campaign, my speech rights can be limited by contribution caps in order to avoid the appearance of quid pro quo corruption.
Yet the role of social media in Donald Trump's presidential campaign in some ways calls into question this traditional model of money as speech. Trump didn't out raise or outspend Hillary Clinton. Yet by the use of social media, among other sophisticated tools of media strategy, he managed to reach many millions of voters without paying for traditional ads on television and radio stations.
The role of social media in the 2016 election strongly suggests, then, that the archetypal First Amendment media-buy model is on its way to obsolescence. That may lead the Supreme Court to jettison the whole body of doctrine; in any case, new law will have to be developed to make sense of new mechanisms of communication.
What if, for example, a major social media outlet had chosen to bar pro-Trump ideas? Or, more subtly, what if the feeds on Facebook or Google were tweaked to favor one candidate over others? Such actions would on the surface be lawful because social media companies are private actors with their own free-speech rights. But the distortion in political discourse would be a potentially serious problem for democracy -- because, as the justices pointed out Monday, social media is now such an important vector of political communication.
Or take the area of libel law, where the First Amendment makes it more difficult for a "public figure" to sue than for a private citizen. The rationale for the difference had to do in part with the special access that "public figures" have to the media compared with ordinary people, which is supposed to make it easier for them to combat false and defamatory statements.
But in the era of social media, how can we tell who is or is not a public figure? Does 10,000 Twitter followers make someone into a public figure? Is the number the same or different on Instagram? Are social media numbers a plausible guide of any kind?
What's more, social media has helped create a highly stratified sense of who counts as public. Someone could have hundreds of thousands or even millions of followers and remain utterly unknown to people not engaged in that social network. Someone else could be extremely widely known in a particular but narrow area.
In these areas and others, social media is in the process of forcing a revision of First Amendment doctrine. That change is a good thing -- a sign that the living Constitution can keep up with the times.
This column does not necessarily reflect the opinion of the editorial board or Bloomberg LP and its owners.