Editorial Board
Find Out What H.R. McMaster Really Thinks
The Senate has a rare opportunity to bring Trump's new national security adviser in for questions.
by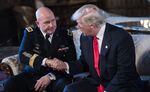 National security adviser is not a position requiring congressional approval. But because President Donald Trump's new choice to fill the job, Lieutenant General H.R. McMaster, wants to continue as a high-ranking active-duty officer, the Senate needs to approve his appointment. It should use the opportunity to hold a hearing and invite McMaster to elaborate on his vision of the job.
McMaster is considered one of the great military minds of his generation. He is also something a maverick, with an independent streak that has nearly derailed his Army career at least once. It's promising that McMaster is not a yes man, but the public would benefit from knowing more about what he stands for.
The first question is his definition of the job. Some national security advisers have limited themselves to giving the president objective advice based on the recommendations of the council staff and the Pentagon's joint chiefs. Others, such as Henry Kissinger, have radically altered American foreign policy. Given Trump's vague if not contradictory statements on many issues, McMaster may have significant influence. How would he use it?
McMaster has also been critical of rhetoric that paints the war against terrorism as a struggle between the West and Islam, including the repeated use of "radical Islamic terrorism" by his short-lived predecessor, Michael Flynn. The Senate should find out how he would translate these semantics into a strategy to gain more support from Muslim allies.
In his celebrated book "Dereliction of Duty," McMaster blamed the U.S. failure in Vietnam largely on the refusal of President Lyndon B. Johnson and Secretary of Defense Robert McNamara to listen to their top military advisers. What members of the Senate Armed Services Committee need to find out from McMaster is how he hopes to encourage the strong-minded president and centralized White House brain trust to be open to advice from the top brass.
There's little question that McMaster is capable and deserving of the position, and he shouldn't be forced to give up his rank to take it. But instead of rubber-stamping his shift to the White House, senators should take the opportunity to learn what they can about future U.S. policy from someone who will be one of the most powerful men in the White House.