Politics
Remember James Carville? Democrats Should
The strategist who once taught, "It's the economy, stupid," has some advice for today's party.
by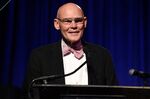 It was a gloomy weekend for Democrats hoping to unify in opposition to President Donald Trump. Fresh from a divisive power struggle at the Democratic National Committee meeting in Atlanta, party leaders found themselves asked to choose between embracing their anti-establishment wing and empowering the moderates those insurgents want to purge.
Here's some good advice from one of their best strategic thinkers: Do both.
James Carville, who ran Bill Clinton's 1992 presidential campaign and stays in touch with Democrats around the country, says it would be a mistake to antagonize the activists who have led a national anti-Trump uprising.
"Those Democrats out there aren't waiting for orders from headquarters; they're giving the orders," Carville said in an interview on Monday.
There are several reasons Democrats in Washington would do well to listen to Carville. Even today, few Democrats possess his shrewd political instincts, and he's the only person in more than eight decades to manage a campaign that unseated a Republican president seeking re-election. That's what Democrats probably will face in 2020.
That also makes him part of a Democratic establishment that's fretting about supposed risks from embracing a strategy of all-out opposition to the president. So he's well placed to reassure them that there's no political downside to fighting Trump.
"Democratic voters think a) the Russians stole the election for Trump, b) the guy is off his rocker and c) he's wrong about everything," Carville said.
There's a test coming for whether the grass-roots outpouring of the past 40 days is translating into voting power. That'll be a special election set for April 18 for the suburban Atlanta congressional seat of Tom Price, who left the House of Representatives after being named Secretary of Health and Human Services. The district hasn't elected a Democrat in more than four decades, and Price won last November by almost 25 percentage points. But Trump beat Hillary Clinton in his district by less than two percentage points and Democrats are pouring money and energy into the contest.
"This is the kind of Republican district we have to win if Democrats are going do well in 2018," Carville said, predicting that an upset victory would send shock waves through Republican congressional ranks.
Still, Carville is right to be frustrated by a left-wing challenge to the party's preferred choice in the Virginia gubernatorial race this fall, which is also a must-win for the party.
"If there is any one state where we might trust the establishment, it's Virginia," Carville said, noting that both U.S. Senate seats and top state offices all are held by Democrats, and have been for most of this century.
While enthusiastic about the party's liberal activists -- he's a big fan of Senator Elizabeth Warren -- he ridicules Democrats who want to drive out conservatives and moderates like Senator Joe Manchin of West Virginia.
"Let them go to West Virginia and try to get elected," Carville said. "Churches and parties that try to ban heretics do a lot worse than churches and parties that try to win converts. Any talk about purges is crazy."
Is it too early for Democrats to start thinking about the next presidential election? "Asking politicians now to not think about 2020 is like asking an 18-year-old college freshman not to think about sex."
In that spirit, Carville is watching Senator Mark Warner. The Virginia lawmaker, no favorite of the wing led by Warren and Senator Bernie Sanders, is the ranking Democrat on the Intelligence Committee, which is supposed to be investigating any ties between Russia and the Trump campaign. Warner has forcefully pushed this inquiry, taking on committee Chairman Richard Burr of North Carolina, who seems more intent on sidetracking any inquiry and cooperating with the White House.
Warner "is a dog with a bone and he's not going to let go," said Carville who, like many Democrats, thinks the Trump-Russia relationship could turn into the biggest scandal since Watergate. He argues that the administration's ethical transgressions will be a major issue in the 2018 and 2020 elections.
He doubts that any cooperation with Trump is possible given the animosity Democrats feel toward a president who has become even more divisive since he was inaugurated on Jan. 20.
"Oh, maybe if he came up with a well-thought-out publicly financed infrastructure plan he'd get Democrats, but that's not going to happen," Carville said.
Carville was the man who created the most memorable campaign mantra in recent times, for Clinton in 1992: "It's the economy, stupid." Now he has a Democratic slogan for 2020 to propose: "We tried going back; now let's go forward."
To contact the author of this story:
Albert R. Hunt at ahunt1@bloomberg.net
To contact the editor responsible for this story:
Jonathan Landman at jlandman4@bloomberg.net
Before it's here, it's on the Bloomberg Terminal.
LEARN MORE