Prophets
Copper's Price Surge Won't End Soon
A strike at the world's biggest mine and Trump's infrastructure plans are feeding demand.
by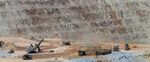 When copper traders hear of an impending mining strike they typically "buy the rumor and sell the fact." They get in the market and get out, knowing that strikes are often expected in any given year and typically settled, at which point prices and volatility fall back to pre-strike levels.
This was the case leading up to Feb. 9, when miners at Escondida Chile, the world's largest copper producer, voted to strike after contractual wage talks failed to end in agreement.  BHP Billiton Ltd., which holds a 57 percent stake in the mine, decided to stop production and swiftly declared a case of force majeure. That pushed copper to a 20-month high; and there could be room on the upside.
Copper, used for wiring and construction, is considered the bellwether of global market growth.  
BHP's Escondida is in the copper-rich Antofagasta region of northern Chile. It produces approximately 5 percent of the world's copper (1.43 million metric tons in the 12 months that ended Dec. 31), and supports more than 10,000 full-time jobs.
Miners accused BHP of withholding pay increases, seeking to cut bonuses, removing top-up payments for those who accept voluntary redundancy packages and changing shift hours. The company blames miners for causing damage to equipment and installations.
The strike is particularly relevant now because of its timing, external events and the U.S. political climate. Even as 2,500 striking workers have agreed to let the government mediate the conflict, there are no guarantees the dialogue will resume. While BHP has received the government's invitation to attend a three-part meeting, it is still evaluating its participation.
The timing of the strike was ideal for copper prices because many of the circumstances were in the metal's favor. In fact, the dispute is just another boost for copper, whose price had been steadily falling since 2011. Because of its low prices in recent years, the copper market has been starved of investment. The metal underperformed rivals such as iron ore and nickel in 2016. Still, prices have recovered some of their losses and supply and demand were close to balanced with only a 350,000 metric-ton surplus.

Although there isn't a global shortage of copper, forecasts typically incorporate an allowance of 5 percent to 6 percent of annual production that is lost to natural causes or other disruptions. The strike, which came so early in the year, raises the risks that those assumptions may prove too conservative.And to add to supply-side concerns was a production halt at Freeport-McMoRan's Grasberg mine in Indonesia, the world's second-largest copper operation.
Stoppages at the world's two biggest producers occurred at the time when Chinese demand generally picks up after the New Year holiday, which ended Feb. 2. Thus, the disruptions could force the market into a deficit earlier than at the end of March, a more typical period for deficits.
The U.S. political climate also helped boost the price of copper leading up to the election. It has moved even higher after Donald Trump's victory, largely as a result of his promises for infrastructure spending. The hype generated record open interest -- the number of contracts outstanding on the exchange at any one time -- in U.S. copper futures on Comex.
U.S. Comex Copper futures open interest record was refreshed 12 times in January and new open interest record of 291,702 lots was reached as of Jan. 31

Source: CME Group
Additionally, the Chinese economy has shown signs of resilience, which also helped to push up copper's price. China is by far the largest consumer of mine output for its smelting industry (approximately 45 percent).

The growing concern that Trump would play hardball with China and provoke trade tensions was eased to some extent after a phone call between the U.S. president and President Xi Jinping, when Trump vowed to honor the "One China" policy.
Yet there are few signs of an imminent resolution. The union at Escondida has said that its 2,500 members are committed to action and it is threatening a two-month stoppage and a new labor law will come into place that could strengthen its hand.
After 15 days on strike, BHP may be able to bring in replacement workers. After 30 days, individual workers will have the option of accepting the company's offer. Contract negotiations are looming at mines in Chile that collectively account for about 14 percent of production capability in 2017, according to ANZ.

So although traders bought the rumor, they haven't yet sold the fact. London Metal Exchange warehouse inventories, far from their highs, have been declining, the Escondida strike continues and Trump is still touting new buildings, bridges and walls. That all means copper has room to move well above $3 a pound ($6,614 a metric ton).
This column does not necessarily reflect the opinion of the editorial board or Bloomberg LP and its owners.
To contact the author of this story:
Shelley Goldberg at shelleyrg3@gmail.com
To contact the editor responsible for this story:
Max Berley at mberley@bloomberg.net
Before it's here, it's on the Bloomberg Terminal.
LEARN MORE