view
Money Shouldn't Choose the Next Fed Chair
Wall Street wealth should not be Trump's key criterion in deciding whom to appoint.
by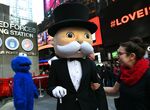 Sometime in the coming year, President Donald Trump will nominate the next chair of the U.S. Federal Reserve, arguably the most powerful central bank on the planet. Impressed as he may be by Wall Street wealth, it should not be his key criterion.
With the impending resignation of Daniel Tarullo, the Fed official who oversaw financial regulation, Trump will have the opportunity to appoint three people to the central bank's board of governors, subject to confirmation by the Senate. In doing so, he should be prepared to later promote one to chair the board: If he intends to replace current chair Janet Yellen when her term ends in early 2018, and if she decides to remain on the board (as the Fed's rules allow), the three will be the only Trump appointees who can take over.
Whom, then, should Trump appoint? Filling the shoes of Yellen and Ben Bernanke won't be easy. The right candidate must, of course, have a strong understanding of the economy and financial markets, and how they interact. He or she must communicate superbly with the public, Congress and financial markets. No less important, the person must have the leadership skills to run an organization of 20,000-plus employees, including the group of strong-minded individuals who comprise the policy-making Federal Open Market Committee.
Tough as the requirements may be, qualified candidates exist. When I served on the Federal Open Market Committee, I worked closely with Fed governors Lael Brainard and Jeremy Stein. (Brainard is still a governor; Stein has returned to academia.) I certainly didn't agree with them on every occasion, to put it mildly. Yet I recognize that both have the deep economic wisdom, communication skills and the leadership capabilities to be worthy of consideration as a potential Fed chair.
My guess, however, is that Trump will go in another direction. Both Brainard and Stein have doctorates in economics and distinguished records of academic and public service. Such qualifications have received short shrift in the current administration. Trump has put a lot more weight on Wall Street success in making key economic appointments. There's no reason, so far, to believe that he will treat the Fed chair position any differently.
There's nothing inherently wrong with financial success, and inside knowledge can have its advantages. That said, replacing Yellen with someone whose primary qualification is a fortune made on Wall Street would be a huge mistake. The problem is one of perception: Outsiders would see every Fed decision -- in terms of financial regulation, monetary policy or crisis management -- as being made in the interests of big finance. This would render the Fed politically vulnerable at a time when its independence, crucial to its ability to manage the economy, is already under attack.
Of course, that may be exactly what Trump wants. In that case, prepare for some chaos in the economy and financial markets.
(
Corrects spelling of Brainard in fourth, fifth paragraphs.
)
To contact the author of this story:
Narayana Kocherlakota at nkocherlako1@bloomberg.net
To contact the editor responsible for this story:
Mark Whitehouse at mwhitehouse1@bloomberg.net
Before it's here, it's on the Bloomberg Terminal.
LEARN MORE