Europe
Guns Can Get Europe Growing Again
Think of defense spending as a stimulus program in disguise.
by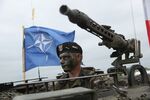 Visiting Europe in recent days, top U.S. officials have sought to walk back some of President Donald Trump's more controversial statements. Vice President Mike Pence, and before him Defense Secretary James Mattis, both strongly reaffirmed America's commitment to the transatlantic alliance. But they also had a reminder for their NATO counterparts: U.S. support depends on European nations fulfilling their own pledges, in particular their promise to spend at least 2 percent of GDP on defense, much faster. "If your nations do not want to see America moderate its commitment to this alliance, each of your capitals needs to show support for our common defense," Mattis warned.
European leaders have reason to bristle at the threat. Trump's dismissive comments about NATO, not to mention the European Union itself, undercut the credibility of the alliance. German Chancellor Angela Merkel points out that spending on other matters, including development aid, crisis prevention and refugees, is equally critical to any balanced security approach; she prefers to reach the 2 percent target gradually, by the original 2024 target date. Countries looking to accelerate the schedule risk breaching another ironclad European commitment, to keep their budget deficits below 3 percent of GDP.
There's another way for Europeans to view the U.S. demand, however. Meeting it could not only appease the Trump administration. It might finally provide the fiscal stimulus Europe so desperately needs.
As a matter of principle, the U.S. isn't wrong to demand more from its NATO partners. The U.S. currently spends more on defense than all other 27 alliance members combined -- some $650 billion, or 3.6 percent of GDP. Only four countries besides America have met the 2 percent target: the U.K., Poland, Estonia and (unexpectedly) Greece. Spain and Italy spend less than 1 percent each; France comes closer to the target at 1.8 percent. Germany, by far the richest country in Europe, spends only 1.2 percent, or $40 billion.
Speaking at the Munich Security Summit over the weekend, European Commission President Jean Claude Juncker argued that such a focus on the bottom line ignores Europe's other contributions to peace and security. "Modern politics cannot just be about raising defense spending," he said. "If you look at what Europe is doing in defense, plus development aid, plus humanitarian aid, the comparison with the United States looks rather different."
That's true enough. At the same time, modern defense spending involves much more than tanks, missiles and soldiers. According to one NATO study, private-sector companies provide half of military satellite communications and 90 percent of military transport needs. Roughly 75 percent of member nations' support of NATO operations is sourced from local commercial infrastructure and services. Military spending thus has a large knock-on effect, beyond traditional defense contractors.
NATO also has a mandate to focus on civil preparedness, which in the current security environment has broad ramifications. Alliance members are meant to work with the private sector and international organizations, "in particular the European Union," to reinforce the efficiency and effectiveness of everything from power grids to telecoms and cyber networks, from health systems to food supplies. Most of this spending could justifiably be accounted as investments in infrastructure. The projects will benefit the general population, not to mention the private companies hired to complete them.
This offers NATO members a way around their deficit commitments and traditional German resistance to fiscally expansionary policies. Guidelines clearly allow European countries to ask for exemptions under several circumstances. One is to deal with extraordinary events: Italy, for instance, was allowed to keep out of the current budget the expenses it sustained coping with the recent tragic earthquakes. Another involves investment that has a measurable impact on the economy; increased defense spending should easily qualify. In theory, NATO members could approach the European Commission en masse to ask for such an exemption, which might reinforce their case. If approved, it will be up to the European Commission to give the final green light.
Imagine the impact on the European economy of a fiscal stimulus of about 1 percent of GDP on average. It would create thousands of jobs and help many struggling countries to grow at a faster pace. And it would go some way towards addressing widespread resentment of Brussels and of excessively rigid EU policies, including the deficit limits.
All that's required is political will. Merkel is likely to resist any such proposal, especially in a difficult electoral year. Bureaucrats in Brussels will raise any number of objections. But NATO countries should press ahead anyway. Accelerating defense spending would not only strengthen NATO's credibility. It's an opportunity for Europe to open the door, long closed, to firm and sustained growth.
To contact the author of this story:
Mario Calvo-Platero at mplatero@ilsole24ore.us
To contact the editor responsible for this story:
Nisid Hajari at nhajari@bloomberg.net
Before it's here, it's on the Bloomberg Terminal.
LEARN MORE