Editorial Board
Trump's Security Lapses Should Be a Wake-Up Call
The White House seems entirely unprepared for the digital age.
by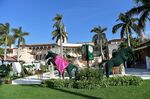 Not unexpectedly, President Donald Trump's first international crisis devolved into a social-media spectacle. After North Korea tested a ballistic missile last week, Trump conferred with his Japanese counterpart in full public view at his Florida golf resort. Aides used smartphones to illuminate documents, waiters came and went, and riveted dinner guests posted photos of the whole show. One club member even posed for a snapshot with a military aide carrying the "nuclear football."
The White House says nothing sensitive was revealed. Nevertheless, the scene offers a useful metaphor for an administration alarmingly unprepared for the dangers of the digital age.
In office for less than a month, Trump's team has been plagued by near-constant security mishaps, ranging from the comical to the chilling. His press secretary seems to chronically tweet out his authentication codes. Senior staffers were reportedly using a private e-mail server that had been targeted by Russian hackers. At an Oval Office ceremony about factory jobs, the key was left in a classified lock-bag in view of visitors and photographers.
More worryingly, Trump is apparently still using an unsecured smartphone, to the distress of everyone from security experts to members of Congress. This is no small thing: Foreign intelligence agencies could steal data from the device, log its keystrokes, track its location, or even commandeer its camera and microphone, turning it into a roving wiretap.
Making matters worse, the cybersecurity bureaucracy that attends to this kind of thing is in flux. Gregory Touhill, the federal chief information security officer, stepped down in January just four months into the job. Cory Louie, the staffer responsible for securing devices and data for top White House staff -- including the president -- was escorted from his office earlier this month for reasons the administration hasn't explained.
All this adds up to a big problem in the making. A report from the Government Accountability Office last year found that hacking incidents had surged by more than 1,300 percent at federal agencies since 2006. Everything from tax data to background-check records has been purloined in recent years. As the civil service makes more use of cloud computing, mobile devices and outside contractors, this will likely get worse.
And the attackers are only growing more sophisticated. Hacking has helped to rig elections and influence public policy around the world. It is helping spy agencies uncover government secrets and dig up grist for blackmail. It may well have played a role in the election that brought Trump himself to power. Cybersecurity, in short, is increasingly central to politics and national defense. And it demands constant vigilance.
In this respect, the incident at Trump's golf club wasn't merely undignified. It symbolized an administration unprepared for a world in which everyone has a camera, no conversation is private, and all eyes are trained on one very important man. 
--Editors: Timothy Lavin, Michael Newman
To contact the senior editor responsible for Bloomberg View's editorials: David Shipley at davidshipley@bloomberg.net.
Before it's here, it's on the Bloomberg Terminal.
LEARN MORE