Editorial Board
Trump Needs an Afghanistan Plan
Tweets are no substitute for a strategy.
by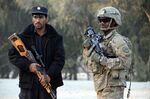 The news from Afghanistan is as relentless as it depressing: six aid workers murdered by Islamic State, at least 20 dead from a suicide bombing at the Supreme Court, more territory lost to the Taliban, more opium growing in the fields. Maybe that explains Donald Trump's silence on the war since becoming president. But it does not excuse it.
The Trump administration has yet to set out a strategy for fighting America's longest conflict, which has already claimed more than 2,300 American lives and close to a trillion taxpayer dollars. Trump's previous statements on the war -- calling it a "total disaster" that the U.S. should abandon altogether -- make his reticence now particularly corrosive and dangerous.
This policy vacuum has sown anxiety among U.S. allies and partners, beginning with Afghanistan's fragile national unity government. It has emboldened the Taliban. And it has enabled unhelpful machinations by Russia and Iran, which are now working with the Taliban against the Afghan government, the U.S. and NATO.
As much as the security situation has deteriorated, however, it is inarguable that the U.S. has a profound national interest in preventing Afghanistan from reverting to a terrorist haven. With the stirrings of Islamic State in parts of the country, and the threat of al-Qaeda relocating from its sanctuaries in Pakistan, that prospect is real.
Former President Barack Obama made the mistake of announcing a drawdown from Afghanistan before the country was secure and Afghan forces were able to stand on their own. Thankfully, he changed those politically driven plans, stabilizing U.S. troop levels and authorizing more robust rules of engagement to help Afghan forces on the ground and in the air. Both were critical to blunting the Taliban's advances.
In testimony this week before Congress, General John Nicholson, the top U.S. commander in Afghanistan, called for several thousand additional troops from the U.S. or its NATO partners and a "holistic review" of U.S. relations with Pakistan, which still hosts the Taliban, al-Qaeda and other terrorist groups. Both ideas are worthy of debate, and it's hard to argue with initiatives to root out the corruption that saps the Afghan security forces and to bolster Afghanistan's political stability. Speedily nominating a serious U.S. ambassador would also be a step in the right direction.
But given the commander-in-chief's previous skepticism, something more is necessary. The White House needs to define a vision for success in Afghanistan and what will be required to achieve it. That plan should recognize both the need for a long-term U.S. commitment and the reality that the U.S. can't achieve its goals without its NATO allies and cooperation from China, India, Pakistan and, yes, even Iran.
Afghanistan will never be a Jeffersonian democracy. But the U.S. has an abiding interest in seeing that it not degenerate into a failed state.
--Editors: James Gibney, Michael Newman
To contact the senior editor responsible for Bloomberg View's editorials: David Shipley at davidshipley@bloomberg.net .
Before it's here, it's on the Bloomberg Terminal.
LEARN MORE