White House
Trickle-Down Ethics at the Trump White House
The president's contempt for accepted conflict-of-interest canons has now become the standard for family and aides.
by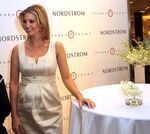 Kellyanne Conway took to Fox News on Thursday in defense of Ivanka Trump's much-discussed clothing and accessories business, which has fallen out of favor with some big retailers like Nordstrom. "Go buy Ivanka's stuff is what I would tell you," the president's senior adviser recommended to her interviewers. "I hate shopping but I'm gonna go get some myself today."
To reinforce her pitch, Conway also told the Fox crew that she was one of Ivanka's satisfied customers.
"It's a wonderful line, I own some of it," Conway beamed from the White House briefing room, with the presidential mansion's logo visible on a plaque hanging behind her. "I'm gonna give a free commercial here: Go buy it today, everybody. You can find it online."
That free commercial looked like this:

Fox helpfully kept the free ad posted on one of its websites, with a cheery, promotional headline: "Go Buy It Today!" And with that, Conway had created a problem for herself.
Federal ethics guidelines forbid officials like Conway from using their public position and power for their own private gain or to promote the private business interests of others. None of this lands Conway in criminal trouble (you can read more on this point from my Bloomberg View colleague Noah Feldman). But it does require her actions to be reviewed by the White House counsel and by the Office of Government Ethics to see if transgressions occurred and if penalties need to be imposed (at least one federal agency suspends or fires employees for saying what Conway said, the Washington Post's Drew Harwell pointed out).
Conway also has become the latest poster child for a White House that sometimes presents itself as a giant department store, supervised by a president who has done little to separate his role as public servant from his myriad business interests. President Donald Trump's blasé attitude about ethical problems and financial conflicts of interest informs all of this, and his posture appears to have seeped into how his family -- and now his White House staff -- approach the same issues.
The White House press secretary, Sean Spicer, declined to tell reporters at a press briefing on Thursday whether he believed Conway had committed an ethical violation, but said that she had been "counseled and that's all we're gonna go with." Conway herself later declined to elaborate on her counseling session, (but CNN reported that she had to visit with the White House counsel).
Spicer is as firmly planted in the president's orbit as Conway, so perhaps we shouldn't expect him to be transparent about ethical policing at the White House. After all, when reporters questioned him earlier this week about why Trump took the unusual and highly questionable step of publicly criticizing Nordstrom on Twitter for dropping the first daughter's clothing line from its stores, Spicer spun out an erroneous bit of propaganda in response.
Nordstrom had said it ended its business relationship with the first daughter because sales of her products were flagging, but Spicer saw a more nefarious political agenda at work: Nordstrom didn't like the president's politics, so the company decided to attack the Trump brand.
"There's clearly efforts to undermine that name based on her father's positions on particular policies he's taken," Spicer said of one of the country's largest and best-regarded retailers. "This is a direct attack on his policies and her name."
Donald Trump Jr., who is running the Trump Organization with his brother, Eric -- and, in theory, without their father, the president -- also took to Twitter on Wednesday evening to stick up for his sister amid her business woes:
The link in young Donald's tweet is to Breitbart.com, a web site that, until recently, was overseen by one of Trump's newly appointed White House advisers, Steve Bannon. The Breitbart article followed the Spicer line.
"Nordstrom's claimed that the Ivanka Trump brand wasn't performing well, but industry insiders tell Breitbart News that's just not accurate," wrote a pair of Breitbart reporters. "Nordstrom's had previously taken a neutral approach to boycotters' calls for the company to discontinue carrying the brand."
Nordstrom restated its case, repeating that it dropped Ivanka's products because of poor sales. A spokesperson for Ivanka's company confirmed Nordstrom's explanation. But whatever Conway, Spicer, Donald Jr. and Breitbart continue to think happened there, Ivanka is supposed to be gone from the company by now, anyhow.
The first daughter has taken what she describes as a "leave of absence" from both the Trump Organization and her own company, though no documentation has been made public indicating that a formal break has occurred. Meanwhile, Ivanka has comfortably entered the conflicts-of-interest zone by mingling work, politics and pleasure: courting at least one retailer that works with her company, inviting that same executive to party with other executives in her home and sitting in meetings of an economic advisory panel her father convenes at the White House.
Meanwhile, Donald Jr. and his brother appear to be enjoying a nice bump in business since their father was elected. They recently doubled the membership fee at the family's Mar-a-Lago club in Palm Beach and announced plans to triple the size of their hotel business domestically.
Donald Jr. will also be running the family's new Washington hotel, which is within walking distance of the White House. In fact, the Trumps have been incorporating an "access-to-the-White-House-feeling" in some recent ads they've run for the hotel. By sitting atop that particular hotel, however, Donald Jr. will be putting the family's reputation in harm's way; any payments from foreign entities that flow through the hotel's coffers potentially put the president at risk of violating the U.S. Constitution's suddenly famous ban against presidential payments from foreign entities. 1
For her part, the president's wife Melania Trump also visited the conflicts-of-interest stage this past week after she filed a libel lawsuit seeking $150 million in damages from British tabloids. She derived that figure from "multimillion dollar opportunities" at the White House which she believed she had lost due to articles about her past, thereby suggesting that she also thought the White House might be a cash register. (The first lady's representatives said that they didn't intend for the lawsuit to indicate any such thing.)
Amid all of this, Conway's attempt to turn the White House briefing room into the Home Shopping Network has raised some hackles. Jason Chaffetz, the Republican who heads the House Oversight Committee, and Elijah Cummings, the top Democrat, have asked the Office of Government Ethics to review Conway's actions.
Chaffetz's enthusiasm for tackling this particular problem may be scant, however, since he also has appeared to be part of the Trump camp that hasn't seen strong ethics mandates as priorities. After Walter Shaub, the head of the government ethics office, last month criticized Trump's conflicts-of-interest plan as inadequate, Chaffetz berated him for being too "aggressive." He later pulled Shaub into a closed-door hearing to question him about how his office is run.
Another thing: The ethics office reports to the president, and the president hires its director. The White House counsel reports to the president as well. And no federal conflict-of-interest laws apply to the president. So President Trump will have ample sway over any examination of Conway's salesmanship. Which means this may remain a quiet little family affair.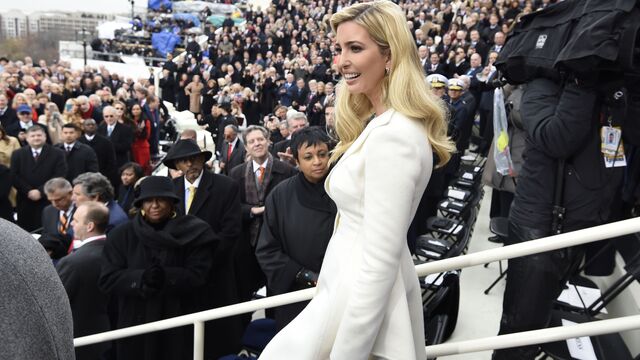 "No Title of Nobility shall be granted by the United States: And no Person holding any Office of Profit or Trust under them, shall, without the Consent of the Congress, accept of any present, Emolument, Office, or Title, of any kind whatever, from any King, Prince, or foreign State." Article I, Section 9, Clause 8
To contact the author of this story:
Timothy L. O'Brien at tobrien46@bloomberg.net
To contact the editor responsible for this story:
Jonathan Landman at jlandman4@bloomberg.net
Before it's here, it's on the Bloomberg Terminal.
LEARN MORE