U.K.
Britain's Royal Treatment of Trump Could Prove Shrewd
Britain may no longer have an empire, but it can still use the majesty of its palaces and other imperial trappings to advance its interests.
by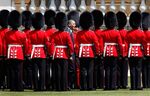 A state visit is a big deal in Britain. There are generally only about two per year; most foreign heads come on working visits or on trips that are designated as official visits. Of the 109 state visits since 1952, only two have been U.S. presidents: George W. Bush's 2003 visit and Barack Obama in 2011.
Yet Prime Minister Theresa May wasted no time in offering one to U.S. President Donald Trump during her visit in January for later this year. Trump, whose drive for adulation -- earned or not -- knows no bounds, promptly accepted the invitation.
Over 1.8 million Britons signed a petition demanding that the government rescind the invitation. Speaker of the House of Commons John Bercow, whose position requires him to be neutral on politics, is enduring calls for his resignation for refusing to support an invitation to Trump to speak to both houses of Parliament.
Even without a speech to lawmakers, expectations for this visit are high. May is surely hoping to re-cement that "special relationship," which would be a nice boost as she negotiates the terms of Britain's European Union exit. Trump gets a historic moment of recognition on the world stage, record-breaking TV ratings and all the pomp and circumstance afforded to his predecessor and political nemesis.
Obama's welcome ceremony included a 41-gun salute and a performance of "The Star-Spangled Banner" by the Band of the Scots Guards, with their scarlet jackets and bearskin hats. Trump can also expect to partake in a procession of gilded carriages under escort of mounted soldiers from the Queen's cavalry.
The official welcome is followed by several days of relationship-building with plenty of pageantry, including a formal state banquet at Buckingham Palace that will make Trump's million-dollar wedding to his wife Melania at Mar-a-Lago look down-market. And there are theatrics to match: Trump will be toasted by the Queen and should propose a toast in return.

The Duke and Duchess of Cambridge will be expected to supply the glam factor. That may be a bit awkward thanks to Trump's 2012 defense of paparazzi shots of her sunbathing topless. Some reports have suggested there might be golf at Balmoral Castle and dinner at Blenheim Palace, the birthplace of Winston Churchill, whose bust was recently restored to the Oval Office.
The invitation to address both houses of Parliament on a state visit, presumably in the cavernous and historic Westminster Hall, would be rarer still. Of all the state visits, only Charles de Gaulle in 1960, Nelson Mandela in 1996 and Obama in 2011 were also invited to speak to Parliament there. As Bercow noted, that is not an automatic right, but "an earned honor." Trump hasn't earned that; May got ahead of herself in offering it.
But the many opponents of the state visit itself should not forget: These invitations are political, not sentimental. Britain may no longer have an empire, but it can still put on an impressive show and use the majesty of its palaces and other imperial trappings to cement ties and advance political aims.
And what better way to curry favor with a president who has a taste for extravagant décor and grand stagecraft? British reserve and a little official ankle was never going to cut it with this president; May knew exactly what she was doing. 
Still, for many Britons, it all feels a bit too much like selling the family jewels. You can see why they're worried. Britain's prime minister jumped on a plane to the U.S. and offered the highest honor in her gift to a controversial president whose time so far in office could still be counted in hours. Granted, Britain is preparing for its divorce from the European Union; flirtations are allowed. But a full-blown invitation to meet the folks? Did she need to involve the Queen already?
The petitioners argue that Trump's presence will embarrass the Queen. I doubt that. It's not as if Her Majesty has never played host to controversial figures before. The nationalist socialist dictator of Zimbabwe, Robert Mugabe, was hosted by the Queen in 1994; Nicolae Ceausescu, Romania's megalomaniacal Communist leader, came in 1978. Vladimir Putin scored a 2003 visit. The Queen is at the disposition of the government for these things. The 2016 state visit of Chinese President Xi Jinping was not without controversy either.
Despite the petition, according to a YouGov poll, 49 percent of Britons support the state visit. And why not? Having decided on a divorce from Europe, Britain needs all the friends it can get. Why else are taxpayers funding all those aristocratic residences, if not so that they can occasionally be put to the service of the government in advancing the country's interests? And there is always the hope that such close ties will not only impress the President but influence him.
The controversy surrounding the visit speaks to how difficult it is to be America's friend these days, even for those who really try. May's rush to impress the new president, however, also shows a Britain that has been left lonelier by its decision to leave Europe; and more vulnerable.
May clearly either has high expectations or felt she had little choice. The British in me says, Go right ahead and shower him with pageantry. Maybe it will do some good. The British can be terribly persuasive. The American in me says, Good luck with that.
To contact the author of this story:
Therese Raphael at traphael4@bloomberg.net
To contact the editor responsible for this story:
Mike Nizza at mnizza3@bloomberg.net
Before it's here, it's on the Bloomberg Terminal.
LEARN MORE