Editorial Board
Now It's Shinzo Abe's Turn With Trump
The prime minister may come to Washington bearing gifts, but Japan shouldn't have to buy America's friendship.
by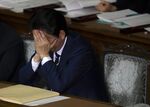 Japanese Prime Minister Shinzo Abe comes to Washington this Friday bearing gifts, reportedly including a proposal to invest billions in U.S. railroads, bridges and highways. The investment is sorely needed, and the offer will no doubt be appreciated. Still, it's hard not to ask: Has it come to this?
President Donald Trump seems to favor a transactional approach to international relations, regardless of whether he's dealing with friend or foe, and in this case Abe appears determined to make the first bid. The president has also displayed a disturbing tendency to exasperate longstanding American allies. What Trump needs to realize, however, is that international relations is not a zero-sum game -- especially if you're the world's only superpower.
Trump's outlook is particularly shortsighted in Asia, where the U.S. has a vital interest in defending the existing liberal order against encroachment by China or anyone else. Japan's contributions to that effort are invaluable; they far outweigh any bilateral trade tensions. Japan extends U.S. strategic power in the region not just by hosting U.S. troops, but with its own. Its trade and investment links with India, Australia and Southeast Asian nations lend Abe credibility and influence even among leaders reluctant to side too obviously with the U.S. 
Rather than unfairly accusing Japan of currency manipulation, or targeting the likes of Toyota for building some cars in Mexico, Trump should be looking to bolster Abe's efforts to revive and strengthen the Japanese economy.
First and foremost, that means moving quickly to strike a bilateral free-trade agreement that enshrines the pledges both sides made in negotiations over the Trans-Pacific Partnership trade pact, rather than squeezing Abe for further, politically untenable concessions. A deal would help re-energize Abe's reform agenda at home and provide him with ammunition to press for higher standards in China's TPP alternative. Both outcomes would do more for the U.S. in the long run than selling Japan a few more Corvettes or barrels of shale oil.
On security policy, Trump should encourage Abe's desire to play more of a role in Asia. Japan's efforts to build up the maritime capacity of countries such as Vietnam and the Philippines help the U.S., as do its expanded military ties, defense production, and joint exercises with the likes of India and Australia. And instead of reviving his threat to withdraw U.S. forces from Japan, Trump should reiterate Defense Secretary James Mattis's assurances that Japan's contributions to their upkeep are sufficient.
Finally, Trump should appreciate and articulate for his supporters how both countries gain from their economic relationship. Japanese car companies claim to have directly or indirectly created 1.5 million jobs in America; three-quarters of the cars and trucks they sell in the U.S. market are produced in North America (granted, that includes vehicles assembled in Mexico). Japan is already the second-largest foreign investor in the U.S., just behind the U.K., regardless of Abe's infrastructure pledges. It need not buy America's friendship.
--Editors: Nisid Hajari, Michael Newman.
To contact the senior editor responsible for Bloomberg View's editorials: David Shipley at davidshipley@bloomberg.net .
Before it's here, it's on the Bloomberg Terminal.
LEARN MORE