Jobs
Trump Isn't the Only Older Worker Staying on the Job
Why are so many people 65 and up still in the workforce?
by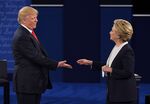 In many ways our new president is utterly unique. When it comes to staying in the labor force past age 65, though, Donald Trump is part of a long-running trend (Hillary Clinton is, too 1 ):
In January, according to the employment numbers released today, an estimated 19.1 percent of Americans 65 and older either had a job or were actively looking for one. That's the highest that percentage has been in a January since 1961 (seasonally adjusted numbers aren't available, so comparing month to month is important). Meanwhile, labor-force participation among "prime age" workers (those 25 to 54) has been on a long downtrend:
Of course, the labor-force participation rate is still more than four times higher among prime-agers than among 65-plussers. That's why the millions of baby boomers who have been turning 65 every year since 2011 have been depressing the overall labor-force participation rate even as the 65-plus participation rate rises (some people get confused about this).
One big question is whether people are staying in the labor force longer because they like working or because they can't afford not to. It's clearly a bit of both, as indicated by the responses to the Employee Benefit Research Institute's 2016 Retirement Confidence Survey:
Almost all retirees who say they worked for pay in retirement in the 2016 RCS gave a positive reason for doing so, saying they did so because they enjoyed working (80 percent) or wanted to stay active and involved (82 percent). However, they say that financial reasons also played a role in that decision, such as wanting money to buy extras (57 percent), needing money to make ends meet (51 percent), a decrease in the value of their savings or investments (43 percent), or keeping health insurance or other benefits (32 percent).
These latter reasons seem to be reflected in the recent trajectory of the 65-plus labor-force participation rate. As the job market has improved and prime-age labor-force participation has risen over the past year, the 65-plus participation rate has been pretty much flat. Better times have allowed more people to retire.
The full history of the 65-plus labor force participation rate -- the numbers are available back to 1948 -- also seems to point to a key role for economic necessity:
One possible explanation for this fall and rise: As retirement benefits (Social Security, Medicare, corporate pensions and retiree health insurance) got more and more generous in the decades after World War II, fewer and fewer 65-plussers stayed in the labor force. 2 Then, as the great ratcheting-back of these benefits began -- I would date this to the 1974 passage of the Employee Retirement Income Security Act, although its effects only began to be felt a few years later -- the trend reversed. I don't think retirement benefits are going to start getting more generous anytime soon, so we should probably expect the 65-and-older labor-force participation rate to keep rising.
No, I can't be certain what Clinton would have said if a Census Bureau surveyor had asked her last month about her employment status, but I kind of doubt she would have been classified as not in the labor force.
To contact the author of this story:
Justin Fox at justinfox@bloomberg.net
To contact the editor responsible for this story:
Brooke Sample at bsample1@bloomberg.net
Before it's here, it's on the Bloomberg Terminal.
LEARN MORE