Prophets
Mexico Blowback Should Dissuade Trump From Taking On China
Cost of border tax dwarfs damage of a spat with the world's second-biggest economy.
by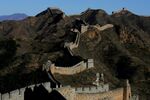 On the campaign trail, Donald Trump made China and Mexico the principal villains responsible for the loss of manufacturing jobs in the Rust Belt. Through tweets and speeches, he criticized China for manipulating its currency to get unfair trade advantage. He said Mexico took advantage of the 22-year-old North American Free Trade Agreement to dump cheap goods.
In the first week after assuming office, Trump started to make good on his promise. When President Enrique Pena Nieto of Mexico refused to pay for the wall that Trump wants to build along the border, the U.S. suggested it might impose an import tariff to subsidize the project. In one version of the president's thinking, a 20 percent levy would be imposed on imports from Mexico, which totaled $276 billion in the first 11 months of 2016, making any revenues from the tax amply sufficient to pay for the wall.
But the focus on Mexico could be a diversion.
Even though Trump chose the U.S.'s southern neighbor as his first target in the tariff war, China casts a much longer shadow over the U.S. economy. The Chinese economy is 10 times the size of Mexico's, and any tit-for-tat action by China would have a much larger impact on U.S. equity and bond markets.
Trump's decision to call out Mexico is comparable to that of a college football team that prefers to have patsies early in the schedule as it prepares for tough conference games to follow.
Still, the president needs to proceed carefully as he and his trade advisers decide on how to deal with Mexico. 
The market impact of a 20 percent tariff would be substantial. For starters, 40 percent of the content of Mexican exports to the U.S. is estimated to have originated in the U.S., and the tariff would immediately affect American jobs. Mexico is the top export destination for two large states, California and Texas, and the second-most important market for Illinois, Iowa and Nebraska. It also is a major purchaser of U.S. farm exports such as soybeans.

The negative impact on many states could be magnified by any market-limiting action that Mexican officials could undertake in retaliation to a Trump move. The tariff being discussed could even affect the Rust Belt, where Trump received many votes. U.S. automobile exports would be less globally competitive if the cost of imported Mexican parts increases. That, in turn, could cause higher unemployment in Michigan.
U.S. consumers will also feel the impact of the higher tariff before long. Trump's voters will not be happy when there's an increase in the price of inexpensive Mexican-made TV sets at Wal-Mart. They will also have to pay a higher price for agricultural products from Mexico such as avocados. And as nominal wages in Trump country increase more slowly, the workers' real purchasing power would drop.
Such considerations probably explain why Trump's initial focus has been Mexico rather than China. Action on his part could be met by Chinese retaliation limiting access by U.S. multinationals to the country's estimated 300 million middle- and upper-income consumers, which would significantly affect the companies' growth prospects.
So remember, even Mexico, despite its small size, has the potential to bring down U.S. corporate earnings and equity valuations of major multinationals with, and even without, retaliatory action. Its impact would also be felt by U.S. consumers.
There is a silver lining, however. It could be that the avalanche of sectors hurt by the trade war with Mexico discourages Trump from taking similar action against China.
To contact the author of this story:
Komal Sri-Kumar at ksrikumar1@bloomberg.net
To contact the editor responsible for this story:
Max Berley at mberley@bloomberg.net
Before it's here, it's on the Bloomberg Terminal.
LEARN MORE