War
Trump's Ban Undermines Iraqi Cooperation Against Islamic State
Why should Iraq trust our military cooperation if we break a longstanding agreement?
by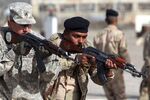 There are many good reasons to object to the Trump administration's new ban on allowing people from seven predominantly Muslim Middle East countries to travel to the U.S. and halting the acceptance of Syrian refugees.  I am among the many Americans ashamed that our great country could so easily push aside its history of caring for people with the most desperate needs in the world.  I also am among the national security analysts who don't see how this helps deliver on the promise of protecting the U.S. from terrorism, and worry that they will inflame the resentment and anti-Americanism that fuel attacks against our citizens at home and abroad. 
But, most tangibly and practically, I am among the millions of Americans who served as soldiers, diplomats or humanitarian workers in Iraq or Afghanistan, and therefore have insights into how the immigration ban has made Defense Secretary James Mattis's job of devising a plan to eradicate Islamic State a whole lot more difficult.
On Saturday, Trump issued a national security memo giving Mattis and the Pentagon 30 days to "develop a comprehensive plan to defeat ISIS."   Yet the immigration ban seriously complicates that task by jeopardizing the cooperation of Iraqis.  Iraqis are among the most important partners we have in fighting the Islamic State.  While the U.S. and its allies are providing critical air, intelligence and logistical support in northern Iraq, it is Iraqi forces -- both Arab and Kurd -- that are pushing Islamic State out of Mosul, the nation's second-largest city. 
As evidenced by Mattis's efforts to get exceptions to the immigration ban for Iraqis who worked alongside American forces, we rely heavily on Iraqis willing to risk their lives, and those of their families, to work with us. Such cooperation has cost many Iraqi lives.  Signaling that we may need them while we are operating in Iraq, but see them as a security threat in the U.S., will have an immediate chilling effect.  This distrust will not be limited to those Iraqis who want to become U.S. residents or citizens, but will permeate all of our relationships there.
And this effect will not be limited to the battlefield.  We do not yet know what the Pentagon's proposals to combat Islamic State will look like.  But given Mattis's experience and sophistication, I am confident he will acknowledge that, if America wants to destroy Islamic State, its efforts will need to go well beyond the military realm.  The recent past tells us that reconstructing cities devastated by fighting, revitalizing a moribund economy, and restoring governance will be the long poles that keep the tent from collapsing into another bout of extremism that threatens Iraqis, the region and the U.S. and its allies.
Even before Trump took office, Iraqis were concerned that the U.S. was not going to have the staying power to assist them in tackling these postwar challenges.  There is the history of U.S. troops withdrawing completely from Iraq in 2011, despite the fragility of the country's new institutions and the ongoing security threats. More tangibly, the Obama administration focused its policy so intensely on the military fight against Islamic State that Iraqis from all backgrounds worried that American interest in their country would dissipate as soon as Islamic State was routed from Mosul. 
Despite these fears, however, Iraqis could point to an agreement, known officially as  the Strategic Framework Agreement for a Relationship of Friendship and Cooperation between the United States of America and the Republic of Iraq, that was signed between American and Iraqi officials in 2008. Although virtually unknown to most Americans, the strategic framework agreement is considered a seminal document in Iraq.
In 2007, in the early days of the so-called surge, President George W. Bush sent me to Iraq to begin quiet discussions with Iraqi officials about what the long-term U.S.-Iraqi relationship might look like.  While the legal provisions for a longer-term U.S. military presence -- called the status of forces agreement, or SOFA -- were central to these discussions, Iraqis were equally interested in how the nonmilitary relationship would and could develop. When early conversations became difficult and complicated, one senior official in Washington advised me just to drop the idea of the strategic framework.  Iraqis, however, absolutely resisted that notion. The strategic framework agreement became a key complement to the SOFA; the Iraqi parliament voted to accept both in November 2008.  
We ended up with an eight-page document that lays out a vision for and the specifics of a bilateral relationship between Iraq and the U.S.  It discusses in detail cooperation in the political, diplomatic, cultural, economic, energy, health, environment, judicial and other realms. The section on cultural cooperation maintains that "connections between their citizens forged through cultural exchanges, educational links and the exploration of their common archeological heritage will forge strong, long-lasting bonds of friendship and mutual respect." It specifically commits the U.S. to "strengthen and facilitate the application process for U.S. visas consistent with U.S. laws and procedures, to enhance the participation of qualified Iraqi individuals in scientific, educational, and cultural activities."  This is just one of more than 40 provisions.
It is true that U.S.-Iraqi nonmilitary cooperation has fallen well short of what was envisioned back then.  But both the U.S. and Iraqi governments have worked to fulfill the provisions of the agreement and relied on it as a framework for cooperation.  Stuart Jones, the U.S. ambassador to Iraq at the time American forces were quickly reintroduced back into Iraq in 2014 to help in the fight against Islamic State, cited the strategic framework to allay concerns over the legal basis for U.S. troops in Iraq given that the SOFA had expired in 2011.  "We have the assurances that we need from the government of Iraq on privileges and immunities," he said. "It's in the basis of our formal written communications between our governments and also based on the strategic framework agreement that is the legal basis of our partnership." 
Just last month, Iraqi Foreign Minister Ibrahim al-Jaafari announced he was creating a new high-level Iraqi committee to focus on fulfilling the agreement; he reportedly had higher hopes that the Trump administration would be more enthusiastic about broader cooperation with the Iraqis than the previous one. Those hopes have been quickly dashed by the immigration decision.
The new ban does not jeopardize the legal status of U.S. troops in Iraq.  But it does send a message to Iraqis that Washington is no longer particularly interested in a broader, long-term relationship with Iraq.  Some Americans may say this message, while harsh, simply reflects a new reality.  They should think again.  Even putting aside emotional or moral questions, we cannot expect to defeat Islamic State -- or any other extremist group in the Middle East -- if we do not have true partners there.  And we cannot expect to gain or keep such partners when we signal that we are only bound to our commitments when we find it convenient.  Nor should we expect cooperation when we tell their leaders and their people that, while we need them to fight and die in Iraq, they are not welcome to visit us in America.
To contact the author of this story:
Meghan L O'Sullivan at Meghan_OSullivan@hks.harvard.edu
To contact the editor responsible for this story:
Tobin Harshaw at tharshaw@bloomberg.net
Before it's here, it's on the Bloomberg Terminal.
LEARN MORE