Latin America
How a Contractor's Sins Can Redeem Latin America
Public outrage over corruption is putting an end to business as usual.
by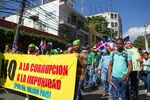 If the ethically challenged Brazilian contractor Odebrecht SA was counting on a sympathetic ear in its hour of need, Pedro Pablo Kuczynski should have been its man. Before becoming Peru's president last year, the 78-year-old economist shuttled between Wall Street and the policy dens of Washington and Lima, where he backed the sorts of development projects that made Odebrecht a corporate powerhouse. And yet Kuczynski recently asked Odebrecht to pack up after fining the company for paying $29 million in bribes; he also rescinded its contract for part of a $7.3 billion Peruvian natural gas pipeline.
Peru's reaction is just part of a hemispheric blowback against Brazil's suppurating graft and payola scandal, which has spread from Sao Paulo to Santo Domingo. Colombian authorities arrested a former national senator on charges of illicit enrichment and a former deputy minister of transportation for allegedly expediting Odebrecht contracts; Panama has barred the company from further public works; in the Dominican Republic, protesters have taken to the streets about the $92 million in bribes Odebrecht allegedly paid in return for official favors.
Whether the Latin America backlash is a one-off spasm of righteousness or the spur for cleaning up government and overhauling corporate governance is an open question. In its latest survey on perceptions of corruption, Transparency International gave Latin America and the Caribbean just 44 points out of a 100, on an index where anything below 50 means a country is "falling back." The U.S. law firm Miller & Chevalier recently canvassed executives and legal counsel across Latin America and found that although 52 percent of respondents believed they had lost business to corrupt competitors, 77 percent also said that anti-corruption laws are ineffective. The 2016 results were barely changed from 2012, before the Brazil scandal broke.
Yet the region's commitment to root out the rot in business and politics seems real and vibrant. Peru has announced a special investigative team to look into corrupt practices. Colombian prosecutors are scouring contracts, and a senior minister for Panama President Juan Carlos Varela announced a probe into Odebrecht's contracts, for which the Brazilian company allegedly paid $59 million in bribes.
Much of the momentum behind this prosecutorial fury has come from north of the Florida Straits, after the U.S. Department of Justice announced it had reached a historic $3.5 billion settlement with executives of Odebrecht, who confessed to paying bribes to game contracts in nine Latin American countries and two more in Africa. Just as former U.S. Attorney General Loretta Lynch's 2015 dragnet against the world soccer bureaucracy at FIFA triggered a crackdown on Latin American football bosses, so, too, has the DOJ's initiative encouraged regional police and prosecutors to hunt down local officials in Odebrecht's pocket.
This is not all the work of imported gringo ethics, however. If Brazil became a byword for graft and corporate malpractice, it also has become a trendsetter. Operation Carwash, the storied three-year investigation into corruption at Petrobras, owes its success not just to a maverick judge or courageous prosecutors, but to solid institutions and laws such as the 2013 anti-bribery law. "This is precisely how democracy is supposed to work," said Andy Spalding, a professor at University of Richmond School of Law who focuses on anti-corruption. "The Brazilian example redeems the idea that democratic institutions can combat corruption, and now Brazil is in a position to build capacity in other countries who are launching their own inquiries."
Meeting at an Anti-Corruption Summit in London last May, Argentina, Brazil, Colombia and Mexico agreed to investigate shell companies that launder ill-gotten profits. Others are pushing a new international anti-corruption benchmark, known as ISO 37001, which would oblige companies to train staff to combat bribery and appoint a compliance officer. "What we're seeing now is a kind of competition among countries named by U.S. prosecutors to take down corruption at home," said Alejandro Salas, a Latin America analyst with Transparency International. More remarkably, Salas said, countries that rarely saw eye-to-eye are working in tandem, most recently to build a joint task force to investigate corruption, under Article 49 of the United Nations Convention Against Corruption.
The road ahead is doubtless long. Among other things, it's not clear whether the administration of President Donald Trump will pick up where its predecessor left off. What's different is that Latin Americans no longer seem willing to look the other way -- consider the outrage over corruption that toppled an old-school crony politician from office in Guatemala and chased a tainted former leader of El Salvador into exile last year. The ripples set off by Odebrecht's crimes are stark proof that civil society's anger at thieving at the public's expense has punctured the certainty of a once untouchable political class and their corporate sponsors, many of whom are now behind bars, were forced to flee, or facing trial. That kind of civic conviction that can't be imported. "Statutes can always be repealed and legalities reversed," said Spalding. "I don't know if culture can."
To contact the author of this story:
Mac Margolis at mmargolis14@bloomberg.net
To contact the editor responsible for this story:
James Gibney at jgibney5@bloomberg.net
Before it's here, it's on the Bloomberg Terminal.
LEARN MORE