view
Trump's Big Plans on Infrastructure Will Stay Big
Congressional Republicans hated Obama's stimulus projects. Wait till they see Trump's.
by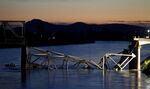 Infrastructure just resonates for Donald Trump -- more than tax cuts, or confrontation with China or even the wall that Mexico isn't going to pay for. He's a self-styled genius builder and likes to think big.
There is a demonstrable need for major projects, with roads and bridges in disrepair, antiquated airports and seaports and a second-tier rail system. There is also a broad consensus that something will be done.
Trump envisions something really ambitious that he can push through Congress, on a bipartisan basis, and get the political credit for. It becomes a bit more complicated, however, when it gets down to specifics. A major infrastructure measure could be one of the following: 
   (1) A trillion-dollar, 10-year plan, largely taxpayer funded (over the long run, most of these projects generate more economic growth than the budgetary costs).

    (2) A trillion-dollar plan that is chiefly paid for by a combination of user fees, maybe an increase in the gasoline levy, which hasn't been raised since the 1990s, and through new revenue from corporate-tax reform (which is aimed at bringing back foreign income, at a lower tax rate).

     (3) A privately financed plan with tax credits and other incentives. 

     (4) A smaller, more incremental program along the lines of recent government infrastructure efforts.
Rule out the last idea: Trump doesn't like small or business as usual.
But the other options have problems, too. The first, which probably is Trump's preference, horrifies the congressional deficit hawks, including the many Republicans who railed against President Barack Obama's stimulus spending. Budget shortfalls have been steadily declining, but are projected to start ballooning in a few years.
If you tell these conservatives that infrastructure usually pays for itself in the long run, they may be tempted to counter with, "In the long run, we're all dead," borrowing a line from John Maynard Keynes.
Financing part of a massive plan with user fees, but especially taxes, is a non-starter for most Republicans. Maryland Democratic Representative John Delaney, with some bipartisan support, has proposed using income from the corporate-tax changes to fund much of the infrastructure plan.
That poses two problems: Republicans want to use a big chunk of any money returned from overseas, at lower tax rates, to cut corporate taxes, and there's not enough to go around for everything. And it would mean delaying infrastructure projects, which Republican congressional leaders want to do, and Trump doesn't.
A privately financed approach appeals to some politicians. There are models like Denver's light-rail system. But experts suggest the possibilities are limited.
"There is a need for private capital, more private-public partnerships," says Heidi Crebo-Rediker, the chief executive of International Capital Strategies and former chief economist at the State Department. "But it's not a silver bullet. Projects need to be commercially viable. The majority of infrastructure will need public investment."
Such projects have the active support of labor and many business leaders, and a number of politicians want to be on board. This is evident in two initiatives, one real, one perhaps not but it is instructive.
Last week Senate Democrats put out a $1 trillion plan that they say would create more than 15 million jobs. It entails the entire range of infrastructure: roads, bridges, airports, seaports, clean-energy projects, even new veterans' hospitals.
The other initiative is in the form of a document purporting to list the initial projects drawn up by the Trump transition. The Trump forces deny any connection, but the specific plans look as if they have been forwarded by governors and others. These ideas include everything from rapid-rail systems in New York-Newark and Dallas-Houston. and upgrades of several major airports, to improvements in the Chickamauga Lock in Tennessee. The draft paper cites 50 percent private financing, which won't fly with Democrats.
Make no mistake: This issue turns on Trump. His senior counselor, Steve Bannon, has said that the cost doesn't matter, with interest rates so low, and that big projects in cities could turn African-American voters into Trump supporters.
Bannon, who has given comfort to white nationalist views, is ignorant about African-Americans. But he's right about the overall potential politics: Picture hundreds of bridges, roads, tunnels and airports under construction -- courtesy of, the huge signs will say, President Donald Trump.
To contact the author of this story:
Albert R. Hunt at ahunt1@bloomberg.net
To contact the editor responsible for this story:
Katy Roberts at kroberts29@bloomberg.net
Before it's here, it's on the Bloomberg Terminal.
LEARN MORE