Prophets
How Gulf States Can Offset the Dollar's Pull
The region needs structural reforms that diversify the economy away from oil.
by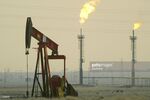 In December, Gulf Arab central banks wasted little time in following the Federal Reserve's interest-rate increase, maintaining a commitment to the U.S. dollar peg. The Fed is likely to undertake two or three rate increases throughout this year. Because of its currency pegs to the dollar, the Gulf region must stay in line with U.S. monetary policy or it could experience debilitating capital outflows. Gulf Cooperation Council countries are experiencing higher interest rates while oil prices are still low and the greenback is gaining in strength, all of which can place pressure on growth.
Gulf Arab states, however, will neither de-peg nor devalue at this stage. What they should do is follow through on structural reforms that help their economies diversify away from oil. Currency devaluation is not an option because regional central banks view it with skepticism. To them it is a source instability and unpredictability, even as they are trying to increase the pace of foreign investments. Also, oil prices are gradually picking up and if Organization of Petroleum Exporting Countries members and non-OPEC play it right, they could see $60 per barrel later in 2017 and possibly higher prices the year after. Governments view that favorably. The pressure on reserves and balance of payments is also lessening. And all have embarked on some sort of international borrowing program that will help alleviate fiscal pressures, not eclipse them, and reduce international currency speculation.
Despite the effect of interest rates on growth and the prevailing pegged regime of the region, the future diversification successes are predicated on the ability of these nations to push through structural reforms. The GCC countries lag behind top performing advanced economies and emerging markets in a number of areas. There are opportunities for catching up with global top performers in areas including resolving insolvency, getting credit, trading across borders, property rights, investment freedom, innovation, higher education, rule of law, regulatory quality and government effectiveness. A recent report by the International Monetary Fund showed that higher quality of institutions -- such as public governance, legal systems and property rights -- is associated with more efficient allocation of resources. That, in turn, can boost aggregate productivity, build confidence in the economy and stimulate investment and employment.
Despite the importance of those steps, three central reforms are required for the region to halt its long-term economic downfall. Business-friendly procedures, high-quality industry regulation and strong legal systems promote competition and an efficient allocation of resources. Most GCC countries rank below advanced economies and emerging-market top performers when it comes the requirements for starting a business, getting electricity, resolving insolvency and enforcing contracts.
On business freedom, most GCC rank below advanced countries and very close to emerging market top performers. Regarding regulatory quality -- which captures perceptions of the ability of the government to formulate and implement sound policies and regulations that promote private sector development --they also fall short of advanced economies top performer rankings.
Another top priority for the region should be productivity gains. To support high and sustained growth, GCC economies should implement productivity-enhancing structural reforms. International evidence indicates that high and sustained growth comes mainly from improvements in total factor productivity -- which could support capital accumulation—and structural reform efforts are positively associated with growth. In contrast, high and sustained growth in the GCC countries has historically been the result of factor accumulation rather than improvements in productivity.
Last, labor market reforms should be designed in light of the specific features of GCC labor markets and phased in over time. In the GCC the distortions created by high public sector wages and employment of non-nationals will need to be addressed through determined but gradual reductions in public sector employment thanks to attrition and narrowing of the wage differential between the public and private sectors. Last September, Saudi Arabia cut salaries and benefits of public employees, which correctly signals that the state can no longer be the employer of first and last resort. The Gulf economies need to move to a high wage equilibrium for locals and replace foreign nationals. This will help the private sector lessen its dependency on labor and move to greater capital intensity, which will improve productivity. At the same time, keeping higher skilled foreign workers and improving the skills of nationals can help also further productivity.  
Much of the blame for the skills gap lies in the region's education sector, which hasn't kept pace with the times. Schools tend to focus on traditional disciplines, relegating to the sidelines courses that would prepare students for jobs in booming industries, such as information technology, research and logistics.
If GCC countries hope to arrest a structural economic decline, they should focus on reforms to create an environment conducive to improving productivity and fostering private investment. Patience, adjustment and transparency are imperative because these kinds of transformations can't be achieved without the informed knowledge of all, especially businesses.
To contact the author of this story:
John Sfakianakis at jsfakia@gmail.com
To contact the editor responsible for this story:
Max Berley at mberley@bloomberg.net
Before it's here, it's on the Bloomberg Terminal.
LEARN MORE