Europe
Both France and the U.S. Have a Nepotism Problem
Presidential candidate Francois Fillon's wife clearly helped him do his job, whether he can prove it or not.
by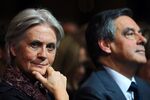 A scandal already known as "Penelope-gate" threatens to ruin Francois Fillon's bid for the French presidency. The center-right candidate, until recently a strong favorite to win, is under preliminary investigation for allegedly paying out a total of 500,000 euros ($534,000) to his wife Penelope for invisible work as his parliamentary aide.
This raises the question of how politicians' family members should be treated in a democracy -- as assistants who can receive compensation for their efforts or, to prevent accusations of nepotism, as accidental bystanders (or humble volunteers). Both models have their problems.
A French parliament member is paid 9,516 euros a month to hire aides. Half of that money can be paid to family members, if they actually work for it. Many legislators take advantage of the rules to augment their family incomes and so, apparently, did Fillon. The issue is whether his wife, trained as a lawyer but never employed as one, did any real work for a salary that exceeded a parliamentary aide's real income. Fillon claims she did: 
She has always worked for me. She corrected my speeches. She represented me in meetings. She did press summaries for me. She summarized people's requests. She volunteered for years. When one of my colleagues left in 1997, I replaced him with Penelope.
It is also known that recently, Penelope Fillon has spent much of her time in her husband's former constituency near Le Mans, where the family owns a chateau. She has been involved in charity work there and became a municipal counselor -- a job her husband had once held.
Fillon told French television channel TF1 Thursday that he would step down if prosecutors pursued the case to a formal investigation. The probe will likely drag out for months, well past election day. Fillon claims the accusations are meant to undermine his campaign, and they do: Personal integrity and promises to cut inefficient government spending and bloated payrolls have been among his strongest selling points. Now, independent competitor Emmanuel Macron, intent on building up his outsider claim, is already attacking Fillon for "living off" politics (though Macron too is facing accusations that he misused public funds).
Allowing a politician to hire family members creates the appearance of conflict, whether or not one exists. But even democracies without that express allowance struggle with the same issue.
Unlike France and other European nations -- notably the U.K., where every fifth legislator employs a family member -- the U.S. has strict nepotism laws. They apply both to government employees and legislators: They cannot hire family for taxpayer's money at all, though they've been known to pay their relatives out of campaign funds. Even the first lady, trapped in the majesty of her husband's role and given an official budget for staff, isn't paid a salary. Ronald Reagan once said of his wife Nancy: "The government with the First Lady gets an employee free; they have her just about as busy as they have me." 
Because of the nepotism laws, President Donald Trump's closeness to his family has been a cause for concern. Even the appointment of son-in-law Jared Kushner as an unpaid "senior adviser" has been controversial. Government lawyers who cleared the nomination in a lengthy opinion said an official post, subject to conflict of interest rules, could be preferable to Trump seeking a family member's advice unofficially.
But despite these strict rules, the U.S. has one of the most openly nepotistic political cultures in the world. Presidential dynasties are just its most visible manifestation. In his book, "In Praise of Nepotism," Adam Bellow recalled the appointments of George W. Bush's first presidency:
Michael Powell, son of Secretary of State Colin Powell, became chairman of the federal Communications Commission. Elaine Chao, wife of Sen. Mitch McConnell, became secretary of labor. Chao's chief labor attorney, Eugene Scalia, was the son of Supreme Court Justice Antonin Scalia. Elizabeth Cheney, the vice president's daughter, became a deputy assistant secretary of state; her husband became chief counsel of the Office of Management and Budget. And in a crowning act of nepotistic chutzpah, Bush acceded to Sen. Strom Thurmond's request that he appoint 28-year-old Strom Thurmond, Jr. U.S. attorney for South Carolina.
This could be described simply as elitism, but one could still argue that rules banning nepotism are largely hypocritical. If all those sons, daughters, wives and husbands could officially and directly work for the people whose names advanced their careers, there would probably be less tension and resentment: Government departments and constituencies would merely be run more like family firms. As Bellow wrote, "all societies are organized at the most basic level around the processes of marriage, reproduction and inheritance."
Penelope Fillon, who gave her politician husband five children and a happy home, would have been helpful to his political career even if she hadn't done those press summaries. It's conceivable that without her next to him, Fillon -- an ambitious and successful lawmaker before his distinguished ministerial career -- would have been less effective even if he'd hired a couple of diligent staffers in her place. So why pretend that he couldn't have paid her for the totality of the help he got?
"I love her and I will defend her," Fillon said of his wife. It's now himself he has to defend and the drop in his approval ratings shows it won't be easy. Being a top politician's family member means being hostage to an agenda, to polls, to relentless public attention and opposition scrutiny. Perhaps there's a case for rewarding this role openly and officially. But so long as payment is tied to "work," the burden will be on the politician to show that such services were rendered.  
To contact the author of this story:
Leonid Bershidsky at lbershidsky@bloomberg.net
To contact the editor responsible for this story:
Therese Raphael at traphael4@bloomberg.net
Before it's here, it's on the Bloomberg Terminal.
LEARN MORE