Labor
Want a Job? Go West (and South)
The South and big metro areas are also where it's at.
by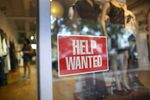 And the award for top job creator among the states in 2016 goes to ... Florida, which edged out Oregon.
In percentage terms, that is. In absolute numbers, the growth leader is California, which posted an estimated 342,200 more nonfarm payroll jobs in December 2016 than in December 2015. But with 12 percent of the nation's population, the Golden State has sort of a built-in advantage in that metric.
The numbers here come from data that is not adjusted for seasonal factors. We're measuring from December to December, so why get mixed up with statistical tweaks? 1 With the more widely used seasonally adjusted numbers, Oregon comes in first, Florida second. But again, that's because the seasonal adjustment distorted things a little. Here, from the monthly regional and state employment data released Tuesday by the Bureau of Labor Statistics, are the year-over-year percentage leaders:
The District of Columbia, if I had included it here, would have come in eighth place, with 2.2 percent growth. As for the laggards:
The states with the fastest job growth were evenly split in the November election between Hillary Clinton and Donald Trump; among the slowpokes, a big majority (8.25 out of 10; Maine splits its electoral votes and gave three to Clinton and one to Trump) voted for Trump. Jed Kolko, chief economist at jobs website Indeed, crunched the numbers and found that, overall, blue states experienced slightly faster job growth over the past year than red states. Which makes a certain amount of sense: If things are bad, you're more likely to go for the unpredictable, trouble-making outsider than the establishment insider.
This pattern also seems to hold if you look at the worst-off metropolitan areas (which Kolko did before I got to it):
Four of the 10 job-losingest U.S. metropolitan areas of 500,000 people or more are partly or entirely in Pennsylvania, a state that polls indicated was headed for a Clinton victory but went to Trump by a narrow margin. Then again, three of the job-gainingest metro areas were in Florida, another state that polls indicated was headed for a Clinton victory but went to Trump by a narrow margin. So maybe there are no political lessons to be learned here.
Overall, the big message is the same and can be found in just about every recent measure of population and employment change: People and jobs keep moving to the West and South. The exceptions on the positive side are Massachusetts and Missouri (well, there's D.C., too). The former isn't a big surprise -- the Boston-area economy has been growing at a healthy pace for years now. As for the latter, the increase followed a big falloff in growth in 2015. Anybody got an explanation?

Interestingly, most of the states on the biggest-losers list are also in the West and South. Tough times in the oil, gas and coal businesses explains a lot of that -- and the job losses in these less-populous states were overwhelmed by gains in Florida, Georgia and Texas, and along the West Coast.
Florida, which seemed to be in deep, deep trouble a few years ago in the aftermath of the recession and real-estate bust, has come roaring back. That's partly because it fell so far -- the state lost 11.5 percent of its jobs during the recession, compared with 6.3 percent for the U.S. 2 But it's still impressive.

Another important thing to note is that even the fastest-shrinking metro area -- Allentown, Pennsylvania, and environs -- still did better in 2016 than four states. It's an indication that larger metropolitan areas are where almost all the job growth in the U.S. is taking place. I asked Kolko for some quantification, and he came up with this: Payroll employment increased by 1.7 percent in metro areas of 500,000 or more in 2016, compared with 1.4 percent nationwide. In metro areas of 2 million people or more, the growth rate was 1.8 percent. Overall, metro areas of 500,000 or more accounted for 70 percent of U.S. employment in December 2016, and 84 percent of one-year job growth.
To contact the author of this story:
Justin Fox at justinfox@bloomberg.net
To contact the editor responsible for this story:
Brooke Sample at bsample1@bloomberg.net
Before it's here, it's on the Bloomberg Terminal.
LEARN MORE