view
Trump Euphoria Turns to Market Frustration
Experienced investors shouldn't be surprised: The difference between expectations and reality is disappointment.
by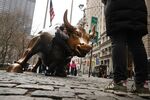 After initially posting a remarkable jump after the election in November, U.S. stocks have hit a roadblock. Since mid-December the Dow Jones Industrial Average has made many attempts to reach the mythical 20,000 mark, but has so far failed. What at first could only be described as unbridled optimism about the pro-growth policies put forth by Donald Trump has faded somewhat.
Experienced investors shouldn't be surprised: The difference between expectations and reality is disappointment. Although it's still early days for the Trump administration, the failure to fulfill campaign promises is a hallmark of modern U.S. presidencies. And with close to $20 trillion in debt, and as much as $200 trillion in unfunded entitlements obligations, it is difficult to see how Trump can fulfill all of the expectations for fiscal stimulus that are priced into the market.


Some tax cuts and spending increases are likely to be part of the 2017 budget, but not all of them. The new budget probably won't be balanced, but there are limits to the deficit spending that Republicans could find acceptable. And this is likely to become apparent rather quickly. The prospect of disappointment presents downside risks to equity markets, especially in the first half of 2017.
Trump's pick for budget director, Mick Mulvaney, said in his confirmation hearings last week that the national debt is the equivalent of an ordinary American family owing more than $250,000 on their credit cards.
Mulvaney, a Republican congressman from South Carolina, was part of the wave of fiscal-conservative Tea Party members elected in 2010, and he has been one of the most vocal advocates for cutting government spending. His long-held position that new spending must be offset by cuts elsewhere could put him at odds with Trump when it comes time to make good on the president's promise to invest $1 trillion in roads, bridges and other infrastructure. Trump has said his proposals would boost economic growth, which would help reduce debt and deficit.


Moody's Investors Service noted in a report Tuesday that the Trump administration "faces fiscal challenges that will increasingly weigh'' on the U.S.'s Aaa credit rating by the end of the decade. In the absence of policy changes, rising expenditures on entitlement programs will lead to wider fiscal deficits after years of improvements, the ratings company said. With federal debt around 77 percent of gross domestic product, U.S. debt levels are already the highest of any country with a Aaa rating.
The rally in equities was built on more than just blind optimism, and the S&P 500 hit a new record high yesterday. Trump's plan to cut taxes would increase business valuations, because after-tax cash flows and future dividends would be larger. Any disruption to the narrative of smooth transition to significant tax relief that would cut corporate rates to 15 percent is likely to force investors to reassess valuations, sending equities lower. Although some tax cuts seem likely, the full as-advertised decrease may be much more modest than investors expect. 
Equities have also gotten a boost from what's called sector rotation. Investors took cash out of bonds on the prospect that Trump's deficit spending plans would spark faster inflation, leading the Federal Reserve to accelerate the pace of interest-rate increases. In other words, yields on 30-year Treasuries didn't rise after the election because markets were pricing in three decades of stronger economic growth. Even if fiscally conservative Republicans push back against Trump's spending plans, the next budget is unlikely to be balanced.
That presents another risk for equities. Any sign that Trump's spending plans are facing opposition from his own party could reduce the risk of higher interest rates from the Fed, engendering some rotation back into bonds from stocks. 
Investors need to keep a close eye on Washington, but also on important trading patterns. Large selloffs in equities in July 2015 and January 2016 came after the benchmark closed below the 120-day moving average on several days. Although that happened again in the week before the election, the average closed above on Nov. 7 in a clear buy signal to chart watchers.
Although other so-called technical indicators, such as those measuring momentum, relative strength and volume, have become less bullish, the Dow has remained above its 120-day moving average since the election, making that a critical level to watch. A drop below may mark a turning point in this long bull market, especially in a less-than-smooth budget planning process.
To contact the author of this story:
Jason Schenker at jasonschenker@prestigeeconomics.com
To contact the editor responsible for this story:
Robert Burgess at bburgess@bloomberg.net
Before it's here, it's on the Bloomberg Terminal.
LEARN MORE