Tom Price's Delayed Ethical Epiphany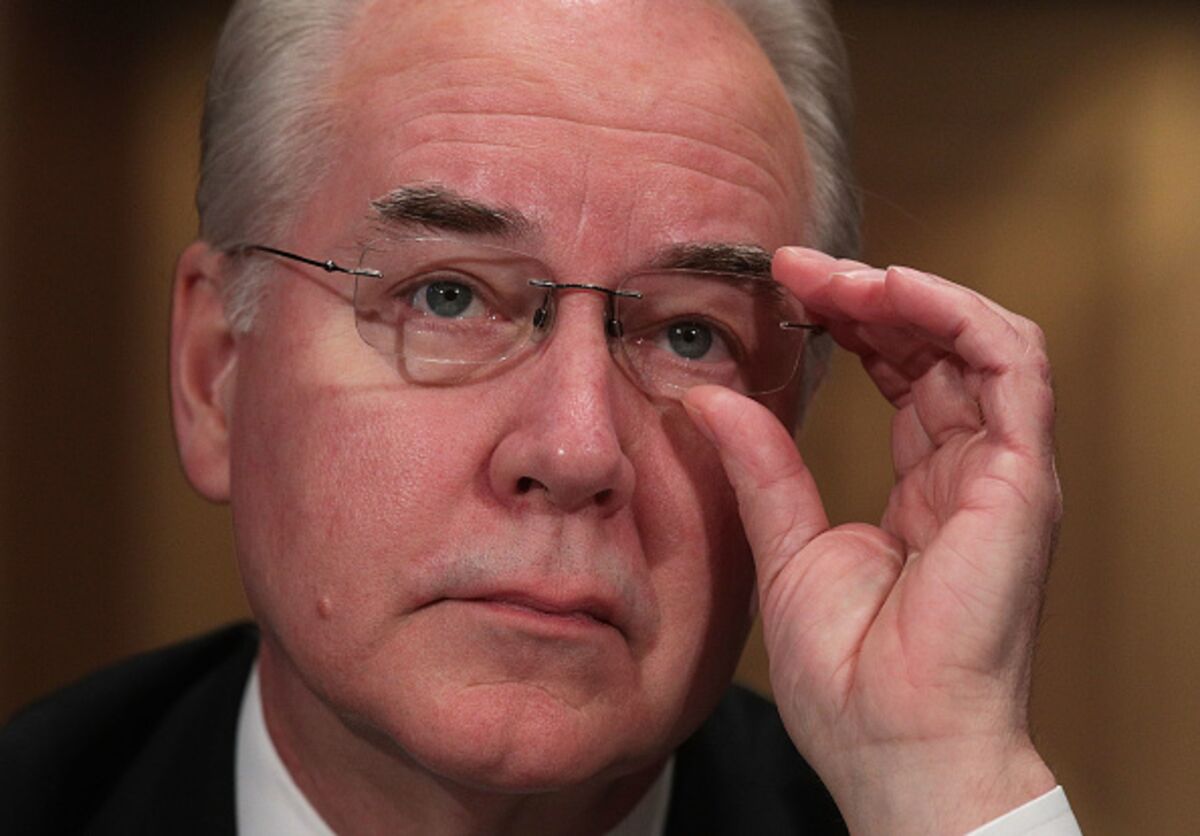 Photographer: Alex Wong/Getty Images
Rep. Tom Price, President Donald Trump's nominee for secretary of Health and Human Services, seems to understand the need to separate public service from private gain. To avoid conflicts of interest, Price has said he would divest from several dozen companies in which he is a shareholder within 90 days of being confirmed by the Senate. All public servants should make such a robust and transparent commitment to high ethical standards.
What's curious is that Price has come to this realization so late in his public career. His nomination is currently embroiled in charges that he profited from his position in Congress. Last March, Price purchased shares in a medical device manufacturer. Within days, he introduced a bill that would benefit the company, Zimmer Biomet, by easing regulation.
Altogether, Price traded more than $300,000 worth of shares in health companies in the past four years. Price was one of about 20 people, including his House colleague Rep. Chris Collins, to benefit from a private stock offering in an Australian biotech company. Price said he personally made the decision to invest in the company, which netted him a profit of at least $50,000.
Price has said that his shares in Zimmer Biomet were purchased by a broker without Price's knowledge. Even presuming that's true, the question remains: Why would a House Republican leader on health care policy, author of a bill designed to restructure the multi-trillion-dollar America health-care system, be trading in health care stocks at all? Yet according to a Bloomberg BNA analysis of financial disclosures, almost one quarter of federal lawmakers sitting on committees that handle health issues hold an investment in a pharmaceutical or health services company.
The STOCK Act, passed by Congress in 2012, makes it illegal for members of Congress and staff to trade on their access to privileged information -- including legislative information. It's unclear whether Price broke the letter of the law. He certainly appears not to have followed its spirit.
If it makes sense for the secretary of Health and Human Services to divest from health-care stocks -- and it does -- then it makes sense for a member of Congress with great influence over health care policy to divest from such stocks. Given the enormous influence that members of Congress have over regulated sectors of the economy -- Price was not shy about lobbying the executive branch -- members should go further. They should be required to have their assets in a genuine blind trust over which they have no control, or they should restrict their investments to what a 2012 memo on STOCK Act compliance from the House ethics committee called "widely diversified" mutual funds or exchange-traded funds, such as an S&P 500 index fund.
Public service is an honor. Restricting investments to broadly diversified mutual funds or a blind trust is a small sacrifice to make in return. 
Price will appear today for a hearing before the Senate Finance Committee. Before confirming him, the Senate and the public need a full accounting of his investment activities while in office. His pledge to divest now, after a lucrative career trading stocks while a member of the House, is little cause for confidence.
To contact the senior editor responsible for Bloomberg View's editorials: David Shipley at davidshipley@bloomberg.net.