Prophets
Beware of Hard-Money Advocates Filling Fed Positions
Open slots on Fed's board may bring new thinking, along with greater market volatility.
by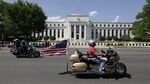 Federal Reserve Chair Janet Yellen made it clear in a recent speech that monetary policy wouldn't immediately be affected by the changing of the guard in Washington. It isn't the short-term that's worth worrying about, but the long-term and the potential for new Fed governors to be neither objective nor divorced from political pressures.
With two vacancies on the Fed's seven-seat board, the Donald Trump administration will have an opportunity to nominate policy makers more to the president's liking. He'll also have a chance to pick a new chairman and vice chairman in 2018, when the terms of Yellen and her deputy, Stanley Fischer, expire.
Potential candidates to replace Yellen would likely pursue tighter monetary policy, Rich Miller of Bloomberg News reports. Although "hard money" advocates would have little impact on policy right away, their rule-based tenets have the potential to pull forward and worsen the next recession, and weaken the subsequent recovery. Here's what Yellen said about the current situation:
 The structure established for the Federal Reserve back then intentionally insulates us from short-term political pressures so we can focus on what's best for the American economy in the longer run. I promise you, with the sometimes imperfect information and evidence we have available, we will do just that by making the best decisions we can, as objectively as we can.
It isn't clear that Trump wants a more hawkish Fed. His comments on the subject range from praise to criticism of current policy. Still, I suspect his administration would be attracted to policy makers who are more concerned about the level of rates than actual economic outcomes. Consider this from former Fed Governor Kevin Warsh via Miller: "He questioned why rates are so low when the Fed is so close to achieving its goals of maximum employment and price stability. 'Tell me again why interest rates seem to be so far away' from what is at least the historical target, Warsh said."
Low rates would be disconcerting if there was evidence that the economy was overheating or that the Fed wasn't prepared to raise rates in the face of overheating. But neither is true. If anything, the economy is just now meeting the Fed's dual mandate, validating its policy stance. Higher rates would have delayed the path to this point.

Markets have approved. The S&P 500 Index of stocks has soared 21.7 percent since Yellen became chair in February 2014, better than the 4.77 percent gain for the MSCI All-Country World Index. Rather than being debased, the greenback has actually strengthened, with the Bloomberg Dollar Spot Index appreciating 22.6 percent. The Bloomberg Barclays U.S. Treasury Index of bonds has risen 5.41 percent.   
Hard money advocates would likely force the Fed to explain its policy relative to a rule such as the one advocated by Stanford University economist John Taylor: They would pressure the central bank into pursuing a tighter policy. But if the natural rate is variable and, as it currently appears, lower than in the past, then the rate implied by the policy rule would be too high.
The Fed has been clear about why rates have remained so low. In addition to supporting the recovery, rates are pressured by low productivity growth, demographics, high global savings and regulatory shifts, which require banks to hold more safe assets.
The addition of hard-money policy makers to the Fed poses four main risks for the economy and markets beyond the obvious one that the Fed's objectivity may no longer be taken for granted.
First, they may influence policy to turn too tight, too soon relative to underlying economic conditions. This would pull the next recession forward. Second, their focus on high rates first, economy second would lead them to delay looser policy in response to a recession or crisis that could trigger a recession. Third, they would be too quick to tighten policy after a recession has concluded. And fourth, they may underestimate the international forces holding down rates and thus not recognize the potential drag on the economy from higher borrowing costs. Given the importance of dollar financing across borders, excessively high U.S. rates could trigger a global financial crisis.
To contact the author of this story:
Tim Duy at duy@uoregon.edu
To contact the editor responsible for this story:
Robert Burgess at bburgess@bloomberg.net
Before it's here, it's on the Bloomberg Terminal.
LEARN MORE