White House
And the Tweet Goes On
Even on Inauguration Day, the president reaches out to his social media followers.
by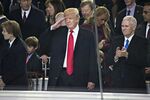 We have an answer to the burning question obsessing Washington for months. Friend and foe alike wondered whether and when Donald J. Trump would become presidential. Would the man who kept firing off incendiary messages all through his transition tweet from the podium at the Capitol, or from the reviewing stand as the military he now commands marched in front of him? Would he immediately undo his predecessors' executive orders with much better ones of his own?
Some predicted he would tweet executive orders. After all, as the Federalist Papers were to the Founding Fathers, Twitter is to Trump. The new president didn't disappoint those with low expectations. Minutes after his hand was off the Bible his thumbs were on his newly encrypted Secret Service-issued mobile phone. Sure, the 140 character missives were bland but they nonetheless sent the message he had no plans to cease and desist, at least on his @realdonaldtrump account. He also issued some executive orders but not the ones dreaded by Dreamers or those enjoying overtime pay.
What showed the failure to pivot more than anything was the least presidential Inaugural Address in memory. It started to rain as he started to speak, adding to the bleak picture he painted of "American carnage" and "rusted-out factories scattered like tombstones" and "forgotten men and women" left behind by politicians who cared nothing for them. It ended with a clenched fist.
In his passage from the Capitol to the White House, he conveniently got out for a short walk by his hotel, which he pitches every chance he gets. The White House provides new marketing opportunities. At the official website, you can read all about the First Lady's jewelry line available on QVC.
He previously bragged  he would be taking his first weekend as president off, to the dismay of almost everyone.  He would dance at three inaugural balls -- he couldn't resist choosing "My Way" for his first song. And his way it was. After the obligatory prayer service at the National Cathedral on Saturday, it would be wheels up to Mar-A-Lago.  To anyone still wondering, the president will be commuting to the swamp.
Trump once said he would become "so presidential that you people will be so bored," but he may not give us the chance. From the transition to this week of inaugural festivities, he maintained his campaign persona, saying whatever came into his mind and letting no slight pass: If his son-in law couldn't bring peace to the Middle East, no one could; there's no difference between Angela Merkel and Vladimir Putin, NATO is obsolete and Congressman John Lewis, a bloodied hero of civil rights, is all talk. Let's hope he was sobered by receiving  the biscuit, the card with the nuclear codes on it. Nothing says you're president like having the capacity to blow up the world.
At the festivities at the Lincoln Memorial on the eve of his swearing in, he was still blustery and hyperbolic about things that don't matter. A proud cultivator of celebrities, lover of Hollywood and admirer of glitz, his celebration was anything but star-studded. There was no Elton John, Andrea Botticelli or Tony Bennett, whom he says is a "great friend." He delivered the Piano Guys, 3 Doors Down, and Toby Keith. Even as the audience numbered fewer than 5,000 compared to President Barack Obama's in 2008 that stretched to the Washington Monument, he called it the greatest concert ever with the best performers and biggest audience.
It wouldn't matter except that it shows how hard it is for the president to stop his grandiose behavior on the eve of taking office, an event that is already grand and doesn't require gilding. Politico counted 82 untruths in the 71 days of transition as he  overpromises, underdelivers, overreacts to the slightest insult and fights battles he's already won. When I interviewed him at Mar-A-Lago early this month, he spoke sensibly about health care and his hopes for veterans. He said he'd decided to sleep in the Lincoln Bedroom because it held so much history. But then he veered off to Guatemalans in Florida voting illegally because Hillary Clinton's win of the popular vote still grated. It's hard to imagine how he will act when he loses a vote in Congress.
Those who didn't vote for Trump and some in his own party are looking anxiously for signs he will be alright after all. In a way not seen before, everything is up for grabs in Washington. It's not just that the president is a man who built casinos and hotels, and seems unwilling to learn what he doesn't know, it's that even after the transition, he's yet to settle on a governing philosophy. His campaign positions on trade, immigration, and labor policies to attract those who'd been left behind may not hold in the face of the reality of globalization and technology.
Then there's temperament. We know from his tweets that Trump doesn't get much sleep. How much will fatigue and his general  irritability affect what he does, especially when something goes wrong, as it inevitably will, or when someone makes fun of him, as they inevitably will, or when there's a crisis. 
Let's be grateful for small blessings. Trump realized, at least for a day, that a tweet is just a tweet -- even if you're president.  Maybe he'll realize he doesn't need his 20 million followers when he has hundreds of millions of citizens whose lives he can change with a stroke of a pen.
In an unironic day, there was one irony. In one of his last actions as president, Obama, whose popularity rose as Trump's presidency got closer, was the one to tweet upon rising. He asked  Americans, whose leadership he would relinquish hours later, to stay in touch. It was his last time using @POTUS before the handle officially became Trump's.
By the optics of today, little of the steady and dignified Obama, the man he hounded for years as not even being born here, yet who rooted for him from the moment he was elected, rubbed off.
But it's early.  What's one speech, one tweet, one fist raised? Tomorrow is another day.
To contact the author of this story:
Margaret Carlson at mcarlson3@bloomberg.net
To contact the editor responsible for this story:
Max Berley at mberley@bloomberg.net
Before it's here, it's on the Bloomberg Terminal.
LEARN MORE