Energy
The Way Forward on Nuclear Waste
Congress needs a long-term program that has community and state buy-in.
by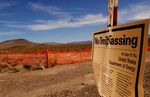 Last week, I joined the New Mexico governor, congressional delegation members, the mayors of Carlsbad and Hobbs, citizens and a proud workforce in commemorating the reopening of the Waste Isolation Pilot Plant after a three-year shutdown because of an underground accident. The facility is the U.S.'s only geological repository for nuclear waste, such as plutonium-contaminated materials from the Department of Energy's national security complex. The lesson of this milestone is that a lot can be accomplished on addressing challenging nuclear issues when local, state and federal governments are aligned.
The 115th Congress is likely to also take up nuclear waste, specifically the disposal of highly radioactive spent fuel from nuclear power plants and high-level waste from the Cold War nuclear weapons program. The opportunity to move forward is real, but not if we continue to clash over policies and methods that have not worked for decades. Congress should look at the entire nuclear waste system and adopt an approach that emphasizes community and state buy-in and provides options for implementing a long-term program that will inevitably have technical and political surprises.
Thirty years ago, Congress designated Yucca Mountain in Nevada as the only site to be developed. Further, the Department of Energy was directed not to develop complementary approaches, such as consolidated storage of irradiated nuclear reactor fuel, as part of the waste disposal system.
Predictably, this top-down approach drew strong opposition from the state government and citizenry. That has not changed. We are now 19 years beyond the date that Congress set for the opening of Yucca Mountain, and taxpayers have had to foot the bill for the mounting payments to utilities holding spent fuel. The Blue Ribbon Commission on America's Nuclear Future emphasized that prospective host jurisdictions must be engaged as partners and that public trust and confidence is a prerequisite for success, as it has been in Scandinavia. Forcing an unwanted facility on an unwilling population is not likely to have any more success now. The Department of Energy has invited public comment on a consent-based approach to storage and disposal to help inform congressional and public discussion.
The Blue Ribbon Commission also advocated exploring several options: consolidated storage facilities; geological repositories for spent nuclear fuel and high-level waste; and potentially a separate program for geological disposal of high-level waste from the nuclear weapons program. This is the strategy adopted by the Obama administration, in addition to endorsing the consent-based approach. Any successful business plans its long-term future with options and hedges. This should be no different.
Consolidated storage will allow for the fastest removal of spent nuclear fuel from reactor sites. This is especially important for sites where the nuclear reactors have shut down. More generally, it will also relieve some of the pressure against building new nuclear plants. Dry storage of the fuel can provide a century or so of storage, a period that would allow the spent fuel to cool off before going to a geological repository that should be developed in parallel. A Texas company has already filed a license application with the Nuclear Regulatory Commission to provide consolidated storage and has had supportive statements at both local and state levels. Still, Congress will need to provide legislative support for the Department of Energy to advance consolidated storage and to access the Nuclear Waste Fund for storage as a key part of the spent fuel disposal system.
Last March, the administration moved beyond the discussions of the 1980s by announcing the beginning of planning for a repository for the high-level waste from the nuclear weapons program that would be separate from and in parallel with the plan for power reactor fuel. This important step recognizes that defense waste disposal can be easier and faster. While the amount of spent fuel for disposal grows as long as nuclear power is active, the defense waste stopped growing with the end of the Cold War. Defense waste is also relatively small compared with spent fuel and is cooler than recently irradiated fuel. It also comes in different forms that may be amenable to tailored disposal pathways -- for example, the Department of Energy is supporting scientific studies of deep borehole disposal for smaller waste forms. 
The president's authorization for studying separate defense waste disposal did not constitute a decision to build such a repository. Rather, a relatively small investment now can provide critical options for meeting defense waste disposal commitments in Washington, Idaho, South Carolina and other states at the earliest date and with the lowest net cost if a spent fuel repository continues to take more time than hoped.
The dogged pursuit of a 30-year top-down approach to the siting of nuclear waste facilities --without a recognition that changed circumstances offer new possibilities and new imperatives -- is a formula for another triumph of hope over experience. A different approach that provides more options is warranted.
To contact the author of this story:

To contact the editor responsible for this story:
Max Berley at mberley@bloomberg.net
Before it's here, it's on the Bloomberg Terminal.
LEARN MORE