Editorial Board
The Risks of 'Brexit Means Brexit'
New "negotiating objectives" suggest what the U.K. stands to lose.
by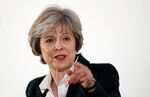 On Tuesday, U.K. Prime Minister Theresa May set out her fullest account yet of her aims in the forthcoming Brexit negotiations. Greater clarity was overdue, and welcome -- but with it comes a clearer understanding of the enormous hazards Britain faces as this process moves forward.
May said, "What I am proposing cannot mean membership of the single market." That shouldn't have been surprising, because the European Union (regrettably) won't budge on the idea that single-market membership requires free movement of people within the EU, and May (rightly) won't budge on the idea that Brexit requires the U.K. to control its own immigration policy. But understanding this doesn't make May's choice any less wrenching.
May emphasized that she wants this clean break to be on the friendliest terms -- meaning close cooperation on trade, smooth transitional arrangements, and an end to "vast" (but notably not all) budget contributions to the EU. She also said Parliament would get a vote on the eventual deal. Financial markets reacted favorably, and sterling moved sharply higher after the talk.
So far, the post-Brexit economic slump predicted by the Bank of England and others hasn't materialized. The International Monetary Fund on Monday raised its forecast for U.K. growth this year to 1.5 percent from 1.1 percent. But Britain is still in the EU. The question is what will happen when it isn't.
QuickTake Why Britain Voted to Quit the EU
Britain's close trading relationship with the EU has served the country well for more than 40 years. Weakening those links is a momentous step. According to Bloomberg Intelligence, membership in the world's biggest single market has boosted trade between the U.K. and the rest of the EU by 10 percent; if it lost all those trading privileges post-Brexit, Britain's national income might be 2 percent lower in the longer term.  
London's finance industry, which contributes about $55 billion annually to the economy, looks particularly vulnerable. The single market provides "passporting," which allows financial firms to sell products and services across the bloc no matter which member state they're based in. Quitting the single market may force the U.K. to instead rely on "equivalence," where cross-border selling is allowed so long as a non-EU country's rules are judged to be as stringent as the EU's. This is a complicated and much less secure arrangement. And as Bank of England Governor Mark Carney has explained, it could make the U.K. a "rule-taker," forced to accept regulations it has no say in framing.
Put it this way: May's speech gave no reassurance to the decision-makers wondering whether to move jobs in banking and finance to Paris or Luxembourg or Dublin -- all of which are maneuvering to stake their claim.
May echoed the veiled threat issued recently by Chancellor of the Exchequer Philip Hammond: If the EU shuts the U.K. out, Britain might reinvent itself as an offshore tax and regulatory haven, intent on luring business away from Europe. Though it makes sense for Britain to avoid cowering and to encourage the EU to be friendly, this tough posture isn't all that credible. Selling rock-bottom corporate taxes and light-touch regulation to British voters wouldn't be easy. Europe's leaders know this, and they're unlikely to alter their main goal: Discourage other countries from following the U.K.'s example.
Months ago, May said "Brexit means Brexit"; all that remained was to work out what that meant. What she intends it to mean is finally clearer: Britain quits the single market, but otherwise negotiates the closest possible trading relationship with the European Union. It's what a narrow majority of Britons voted for, but the odds are still against May and the U.K. making a success of the mandate.