White House
The Ethics Official Dogging Trump Is Just Doing His Job
Walter Shaub, who runs the Office of Government Ethics, is being aggressive about the president-elect's conflicts of interest. He's not being partisan.
by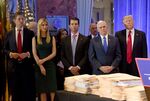 Two days after Donald Trump unveiled a conflicts-of-interest plan that does little to create a meaningful barrier between his own potential financial opportunism and White House policymaking, Republicans in the House of Representatives have targeted the federal agency charged with … wait for it, wait for it … monitoring presidential ethics.
Walter Shaub, who runs the Office of Government Ethics, had the poor judgment on Wednesday to label Trump's plan as "meaningless" and beneath "the standards that the best of his nominees are meeting and that every president in the last four decades have met."
Jason Chaffetz, a Utah Republican who chairs the House's Oversight and Government Reform Committee, sent a letter Thursday evening to Shaub, asking him to visit Congress for a closed-door grilling about Shaub's "whole department."
"Mr. Shaub has taken a very aggressive stance on issues he's never looked at," said Chaffetz. "He's raised a bunch of eyebrows."
It was an odd criticism of a public servant who certainly has ample experience around the issues he's looked at. Shaub, a lawyer, has been running the OGE for four years, previously serving as the agency's deputy general counsel from 2008 to 2013. For the past two decades, he's worked inside the federal government, save for a two-year stint in the private sector. In short, Shaub is a well-schooled, veteran analyst of ethical standards in government.
The OGE -- which was created in the post-Watergate years to battle government corruption through the Ethics in Government Act of 1978 -- is charged with "oversight of the executive branch ethics program designed to prevent and resolve conflicts of interest." That gives OGE purview over about 2.7 million employees in 130 agencies linked to the executive branch, as well as the White House itself. The agency isn't entirely free from Oval Office influence: The president appoints the OGE's director to his or her five-year term.
For his part, the president-elect has spent most of the last year ignoring calls to release his tax returns and to publicly offer a detailed plan for how he will insulate his White House from his business dealings. In a wide-ranging press conference on Wednesday that was meant to afford Trump the opportunity to give Americans some clarity on all of this, he instead only further muddled the matter. (Trump sued me for libel in 2006, claiming that my biography, "TrumpNation," had damaged his reputation and business prospects. He lost the case in 2011.)
Trump declined to release his tax returns, insisting (incorrectly) that only the media cares about documentation that would help show the scope of his business dealings, financial relationships, overseas transactions and philanthropy.
Trump said he will resign from the Trump Organization, but he will leave his two eldest sons in charge of the business (theoretically under the watchful eyes of two yet-to-be-named ethics and compliance monitors at the Trump Organization). He said his company would refrain from any overseas dealmaking while he's president, but continue to do domestic deals (and the most lucrative work the Trump Organization does is domestic, anyhow).
Trump is also going to appoint his son-in-law, Jared Kushner, to a senior West Wing role, while his daughter and Kushner's wife, Ivanka Trump, sets up shop in the East Wing -- all of which will test the boundaries of federal anti-nepotism laws.
Trump trotted out one of his lawyers, Sheri Dillon of Morgan, Lewis & Bockius, at the press conference to help detail his conflicts-of-interest plan. But Dillon went on to re-interpret how the Constitution tries to police presidential ethics in order to give Trump room to keep operations like his Washington hotel humming along. Dillon also said that a sale of the Trump Organization, or a repackaging of it as a public entity, wasn't possible because of the sheer size and complexity of the company (which is at odds with the fact that the Trump Organization is a relatively modest, small-scale affair that would lend itself quite readily to a liquidation).
All of this clearly rankled Shaub, who had already approved a series of OGE tweets like this one in late November encouraging Trump to divest his business holdings:
Last week, Shaub sent Democratic Senators Charles Schumer and Elizabeth Warren a letter noting that this week's confirmation hearings for Trump Cabinet nominees was premature given that some of the appointees hadn't fully complied with federal financial disclosure rules. The rush "has left some of the nominees with potentially unknown or unresolved ethics issues," Shaub wrote.
Then, on Wednesday, at a speech at the Brookings Institution in Washington, Shaub blasted Trump's conflicts plan shortly after it was announced. "Stepping back from running his business is meaningless from a conflict-of-interest perspective," Shaub said. "We can't risk the perception that government leaders would use their official positions for professional profit."
Shaub is being aggressive, certainly, in carrying out the mandates of the office he holds. But those are good-government mandates that seek to forestall public corruption. They aren't partisan mandates. A Republican-controlled Congress would do well by the American public to avoid going into a partisan crouch in support of the president-elect's free-wheeling habits, and let Shaub do his job.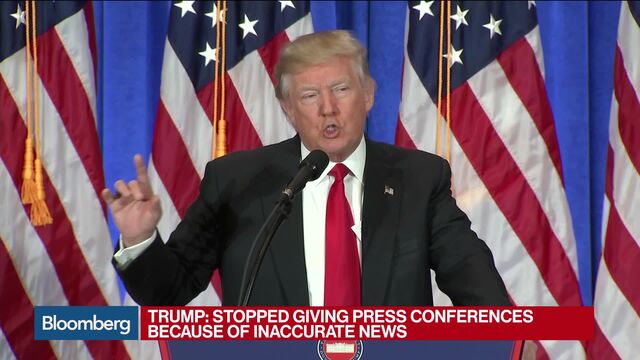 To contact the author of this story:
Timothy L. O'Brien at tobrien46@bloomberg.net
To contact the editor responsible for this story:
Mike Nizza at mnizza3@bloomberg.net
Before it's here, it's on the Bloomberg Terminal.
LEARN MORE