view
Of Chickens and Delusions
A daily digest of opinions and analysis from Bloomberg View.
by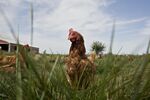 The Unraveling of Julian Assange
When WikiLeaks was created more than 10 years ago, its mission to expose illegal behavior in governments and corporations around the world was a credible one. Now, its founder, Julian Assange, pushes a pro-Russia agenda based on delusions and paranoia -- and he's bringing America's president-elect along for the ride. "Sad!" laments Eli Lake.
Obama's Jobs Legacy, in One Chart
Whether he likes it or not, Donald Trump is being handed an economy far sunnier than the one his predecessor inherited. Americans are better off now than they otherwise might have been, Mark Whitehouse says, thanks to one of Barack Obama's key policies.
To Deal With Putin, First Know His Goals
Western leaders have struggled to handle Vladimir Putin's continued acts of aggression. To better assess what the Russian leader is really up to, says Leonid Bershidsky, they should be trying to figure out his strategic objectives first.
Low-Paying Jobs Boom in the Slaughterhouse
Manufacturing jobs have, of course, been in decline for decades. There is one sector that is seeing growth: animal slaughtering and meat processing. Justin Fox doesn't have a reason, but he does know that it's an industry with low pay ... and a lot of chickens.
Ritholtz's Reads
No, don't buy those "best stocks to own in 2017" (Washington Post)
Our cities are getting smarter and you probably didn't even notice (Quartz)
Apple did $20 billion in App Store sales in 2016 (Digital Trends)
(Read Barry Ritholtz's full news roundup.) 
Bloomberg Gadfly 
(Read more from BV's sister site for fast business commentary.)
Get Share the View every morning in your inbox. Subscribe here.
To contact the author of this story:

Before it's here, it's on the Bloomberg Terminal.
LEARN MORE