U.S. Economy
Obama's Jobs Legacy, in One Chart
Based on the employment gap, he did pretty well.
by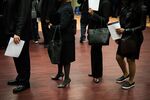 If President-elect Donald Trump wants to create more jobs than his predecessor, he has his work cut out for him. By at least one measure, Americans fared better under Barack Obama than they did under most presidents during the past six decades.
The December jobs report -- with estimated payroll growth of 156,000 and accelerating wage gains -- marks the last full month of what has been a pretty impressive eight-year performance. Despite coming to power in the middle of the worst recession since the 1930s, Obama has presided over the creation of more than 11 million jobs and a 3.1-percentage-point decline in the unemployment rate.
But how does that stack up against other presidencies? Comparisons aren't easy. For one, headline numbers can mislead: The unemployment rate misses people who have stopped looking for work or are stuck in part-time jobs -- forms of labor-market slack that, as Trump has noted, have been acute in recent years. It would thus be helpful to use a measure that takes these things into account.
One candidate is the employment gap. It measures how far the U.S. is from full employment, the point at which unemployment, part-time work and labor-market participation are all at levels that history and analysis suggest are desirable. Borrowing a method developed by economists Andrew Levin and David Blanchflower, I calculated the employment gap going back to 1955 -- enough to cover the past 10 presidencies. Here's a chart:
During Obama's presidency, the gap grew as large as 11 million jobs, or 4.7 percent of the population. A long string of consistent gains then brought it down to about 800,000. The net annualized improvement is 0.28 percent of the population, a pace bettered only under Lyndon Johnson and Bill Clinton (during whose terms, by this measure, the economy ended up running too hot).
To be sure, presidents tend to get undue credit or blame for the economy's performance. The winning records of Johnson and Clinton owe much to timing: Both came into office at or near the bottom of economic slumps, when rebounds were all but inevitable. Still, policy does matter. Economists on both sides of the political divide agree that Obama's fiscal stimulus made Americans better off than they otherwise would have been.
To top Obama, Trump will have to do a lot of things right. His plan to boost infrastructure investment, for example, has the potential to draw people back into the labor force, push up wages and encourage companies to make productivity-enhancing investments -- all of which would be great for living standards. If mismanaged, however, it could worsen the government's finances and spook markets.
Whatever happens, Obama's jobs legacy looks pretty good. The recovery has been long and grueling, and a lot of people are still struggling, but he's handing Trump an economy in much better shape than what he inherited.
To contact the author of this story:
Mark Whitehouse at mwhitehouse1@bloomberg.net
To contact the editor responsible for this story:
James Greiff at jgreiff@bloomberg.net
Before it's here, it's on the Bloomberg Terminal.
LEARN MORE