Environment
California's Snow Is Turning to Rain
Warming temperatures are creating big problems for the state's water supply.
by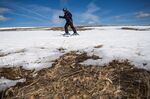 Drought-weary California is getting soaked this week. Most of the state is already having a wetter-than-normal rainy season, it's been raining and snowing for the past couple of days, and on Saturday and Sunday an "atmospheric river" of precipitation is expected to arrive.
That sounds like great news -- California needs water, right? What it needs even more is snow, though, and that's where this weekend may disappoint. Current forecasts estimate that the snow will move to above 9,000 feet in the Sierra Nevada on Sunday, subjecting all but the state's tallest peaks and ridges to a downpour that will melt a lot of the earlier snowfall and possibly cause extensive flooding.
This is not an uncommon turn of events with atmospheric rivers -- aka "tropospheric rivers," "tropical moisture exports," "moisture conveyor belts," the "Hawaiian fire hose" or the "Pineapple Express." They are, according to the 2014 article in the journal Atmospheric Science from which I just swiped all of those terms, "long (about 2000 km), narrow (about 300–500 km wide) bands of enhanced water vapor flux" that originate in the tropical Pacific Ocean and provide 30 to 50 percent of California's precipitation. Atmospheric rivers are thus utterly essential to the state's survival. But, coming from the tropics, they do have this annoying tendency to be kind of ... warm. From the National Aeronautics and Space Administration, last spring:
A new study by NASA and several partners has found that in California's Sierra Nevada, atmospheric river storms are two-and-a-half times more likely than other types of winter storms to result in destructive "rain-on-snow" events, where rain falls on existing snowpack. Those events increase flood risks in winter and reduce water availability the following summer.
There's no assertion in the study that these rain-on-snow events are occurring more frequently than they used to. Meteorologists only really began focusing on atmospheric rivers in the 1990s (that's when the name was coined), so they simply don't have enough data to say. But it's hard not to wonder ...
At this point, alert readers probably have an inkling that I'm about to write something about climate change, and some of them (I'm thinking of one in particular, but I'm sure there are many more) will grumble to themselves:
Why do people have to blame every last change in the weather on greenhouse-gas-induced global warming?
Why do they always assume that warming is bad?
In response, I offer charts. First of all, here's the National Oceanic and Atmospheric Administration's data on average annual precipitation in California going back to 1895-1896 (annual precipitation is measured starting Oct. 1 and ending Sept. 30):
Not much of a trend there! The past 15 years have definitely been a bit less wet than usual, but so was, say, 1917 through 1934. There's certainly not enough evidence to say that California's climate has changed for the drier. There is, however, evidence that it has changed for the warmer:
California has a lot more people, buildings, pavement and heat-producing machines now than it did in 1896 -- it could be that some of that temperature increase is due to local causes rather than global ones. But for the purposes of California's water supply, so what?! Warming temperatures appear to be leading to a smaller snowpack.

If you're wary that those years were cherry-picked to make things look worse, they weren't -- for California, at least, 1955 was a much-drier-than-average year, and 2016 a slightly-wetter-than-average one. And if you're really curious, there's a ton of raw data available on historical snow totals for various California mountain locations.
What's bad about less snow in the mountains, other than it makes skiers sad? Well, California and other Western states (as well as many other places on earth, although not so much the rest of the U.S.) have built their water-supply systems around the wonderfully long-lasting, reliable resource that is snowmelt. From the state Department of Water Resources:
Snowmelt currently provides an annual average of 15 million acre-feet of water, slowly released between April and July each year. Much of the state's water infrastructure was designed to capture the slow spring runoff and deliver it during the drier summer and fall months.
In all, California's cities, farms and industries use about 42 million acre-feet of water a year, so 15 million is a big deal. And even during the wet season, snow in the mountains means steadier, easier-to-capture flows of water down the state's rivers. This weekend's storm -- especially if the snow turns to rain in the mountains -- will send far more water coursing through the Sacramento-San Joaquin River Delta east of San Francisco than the state and federal pumps that move water from the state's wetter north to drier south can divert. That's not all bad -- the delta and the San Francisco Bay could use a good flushing. But it is yet another indication that snow is more valuable to California than rain.
This column does not necessarily reflect the opinion of the editorial board or Bloomberg LP and its owners.
To contact the author of this story:
Justin Fox at justinfox@bloomberg.net
To contact the editor responsible for this story:
Brooke Sample at bsample1@bloomberg.net
Before it's here, it's on the Bloomberg Terminal.
LEARN MORE