Culture
2016 Was Actually Quite Predictable
Voter turnout was low, and anger guided the Republicans. But Trump was a surprise.
by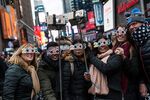 For the second year in a row, I'm doing a self-check. Before I post my annual predictions for next year, I thought I should honor my loyal readers by going back and doing what critics say pundits never do: seeing how well I did on my predictions for 2016, published in this space on Dec. 30 of last year. Once again, some came true, but not necessarily the happy ones.
I predicted that no presidential candidate would make much of reports that Barack Obama's administration, while spying on Israeli Prime Minister Benjamin Netanyahu, also listened in on members of Congress and leaders of U.S. Jewish organizations, because the explosive story would be too hot even for our politics. True.
I predicted that the Democratic and Republican nominees for president would vow to destroy Islamic State, but also promise not to put boots on the ground. True.
I predicted that Donald Trump would not be the Republican presidential nominee. Extremely false.
I predicted that we would pass peak acai. I confess that I cannot tell whether I was right.
I predicted that the "Independence Day" sequel would be the top-grossing film of the year. False.
I predicted that campus activists would try to make it a disciplinary offense to support the Republican candidate for any office. True for the presidency, false (I think) for the rest.
I predicted that multilateral talks on "transitioning" from the regime of Bashar al-Assad in Syria would continue, without any true progress, through the U.S. presidential election. Mostly true. I did not predict that the U.S. would cease being a player in the talks.
I predicted that the Republican Party would continue to behave as if anger is a policy. Extremely true.
I predicted that despite security concerns around the 2016 Rio Olympics, there would be no attacks of any kind, showing that terrorists are capable of responding rationally to incentives. True.
I predicted that the Republicans would continue to contend that because some aspects of climate models are unsettled, the entire thing must be a scam, and that Democrats would be unable to take advantage, because of their inability to resist rhetorical and regulatory overreach. True.
I predicted that no important gun control measures would be passed. An easy one, but still true.
In sports, I predicted (a) that the New England Patriots would win Super Bowl 50, (b) that quarterback Tom Brady would retire following the 2016-17 season, and (c) that the NFL's policy of zero tolerance for players who assault women would continue to apply only to those convicted of a felony or caught on video. (a) False. (b) Probably false. (c) True.
I predicted that the Nobel committee would continue its 22-year-old tradition of forgetting that great literature is also written in the U.S. False (but the winner took me completely by surprise).
I predicted that the tide of Syrian refugees would strengthen nationalist parties in Europe. True. I predicted that as we learned that few refugees were out to cause trouble, the nationalist wave would fade. False.
I predicted that self-styled progressives who claimed to worry about inequality would continue to support a system in which their own children are free to attend whatever school their families can afford, but poor families must under no circumstances be given tax dollars to make the same choices. Tragically true.
I predicted that except among elites, the question of U.S. Supreme Court appointments would play no role in the presidential campaign. False.
I predicted that the sports championship drought in the nation's capital would stretch into a 23rd year. True, unless you are imagining extremely unlikely things from the city's fun but flawed football team.
I predicted that Democrats and Republicans would join to repeal the "Cadillac tax" -- the single most sensible thing in the Affordable Care Act. False.
I predicted that voter turnout in the 2016 presidential election would be the lowest since the 1990s. True.
I predicted that the Chess Olympiad, the biennial team championship, would be postponed. False. I predicted that if the event was held, the top-ranked U.S. team would not finish first. False.
I predicted that social conservatives would accept that same-sex marriage is here to stay and move on to other issues, and that social liberals would decide that the occasional dissenting caterer does not amount to anything like the sort of massive resistance that necessitated the zero-tolerance crackdown during the Civil Rights Movement. Both false.
I predicted that prediction No. 21 would not come true. True.
I predicted that within the pains and horrors of the world, we would seek out islands of beauty and joy and contentment where we could. I hope that this one came true for you, as it did for me. And let's strive for the same goal next year.
This column does not necessarily reflect the opinion of the editorial board or Bloomberg LP and its owners.