Economy
Checking on Five Charts to See How They Turned Out
Sometimes, things become a little clearer with the help of a graph.
by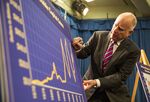 I make lots of charts, mainly because they're such a good way of conveying and understanding information.  But that information can change after the charts are published. So here are five charts from 2016 that seemed like they might benefit from an update:

Kansas is still lagging behind Nebraska. In March I compared the economic performance of Nebraska and Kansas, where Governor Sam Brownback and the Republican majority in the state legislature have been engaged in a grand experiment in tax- and budget-cutting since Brownback took office in January 2011. As I wrote at the time:
Kansas has more people than its neighbor to the north: 2.9 million to 1.9 million. But by other measures -- median household income, per-capita income, percentage of the population living in urban areas, acreage under cultivation -- the two states are pretty similar. They're also both run by Republicans, although Nebraska's legislators are elected via a nonpartisan primary and runoff that seem to reward moderation in a way that Kansas's more conventional elections don't. While Nebraska has elected governors with Brownbackian opinions on taxes, the legislature has yet to approve a Kansas-scale tax experiment. Which makes it an imperfect but possibly useful scientific control.
What I found then was that Nebraska had experienced significantly stronger employment growth since 2011 than Kansas had. When I updated the numbers this week, the gap had only grown:
This doesn't prove anything. Factors other than state tax-and-spending policies may be driving the divergence (Kansas's heavier dependence on manufacturing, which has been hurt by the strong dollar, is the most obvious ). Other economic indicators may show Kansas in a better light. Still, this is a pretty important economic indicator, and it makes it hard to swallow Brownback's claims that the Kansas experiment is such a big success that President-elect Donald Trump should try something similar.

The job market rebounded. In June I took note of a newish economic indicator, the Federal Reserve Labor Market Conditions Index, that showed a job market that had been worsening since January. What happened after that? It got better:
The index hasn't dropped again since May, meaning that labor market conditions have been improving (except for in August, when they were unchanged) ever since. Fed economists crafted the LMCI with the idea that it could give an early signal of economic trouble. But sometimes that trouble never develops.

Beijing's air got cleaner. In June I arrived in a city with clear blue skies and views that went on for miles and miles. It was Beijing. Really. Using data collected by the U.S. Embassy in Beijing I constructed a chart that seemed to show an improving trend in one of the the most-watched pollution metrics in Beijing, the concentration of fine particulate matter (PM 2.5). Beijing has endured some terrible smog this month. So I wondered, is air quality still improving?
OK, the big improvement was back in 2014 and 2015, after the city shut down several coal-burning power plants and replaced them with natural gas. But things clearly haven't been getting any worse.
The Pokémon Go effect wasn't entirely fleeting. After the July 6 release of the smartphone game that got millions of people around the world to search their surroundings for pocket monsters, Nintendo's stock price skyrocketed. This was despite the fact that Nintendo owned only minority stakes in the two companies behind the game -- it was the only publicly traded corporation involved, so its stock was where the enthusiasm played out.

My guess as of July 15, which turned out to be just before the stock price peaked, was that the stock would follow the time-honored Nintendo pattern of "great excitement about a new product or strategy, subsequent disappointment and modest overall appreciation." Which seems mostly right, although the stock has held up better than I would have predicted given the subsequent plateauing of Pokémon Go excitement and disappointing debut this month of Nintendo's own mobile game, Super Mario Run.
Would you prefer your glass half-empty or half-full? Nintendo's shares have fallen 23 percent from their post-Pokémon Go peak, but are still 69 percent higher than they were pre-Go. I'd go with half-full.

The oil bust seems to be over. In August, employment in oil and gas extraction rose for the first time after 12 straight months of decline (and 19 months out of the previous 21). At the time I worried that the increase could be statistical noise, and might soon be revised out of existence. Now, with three more months of data under our belts, it seems a lot clearer that the big decline in oil and gas employment that had hammered North Dakota, Oklahoma, Texas and a few other states since the second half of 2014 has ended.
That's not to say the downturn can't resume. But all signs from the oil market -- rising prices, pledges from other oil-rich countries to cut back on production, new investment in U.S. fields -- point in the opposite direction.
This column does not necessarily reflect the opinion of the editorial board or Bloomberg LP and its owners.