view
The Best of 2016 and Sometimes Well Before It
A selection of books, music, radio and TV with all chaff sifted out.
by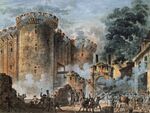 I'm always so impressed with people (other than full-time reviewers) who write year-end "best of" lists. By the time I get around to consuming the best books or music or movies or whatever of 2016, if I ever do, it will be 2025 or so.
Yes, this is lame. But it's also efficient! Focusing on the new means you have to sort through lots of junk to find the best. Wait a few years, and most of that work is done for you.
So here are five decidedly non-junky pieces of media content -- a series of history books, a cookbook, a music recording, a TV series and a podcast -- that I got a lot out of in 2016. The TV series and the podcast were still producing episodes in 2016 (and will be for many years to come, I hope), but neither is what you could call new.
Claude Manceron, "Age of the French Revolution." I wanted to know more about the French Revolution. Volumes 1 and 3 of Manceron's history had been sitting on the family bookshelves for more than two decades (my wife had picked them up at a used bookstore before we met). So I started in on "Twilight of the Old Order," the first book, published in 1977 in English.
It opens just outside of Paris in December 1773, with the double-suicide of two young French soldiers who are bored and "disgusted with the universal scene." Manceron's take: "if only they had known, the fools!" And then he's off on a five-volume recounting of just how exciting and unprecedented and world-changing the next 16 years were. It turns out I'll actually have to learn about the French Revolution elsewhere -- Manceron died in 1999 with his story brought only as far as the storming of the Bastille in 1789, and academic historians seem to think his account isn't entirely reliable. But it's so addictive!
I have purchased copies of volumes 2, 4 and 5 and am now midway through No. 3. Manceron, a self-taught historian and friend and adviser to the late French President François Mitterrand, tells the story through vignettes that are arranged chronologically -- although many are mini-biographies that span decades. Some provide the back-stories of obscure people who will rise to prominence during the Revolution, others recount the big events of the 1770s and 1780s. The settings jump from lively but smelly Paris to profligate Versailles to impoverished provincial France to the battlefields of Virginia to the mountains of Peru.
It can all leave a reader a little dizzy, and some vignettes are definitely less compelling than others. The overall product, though, is perhaps the most evocative history I have ever read. And given that most of it is built around the letters and other writings of those who were there, it can't be that inaccurate, can it?
Fuchsia Dunlop, "Every Grain of Rice: Simple Chinese Home Cooking." A few years ago I started trying to imitate some of my favorite Chinese-restaurant dishes, mainly by looking up recipes online. Eggplant fried in a wok worked out pretty well; most other things didn't. Then I bought this book -- technically as a birthday present for my Chinese-food-loving son, although so far I've been the one doing all the cooking from it. Successful cooking, I should add.
One reason for the success, as is probably already clear from the book's subtitle, is that these aren't replicas of restaurant dishes. They're what Chinese people cook at home -- or at least what Fuchsia Dunlop says Chinese people cook at home. And I'm willing to believe her! The recipes are on the whole much simpler and lighter and more reliable than what I had been attempting before. My personal favorite is stir-fried Chinese chives with pork slivers (page 200), but there are so many other good things, and I've only gotten to 10 or 15 of the recipes so far.
Dunlop, the first Westerner to train at the Sichuan Institute of Higher Cuisine, knows all about restaurant food too, of course. Her 2004 article in now-defunct Gourmet magazine about dragging three dubious chefs from Chengdu to dinner at Thomas Keller's French Laundry in California is one of my favorite pieces of food writing ever. She has published acclaimed cookbooks devoted to the cuisines of Sichuan, Hunan and, this year, Jiangnan, as well as a memoir of her experiences in China. I'd like to get all of those too! But this book seems like the essential one.
Caroline Shaw, "Partita for Eight Voices." This won the Pulitzer Prize for music in 2013 -- before it was ever performed in public, while its composer was still in graduate school. I don't really possess the critical vocabulary to describe the recording by Roomful of Teeth, the vocal ensemble to which Shaw belongs. It's just … jarring and funny, and in places indescribably lovely. It was inspired in part by those amazing Sol Lewitt wall paintings at the Massachusetts Museum of Contemporary Art, which are also worth going to see if you haven't already.
"Brooklyn Nine-Nine." This is an age of sophisticated, challenging television. Convoluted, dark narratives. Deep, complicated characters. And then there's, you know, Nine-Nine -- an often cartoonishly goofy sitcom about a New York City detective squad led by the incomparable Andre Braugher. The fact that I regularly watch this show, which premiered in 2013, is almost entirely my son's doing. But I'm always so happy after I do. It may be relatively simple TV, but it's also smart and funny and generous.
"In Our Time." I sometimes think I was the last person to find out about this BBC interview series on history, science, philosophy, culture and religion, but then I'll mention it in conversation and find that somebody else hasn't listened to it yet. So I guess I ought to mention it here! "In Our Time" has been airing on the BBC's Radio 4 since 1998. The format is simple: host Melvyn Bragg talks for 43 minutes to three people, usually university professors, about, say, T.S. Eliot's "Four Quartets," the 18th century British gin craze or 19th century sociologist Harriet Martineau (those are the three most recent episodes). The results -- especially, in my experience, in the history episodes -- are almost always engrossing and enlightening.
I'm not the world's biggest fan of Bragg's interviewing style, which can tend toward the domineering, but in his defense he does have to keep everything on schedule for radio. The podcast adds a few extra minutes left out of the radio broadcast, including that crucial moment when the producer comes in to ask the guests how they want their tea.
(
Corrects spelling of Francois Mitterrand's last name in sixth paragraph.
)
To contact the author of this story:
Justin Fox at justinfox@bloomberg.net
To contact the editor responsible for this story:
James Greiff at jgreiff@bloomberg.net
Before it's here, it's on the Bloomberg Terminal.
LEARN MORE