Editorial Board
Poland's Populists Run Into Trouble
As the Law and Justice Party consolidates power, it should take neither its popularity nor the economy's growth for granted.
by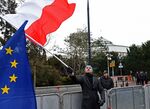 A little over a year ago, Poland's Law and Justice Party (PiS) swept to power promising to challenge the political elite, restore national control of the country's affairs, and realign government with traditional conservative values. Since then concerns have grown, at home and in Europe's capitals, that Poland has taken a wrong turn. The government's most recent moves do nothing to dispel that fear.
Though less popular than it was, PiS is still widely supported and firmly in charge, thanks mainly to the country's steady economic growth. But its heavy-handed methods are arousing protests, including formal declarations from the European Union. Soon they may exact an economic price as well. Poland's government needs to reconsider.
PiS has devoted too much energy on consolidating power and not enough on bolstering Poland's economic prospects. It has tightened its grip on the media -- firing managers and more than 100 journalists at the country's public broadcasters, and undercutting the regulator's authority. It put a friend of the party in charge of the intelligence services, brought the prosecutor's office under political control, and replaced scores of executives at state-owned companies. When it moved to undercut the country's constitutional court, the European Commission launched a probe that might lead to sanctions. (Tensions are only bound to increase as the court's chief justice completed his nine-year term Monday, leaving a key seat for PiS-supported President Andrzej Duda to fill.)
Last week, opposition lawmakers blocked voting on the 2017 budget to protest plans to curb media access to parliament. In response, the governing party moved the vote out of the main chamber and prevented the media from recording it. Protesters blocked the parliament's exits and demanded a new vote, leading to clashes with police. Backtracking a little, the government suspended plans to curb media access. That is unlikely to appease PiS's increasingly outspoken critics.
Up to now, financial markets have yawned at these developments. Investors have grown accustomed to Poland's steady growth. They know, in addition, that Poland relies on aid from the EU, and expect Europe to keep the government in line.
This may be too complacent. The zloty has taken a beating this year, and S&P Global Ratings downgraded Poland's debt last January. Investment is declining. Meanwhile, long-term problems -- including low productivity and a too-rigid labor market -- badly need tackling. The government has given families cash handouts, introduced a new minimum wage and made other popular promises, but it hasn't advanced the structural reforms Poland needs if it's to catch up to Western Europe. Modern infrastructure and a restructuring of the country's deeply inefficient and pollutive coal industry are high on that list.
PiS will surely weather this first wave of protest: Its opponents aren't strong, as yet. But the party should take neither its popularity nor the economy's continuing growth for granted. Its present course puts both in jeopardy.
To contact the senior editor responsible for Bloomberg View's editorials: David Shipley at davidshipley@bloomberg.net .
Before it's here, it's on the Bloomberg Terminal.
LEARN MORE