view
Ukraine Nationalizes an Oligarch's Losses
Now taxpayers will be on the hook for the country's biggest bank, bled dry by its owners.
by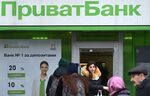 Only one private bank in Ukraine was considered too big to fail, and on Sunday night, the Ukrainian government announced that it would be nationalized. The losses, however, are essentially being passed on to Ukrainian taxpayers; oligarch Ihor Kolomoisky and his partner Gennady Bogolyubov, the owners of Privatbank, have long since bled it dry.
It's not clear yet how how exactly the nationalization will work. What is known is that shareholders asked the government to take over the bank, that Ukraine will issue bonds -- initially 43 billion hryvnias ($1.6 billion) worth -- to recapitalize it, and that its eurobond holders will be subject to a bail-in. The total capital shortage is estimated at 116 billion to 148 billion hryvnias. Former majority owners Kolomoisky and Bogolyubov are merely requested to make sure companies affiliated with them restructure their massive debts to the bank.
Privatbank, Ukraine's biggest bank by assets, holds about 36 percent of all private deposits in the nation, about $5.9 billion. It has an extensive retail infrastructure, the country's biggest ATM network, and its biggest internet and mobile banking operation; surprisingly, perhaps, it's one of the most technologically advanced banks in Europe. Since 2014, the Ukrainian National Bank has shut down 82 banks in a major financial sector clean-up operation dictated by Ukraine's financial backers, including the International Monetary Fund. It couldn't do that to Privatbank without wreaking havoc on the national economy. As President Petro Poroshenko put it on Monday: 
The entire financial and economic situation in the nation depends on the state of affairs in this bank, that's how big, or, as managers put it, systemic it is. Because of this it doesn't fit the Procrustean bed of standard bank recovery technology.
The bank's problems have long been apparent. Like most Ukrainian financial institutions, except for the dwindling number of foreign bank subsidiaries, it was used by its owners mainly to provide resources to their other businesses. Fitch Ratings observed at the end of last year that 19 percent of Privatbank's loans had been made to oil trading companies (oil trading is a major activity for Kolomoisky). 
The related-party loans were tolerated under all previous governments, but that has become untenable under the IMF program, which offered Ukraine $17.5 billion in loans over three years starting in 2014. Besides, Kolomoisky, who funded the volunteer battalions that helped stop the spread of pro-Russian separatism in eastern Ukraine in 2014, fell out with Poroshenko and was stripped of the governorship of the Dnipro region, where Privatbank is headquartered. 
The National Bank demanded earlier this year that the owners recapitalize Privatbank. They agreed, but made no discernible effort to do so. At the end of November, Fitch said the share of loans issued to oil trading companies reached 20 percent; 49 percent of Privatbank's loans, according to the rating agency, had been made in foreign currency, most of them to entities that had no foreign currency revenues. At the end of June, 2016, Privatbank's official exposure to related parties reached 109 percent of its capital, down from 119 percent at the end of 2015, but Fitch doubted that was the full picture, "given the limitations of beneficiary ownership disclosure in Ukraine." 
Kolomoiskiy and Bogolyubov realized their bank wouldn't be allowed to fail. So, according to Sergei Fursa of Kiev investment bank Dragon Capital, the bank often lent to shell companies which passed on the money to Kolomoisky's profitable businesses, also as loans. Despite ostensibly making deals with the national bank, Privatbank apparently served as a giant vacuum cleaner, sucking up deposits and refinancing, converting it into dollars and euros and pouring the cash into Kolomoisky's business empire in a way that left the bank with a negative capital.
Given its long record of failure to hold oligarchs responsible for anything, the government's decision to act was a bold move. It was also perhaps an unavoidable one, given the changing political climate and Ukraine's lack of allies in President-elect Donald Trump's administration.
Ukraine's champions such as Vice President Joe Biden are on their way out. "Trump's arrival means no one will keep giving money to Ukraine for beautiful promises and kleptocrats' tears over the 'Maidan ideals,'" Serhiy Leshchenko, a former investigative journalist and now a corruption-fighting lawmaker, wrote on Facebook, referring to Ukraine's Euromaidan anti-corruption revolution that took place three years ago. "Starting in January, everything will be very pragmatic, and the IMF program will only continue if its demands are unquestioningly met."
The oligarch and the government have effectively made a deal, trading the stability of a too-big-too-fail bank for Kolomoisky's too-big-to-jail status. As Leshchenko pointed out, "The time has come for him to get rid of a headache. As always, he solved his problem at the government's expense."
The government could still try to claw back the related-party loans and Kolomoisky could lose his Teflon coating, but Ukraine has not had much success in similar cases involving oligarchs and the former officials of ousted President Viktor Yanukovych's government. Three years after the revolution, it's clear that Ukraine, run by an oligarch-turned-politician Poroshenko, has picked up the bill for more than two decades of corrupt oligarchs' excesses, telling people they have to tighten their belts in the name of painful but necessary reforms.
The West half-heartedly endorsed this, but it's increasingly indifferent to the country's plight. Next year, with elections throughout Europe and an unsympathetic Trump administration in the U.S., will probably be worse for Ukraine than this one has been, and the Privatbank nationalization is only the latest dose of misery.
(
Removes 11th paragraph, which referred to a Facebook post attributed to Kolomoisky. Kolomoisky's press office says he does not have a Facebook account. The administrators of the account, who have not identified themselves, have said that Kolomoisky did not authorize them to post on his behalf.
)
To contact the author of this story:
Leonid Bershidsky at lbershidsky@bloomberg.net
To contact the editor responsible for this story:
Therese Raphael at traphael4@bloomberg.net
Before it's here, it's on the Bloomberg Terminal.
LEARN MORE