Refugees
Europe Tries to Wish Away Its Next Refugee Crisis
A deal with Turkey to control illegal migration is weakening. The backup plan is weaker.
by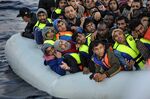 Migration was originally given top billing at a meeting starting Thursday of European Union leaders in Brussels. But a draft concluding statement, obtained by Politico, shows just how little attention the matter will actually get. That's worrying. Europe's refugee system is like one of those precarious smuggler's boats in the Aegean: unstable and likely to end in disaster.
QuickTake Europe's Refugee Crisis
On the surface, the refugee crisis seems under control, thanks to a deal struck in March between the EU and Turkey. Turkey agreed to take from Greece illegal migrants or those whose asylum applications had been refused. For every Syrian returned to Turkey from the Greek islands, the EU promised to resettle a Syrian from Turkey directly. The sweetener was an EU pledge of an additional 3 billion euros ($3.19 billion) for refugees on top of 3 billion euros that had already been promised, and acceleration of Turkey's application for visa-free travel for its citizens visiting EU countries.
The agreement was full of uncertainties. That didn't matter at the time. This was a deal struck in a panic, against the backdrop of waves of migrant crossings that caught EU countries off guard and created a populist backlash. The arrangement was meant to buy Europe time, not to be the final word on refugee resettlement. But as often happens with stopgap measures, once the immediate crisis had passed, the underlying problem festered.
While the flow of refugees and migrants in the east Aegean has declined dramatically, there are concerns that the arrangement could collapse. Turkey has complied with less than half of the criteria required to win visa-free travel. Ankara claims the EU isn't holding up its end of the bargain and wants more money upfront. President Recep Tayyip Erdogan recently threatened to send a flood of refugees from Turkey into Europe.
The return and resettlement figures under the EU-Turkey deal are sobering. Only 748 migrants were sent back from Greece to Turkey, and the EU has taken in only 2,761 Syrian refugees from Turkey. Those aren't the numbers once envisaged. Nor is it even that clear that the deal itself is responsible for the sharp drop in refugees crossing the Aegean. After analyzing the data, Thomas Spijkerboer, professor of Migration Law at the Vrije University of Amsterdam wrote on the University of Oxford law-faculty blog:
The analysis of statistical data presented here shows that the decline in number of arrivals predates the EU-Turkey Agreement, and that if the agreement had any effect, that in fact is the interruption of this decline. If this analysis is correct, this means that governments should not trust that policies such as the EU-Turkey Agreement are effective in their aim to control migration.
Meanwhile, those stranded in Greece live in miserable conditions and legal limbo. The EU is expected to restore the transfer of refugees back to Greece, part of the so-called Dublin system that says refugees should be returned for processing at their port of entry. The Dublin rules were suspended for Greece in 2011 because the country's asylum conditions failed to meet human rights standards. Yet it's not clear how conditions have improved enough to justify more returns there. John-Mark Philo and Ludek Stavinoha, two University of East Anglia lecturers who volunteered at refugee camps in Chios and Athens, argue that the opposite is true:
In camps across Greece, refugees — including pregnant women, newborns, the elderly and chronically ill — are languishing in inadequate shelters, often little more than flimsy summer tents, which are now covered in snow or drenched with rain. Access to medical services, as well as legal and psychological support, is insufficient and often completely absent.
If the deal with Turkey fizzles, the refugee influx will grow again and the burden on Greece will become untenable. Pressure will increase on other EU countries too. Italy has surpassed Greece in refugee numbers this year, mostly from African countries rather than Syria and Iraq. But in the leaked Council statement, the EU addresses none of these issues. Nor does it acknowledge a paradox that Elizabeth Collett, director of the Migration Policy Institute, noted in March: As more refugees flee countries with oppressive and violent regimes, the EU will either have to cut legal corners to send more of them back or stick to the law requiring it to accept a higher resettlement burden.
Its new Migration Partnership Framework proposes using EU funds as a carrot to encourage countries such as Libya, Nigeria and Ethiopia to accept returned refugees and keep others from leaving. The logic of the approach is beguiling at first. And yet it also raises troubling questions that will probably be tested in international courts. To what extent can nations outsource their responsibilities to those displaced by war and conflict and what happens when the outsourcing methods go wrong? For the moment, EU leaders would rather keep those lines blurred.
To contact the author of this story:
Therese Raphael at traphael4@bloomberg.net
To contact the editor responsible for this story:
Jonathan Landman at jlandman4@bloomberg.net
Before it's here, it's on the Bloomberg Terminal.
LEARN MORE