Russia
Why Putin Scores Big With the Rosneft Deal
The privatization had both a political and economic purpose. It would not have been possible without Putin's help.
by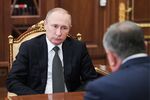 The surprise deal in which Qatar's sovereign wealth and the commodities trader Glencore are acquiring 19.5 percent of Russia's state-controlled oil company, Rosneft, has broad implications for Middle Eastern geopolitics, Russia's opaque domestic politics and the oil market. Russian President Vladimir Putin and his old associate, Rosneft chief executive officer Igor Sechin, have both won big on the deal, even though the shares were sold at a discount to Rosneft's market price.
The Rosneft privatization was scheduled for this year for two reasons: one financial and one political. Russia needed to close a budget gap created by low oil prices, and Putin has an aversion to big government debt increases, especially when debt markets aren't particularly welcoming. But, perhaps as importantly for Putin, the deal was meant to demonstrate the inefficiency of Western sanctions against Russia.
The sanctions do not directly prohibit the participation of European and U.S. investors in the privatization. Yet they have made investors cautious. For most of the year, it seemed the Rosneft deal wouldn't serve its political goal. Companies from China and Kazakhstan were mentioned among likely buyers. But it was considered most likely that Rosneft would end up buying the stake itself so that the Russian budget would get the earmarked 700 billion rubles ($11 billion) now and the shares could be offered to outside investors again next year. 
That would have been a humiliating outcome, though Rosneft had the money to do it: At the end of September, it held more than $19 billion in cash. It fell to Sechin to save the situation.
Sechin's notoriety in Russia exceeds that of any other Putin crony. Though he has worked for the government throughout his career, only switching to publicly traded Rosneft in 2012, he is fabulously wealthy and fiercely protective of his interests. Recently, he took the business daily Vedomosti (where I was the founding editor) to court for publishing a story about his palatial home near Moscow, forcing the paper to destroy any copies still in its possession and expunge the offending piece from its website. A similar court ruling forced the weekly Novaya Gazeta to delete an article about Sechin's yacht, named Princess Olga after his new young wife. Rosneft is now suing another Russian news organization, RBC, for 3 billion rubles -- more money than RBC has -- because of a story discussing the details of the planned privatization.
Sechin's luxurious lifestyle and tendency to lord it over the media do not fit Putin's recent preferences for his inner circle to lay low and give back to the beleaguered nation some of what it's given them. A close Putin associate, Vladimir Yakunin, lost his job as head of the Russian railroad monopoly last year; by many accounts, his indulgences had become an embarrassment.
In his state of the nation speech last week, Putin issued a peculiar warning. "The struggle against corruption is not a show." Putin doesn't want corruption in the government and his inner circle's involvement to be the subject of debate;  he just wants Russian to know that no one is immune from punishment.
Sechin, unusually, wasn't in the Kremlin to hear the state of the nation address. For weeks, he's been missing important meetings in Moscow to take dozens of foreign trips so he could secure a privatization deal that wouldn't invite ridicule. He wouldn't have tried this hard had his position been more secure; but now he has come back a winner. Unlike Yakunin, he managed to secure his reputation, for now, as a man who gives back more than he takes. 
When Putin publicly congratulated him on the deal, Sechin showed he knows his place: "Considering the extremely tough external economic situation and the extremely tight schedule for such a project, I report to you that the deal we made was only possible thanks to your personal contribution and the support we received from you."
Putin's personal contribution, indeed, has probably been considerable. Qatar is not a traditional Russian ally. Until early this year, relations between the two countries were strained, and they are officially on opposite sides of the Syria conflict. Yet in January, the emir of Qatar, Tamim bin Hamad Al Thani, visited Moscow and spent two hours talking with Putin. The meeting took place behind closed doors, but the agenda isn't hard to divine. Qatar is acutely interested in ending the Syrian war because it wants to sell gas to Europe through a pipeline that would, ideally, run through Syria. That would seem to run directly against Russia's own interests as a major supplier of gas to Europe and Russia's involvement in the region makes the plan less realistic. Yet though Putin works closely with Iran in Syria, he doesn't want a confrontational relationship with the Gulf States: He's interested in their investment and  open to discussing Syria's post-war future with them.
European bankers, until recently leery of deals involving Russia, especially its state-controlled companies, have fewer reasons to fear sanctions now. With Francois Fillon, an avowed enemy of the sanctions policy, as  the front-runner in the French presidential election, and with Donald Trump about to take the reins in the U.S., there is every reason to expect the resolve for sanctions to weaken. The Italian bank Intesa Sanpaolo took a certain political risk when it signed on as consultant for the Rosneft privatization in May, but a smaller one when it provided the bulk of Glencore's share of funds in the final deal.
Glencore's name on the deal is icing on the cake from Putin and Sechin. The commodities trader, though based in Switzerland, is a major Western industry player. It's an important signal to markets that its chief executive officer Ivan Glasenberg is betting on a Russian asset, and Rosneft's shares have soared since the deal was announced. 
Glencore says it's only putting up 300 million euros ($323 million) of its own money, though it has an equal share in the consortium with the Qatar fund. The rest of the money comes from Intesa, but it's a "non-recourse" arrangement, meaning Glencore is only financially exposed for its own equity investment. In addition, the trader has a new deal to sell 220,000 barrels a day of Rosneft oil -- more than the 190,000 barrels a day it had been handed in a 2013 agreement that runs out next year. The increase helps Glencore build up its somewhat laggard oil operation, and it helps pay a debt of gratitude Russia owes to the major commodities traders -- Glencore, Trafigura, Vitol -- which have helped the country to maintain its oil exports in the sanctions era.
The Rosneft shares were sold at a discount to the market price, though Sechin told Putin it was the best he could have done. As for the money the Russian budget will receive -- the deal's most obvious effect and its justification -- Sechin has delivered a little less than was required. If the deal is worth 10.2 billion euros as Glencore has announced -- and not 10.5 billion euros as Putin said when congratulating Sechin -- Russia will receive about 697 billion rubles, 3 billion short of the goal.
But what's mere money when the optics are so great? Putin's political bets have paid off, and Russian assets are shedding the toxicity they took on in the last two years.
To contact the author of this story:
Leonid Bershidsky at lbershidsky@bloomberg.net
To contact the editor responsible for this story:
Therese Raphael at traphael4@bloomberg.net
Before it's here, it's on the Bloomberg Terminal.
LEARN MORE