Editorial Board
Trump's Housing Pick Could Set Back Climate Policy
HUD leads efforts to cope with global warming. Ben Carson doesn't believe global warming is real. Uh-oh.
by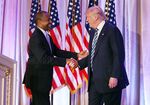 Donald Trump wants a person who has expressly refused to believe in climate change to run a federal agency that plays a big part in U.S. climate policy. It's not the Environmental Protection Agency or the Department of Energy; it's the Department of Housing and Urban Development.
Trump's choice to lead HUD is former presidential hopeful Ben Carson, who says there's no good evidence that global temperatures are rising -- a view that just 14 percent of Americans share.
While much of the climate debate has been about how to reduce greenhouse gas emissions, a separate effort, led by HUD, is under way to protect Americans from the consequences of those emissions: more frequent and extreme hurricanes, floods and other severe weather events.    
After Superstorm Sandy, Congress gave the agency $1 billion for grants to cities and states to carry out innovative ideas for reducing storm damage. HUD has also proposed two essential requirements -- that any new construction backed by the Federal Housing Administration meet tougher flood-proofing standards, and that cities and states applying for HUD grants plan for the effects of climate change on low-income households.
What's more, HUD is directly responsible for the country's 1.1 million public housing units, which are disproportionately exposed to the effects of climate change. An increasing number of those units are being lost to extreme weather, exacerbating the already severe lack of affordable housing nationwide. This is something the next HUD secretary will urgently need to address.
That was already going to be challenging; the appointment of a climate-change denier would make it harder. Democrats in Congress should use Carson's confirmation hearings to air his views on climate science and make sure he appreciates the importance of HUD's climate policies.   
--Editors: Christopher Flavelle, Mary Duenwald.
To contact the senior editor responsible for Bloomberg View's editorials: David Shipley at davidshipley@bloomberg.net .
Before it's here, it's on the Bloomberg Terminal.
LEARN MORE