view
Fear of the Roma Turned Eastern Europe Against Refugees
Countries that have failed to integrate their biggest ethnic minority fear Muslims won't assimilate, either.
by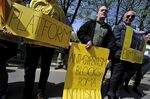 One of the reasons Chancellor Angela Merkel has failed to persuade Germany's European Union partners to open their doors to refugees was eastern Europe's intransigence. Hungary, the Czech Republic and Slovakia were at the forefront of the resistance to a collective resettlement effort. This recalcitrance has much to do with the failure of those countries to integrate their biggest ethnic minority, the Roma.
The EU Agency for Fundamental Rights has released a report on the Roma's situation, based on thousands of face-to-face interviews in the nine countries with sizable Roma populations. All of these are eastern and southern European states, six of them post-Communist. Most of Europe's 6 million Roma people live in those countries. The survey found that 80 percent of them live below these states' already-low poverty thresholds, a third have no running water and one in 10 have no electricity. The employment rates for men and women are 34 percent and 16 percent, respectively, and two-thirds of Roma people between the ages of 16 and 24 neither work nor attend school. Roma kids tend to drop out early, and even if they don't, they are likely to be held back in lower grades more often than their non-Roma peers. 
Previous surveys of European Roma showed similar levels of poverty, unemployment and poor education. One reason is discrimination, which they say they encounter when looking for work, dealing with schools or seeking medical treatment. In the latest FRA survey, 26 percent of respondents reported at least one incident within the last 12 months. That's less than in the 2008 survey, which only included residents of seven countries, but showed that 47 percent of Roma felt they'd been subjected to discrimination in the preceding 12 months. Opinion surveys, including the latest Pew Global report on attitudes toward minorities in Europe, show that the Roma are viewed less favorably than Muslims and far less favorably than Jews.
Many Europeans claim the Roma don't want to integrate. In 2014, Romania's National Council for Combating Discrimination fined the country' then-president, Traian Basescu, for saying that "very few of them want to work" and that "traditionally many of them live off stealing." Last September, Radka Maxova, a Czech legislator, said the Roma "don't go to work and are parasites on our social system, and if they are poorly integrated and in the majority, then residents who are doing their best to uphold our standards and meet their work obligations are not absolutely understood by that group and are oppressed by them."
Ordinary citizens who live next to the Roma (which means, in most cases, that they can't afford to move away) are even more vehement in accusing them of not wanting to integrate. Indeed, various branches of Roma have preserved their distinct languages and cultures; they dress differently and mostly interact within their communities. They are the Other.
That, of course, is what many Europeans say about Muslims, too. According to the Pew survey taken last summer, Hungary has one of the highest percentages of people who say Muslims in their country "want to be distinct" -- 76 percent. Hungary barely has any Muslims, but the Roma account for as much as 10 percent of the population. Experiences of hard-to-assimilate minorities appear to get conflated.
That may well be the case in other eastern European countries where Muslims are few, but Roma populations are large. Ivan Krastev, the Bulgarian political scientist who heads the Center for Liberal Strategies in Sofia, wrote earlier this year, riffing on Merkel's "We can do it" slogan:
The failed integration of the Roma also contributes to eastern Europe's compassion deficit. East Europeans fear foreigners because they mistrust the capacity of their society and state to integrate the "others" already in their midst. In many east European countries the Roma are not simply unemployed but unemployable because they drop out of school very early and fail to acquire the skills needed for the twenty-first-century job market. It was the failure of Roma integration that makes east Europeans believe that their countries 'cannot do it'.
The truth is that eastern European national governments and the EU bureaucracy have no idea how to integrate the Roma. In the last century, the Soviet Union banned their nomadic way of life and forced them to take jobs and accept a fixed abode. It didn't work: Soviet Roma continued traveling and forming traditional communities. The EU has opted for the soft approach, focusing on subsidies, education and working with civil society to raise awareness. So far, results have been hard to pin down. 
Many northern European countries, which have been the most open to Muslim immigrants so far, haven't had this frustrating experience: They have relatively few Roma. Besides, their previous integration record with Muslims, such as Turkish "guest workers" in Germany, has been far more satisfactory. That may explain why Germans and Scandinavians were surprised when eastern Europeans, who had for decades fled their Communist countries, didn't want to show more solidarity to refugees.
A lot of Europe's current troubles stem from people's ignorance of what's going on next door, just across a transparent national border. This lack of mutual understanding is a bigger threat to the EU's cohesion than populism or economic disparity.
To contact the author of this story:
Leonid Bershidsky at lbershidsky@bloomberg.net
To contact the editor responsible for this story:
Max Berley at mberley@bloomberg.net
Before it's here, it's on the Bloomberg Terminal.
LEARN MORE