Europe
Europe Fudges Its Open Border Promises
The EU proffered visa-free travel to Ukraine, Turkey and others. That was then.
by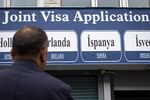 The European Union is going through painful contortions to put off keeping its promises of visa-free travel to neighboring countries. The promises were made in rosier, pre-Brexit, pre-Trump times. Now they're a liability.
One of the main reasons poorer countries in Europe want a closer relationship with the EU is for the opportunity of borderless travel. It's a coveted prize to Turks, Kosovans, Ukrainians, Georgians. They don't say so officially, but the arrangement isn't just for tourism: Those seeking temporary or seasonal work will quietly use it, too. The EU has promised visa-free travel to all four countries: To Turkey as part of a deal to keep Syrian refugees from crossing into Greece, to Ukraine and Georgia to keep them out of the Russian sphere of influence, to Kosovo because it's the only Balkan nation whose citizens still require EU visas.
Actually lifting the visa requirements, however, is political dynamite with elections coming up in France, Germany, the Netherlands and perhaps Italy. Given the popularity of anti-immigration slogans throughout Europe, no incumbent politician wants to see headlines about the cancellation of entry visas for 40 million Ukrainians or 75 million Turks. 
On Thursday, the European Parliament voted for a resolution calling on member states to freeze Turkey's EU accession process. Ostensibly, this is a response to "disproportionate repressive measures" taken by Turkey in the wake of its failed military coup. The European Parliament is taking the moral high ground; on the other hand, the non-binding document is an additional argument for EU officials and national leaders to hold up when explaining why they won't honor their side of the March deal on refugees, which includes accelerating the accession and a visa-free travel regime. Before, the EU was putting off the free travel because it wanted Turkey to amend its harsh anti-terrorism law. Now, there's a more important reason: The European Parliament resolution tells Turkey its values are not European enough. 
Ukraine, unlike Turkey, has been pliable. It has jumped through every hoop as required by the EU, amending its anti-corruption and anti-discrimination legislation and getting its officials to fill in electronic property declarations. These provisions had nothing to do with whether Ukrainians would be tempted to overstay their European visas: An ongoing armed conflict in the east and a per capita GDP of less than $8,000 (based on purchasing power parity) would make sure the temptation would be there. EU officials knew, however, that the measures wouldn't be easy to get through the Ukrainian parliament, and they weren't. Ukraine hoped to achieve visa-free travel early this year, then last summer; the deadlines came and went.
Last month, Ukrainian President Petro Poroshenko said the visas would be gone by Nov. 24, after an EU-Ukraine summit meeting. It came and went, and Poroshenko was mocked on Ukrainian social media for his failure to deliver. On Nov. 24, European Council President Donald Tusk addressed the Ukrainian people, partly in Ukrainian, praising their "patience and determination" and promising the visa-free regime would "enter into force once the European Parliament and the Council find an agreement on the reform of the EU's visa policy, which is on track." He added: "I want to underline that this discussion does not concern Ukraine any more, as Ukraine has already done its work perfectly." Remaining discussions concern the "relations between the EU member states and the European Parliament with regard to the EU's visa policy," he told them.
In other words, Ukraine is no longer required to do anything -- just to wait for European officials and national leaders to agree among themselves. Anyone familiar with the EU knows this could take forever, especially on a politically sensitive issue such as letting millions of foreigners enter Europe freely. 
The visa reform, which will concern Turkey, Georgia, Kosovo and all the nations that already have visa waiver programs with Europe, concerns an "emergency brake" on such policies. It should make it easier for the EU to stop a country's citizens from coming in if too many of them overstay. Johannes Hahn, the European commissioner in charge of EU enlargement, says the member states could make a deal on it by Christmas; then it would take until February or March for the European Parliament to approve it, with translation and publication taking a further month or two.
What Hahn doesn't say is that this would be cutting it close to the French presidential election in April. By the time it's over, the German election campaign would be in full swing, and Chancellor Angela Merkel, who must assuage German fears about immigration to get re-elected, won't need the tabloid headlines about visa-free Ukrainians and Turks. In the U.K., which is not part of the EU's borderless Schengen area, the prospect of Turkey's EU membership was an important argument for the Brexit campaigners. Continental governments couldn't fail to notice that.
In contrast to Poroshenko, who has nothing the EU wants, Turkish President Recep Tayyip Erdogan has some leverage: He can suspend the refugee deal, let Syrians cross into Europe and refuse to take them back. Erdogan's reaction to the European Parliament's resolution was defiant. "If you go any further, these border gates will be opened," he threatened.  They've heard this before, though, and they've been willing to call Erdogan's bluff: Turkey is too dependent on trade with Europe to start a cold war with it.
Europe's desperate attempts to hold on to the travel restrictions are evidence that the bloc's expansionist phase is over. Projecting soft power to the neighborhood is far less important than containing a nationalist, populist explosion. The EU today is anything but welcoming to outsiders: It gets too many tourists, anyway. Turks, Ukrainians and others who aspire to EU membership should put off thee aspirations until there's a healthier climate and less fear of the unknown among European politicians.
To contact the author of this story:
Leonid Bershidsky at lbershidsky@bloomberg.net
To contact the editor responsible for this story:
Therese Raphael at traphael4@bloomberg.net
Before it's here, it's on the Bloomberg Terminal.
LEARN MORE